The 10 Fights That Must Happen In 2011 for Boxing:
If these 10 fights are made in 2011, boxing could have one of its best years ever. (No, Pacquiao vs Mayweather is not on the list, because I'm tired of talking about it.) 2010 had been a pretty mellow year in boxing… until the last month, of course. Over the last month arguably the 3 best fighters in the world minus Mayweather – Manny Pacquiao, Sergio Martinez, and Juan Manuel Marquez – have each delivered great performances.
Throw in Juan Manuel Lopez's ascension to the elite with his brutal war with Rafael Marquez, and boxing is at the highest it's been in quite some time. The best part is there is still more to come. Looking ahead to 2011, things could be even better next year. There are some great fights already lined up and I think these 10 fights could make 2011 an historic year for boxing.
Manny Pacquiao vs. Juan Manuel Marquez III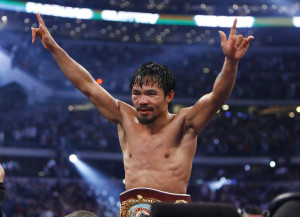 I know that I'm on record saying that Pacquiao vs Martinez is the best fight that can be made in boxing right now, and I am sticking to that. However, Bob Arum and Freddie Roach have both said the Pacman is through slaying the giants, so the fight probably isn't going to happen. With the uncertainty surrounding Floyd Mayweather, Juan Manuel Marquez must be Pacquiao's next opponent.
I know deep down Pacquiao was probably hoping Marquez would go away, but Pacquiao knows this fight must happen. The problem is the weight. Arum already said Pacquiao isn't coming down, so Marquez is at a disadvantage because he is not going to bring his power to welterweight no matter how much urine he drinks.
I think no matter what happens there will be a backlash. If Pacquiao wins, everybody knew Marquez couldn't fight at welterweight. If they somehow agree to a catch weight, and Marquez wins, Pacquiao shouldn't have come down, he was weakened.
The winner of Bradley/Alexander vs. Amir Khan
When 2010 started, there was a lot talk among these guys, and Marcos Maidana, about who the best Junior Welterweight in the World is, but not a lot of action. Now in the next two months, we are going to see some action. Khan and Maidana just fought, and Alexander and Bradley are going to fight in a few weeks in my great home state of Michigan. The winners have to meet by next summer. Bob Arum has mentioned that the winner of Bradley/Alexander could meet Manny Pacquiao, but I hope that the two winners fight each other first before one of them gets to fight Pacquiao.
Andre Berto vs. Shane Mosley
The unfortunate earthquake in Haiti caused Berto to withdraw the first time, and the second time negotiations fell through, reportedly over Berto's insistence on a 50-50 split. To be honest, I'm not sure what leverage Mosley has this time around. Looking to rebound from the Mayweather beat down, Mosley drew against Sergio Mora in an awful fight. Mosley deserved the decision, but he still looked old. Mosley has also recently thrown Golden Boy under the bus in his pursuit of Pacquiao, which landed him that date in May against Pacman.
Meanwhile, Berto destroyed Freddy Hernandez in a minute and a half. Berto wants the fight, but of course now it has to be put on the backburner because of Mosley-Pacquiao. I wasn't going to say this at the start of the year, but expect the torch to be passed in that fight, even if Mosley manages to escape the Pacquiao encounter relatively unscathed.
Tomasz Adamek vs. A Klitschko
I expect David Haye to keep having difficult meeting the Klitschko brothers, which doesn't matter to me, because I've always thought that Haye knows the Klitschko brothers will break his face. He'll probably find someone in England to fight. Adamek, though, has a chance to win some rounds and keep things entertaining as long as it lasts.
The winner of Donaire/Montiel vs. the winner of Showtime's Bantamweight Tournament
Junior Welterweight is regarded as the deepest division in boxing. I think Bantamweight should be in the discussion. The division is going to get national exposure with Showtime's Bantamweight Tournament featuring Yonnhy Perez, Joseph Agbeko, Vic Darchinyan, and Abner Mares, plus HBO will televise the huge fight between Fernando Montiel and Nonito Donaire.
I've already said I believe Showtime's tournament will be electric, but as good as those fights will be Donaire vs Montiel is a super fight. Those two are the class of the division. It's important that the winners meet, because I believe that there will be a household name at the end of these fights. I am also worried about Donaire, because there is a good possibility that should Doniare beat Montiel, he could move up after the fight. I do believe eventually Donaire will fight Juan Manuel Lopez.
Sergio Martinez vs. the winner of Cotto/Margarito
Since Martinez isn't getting Pacquiao, what's next? German champions Sturm and Sylvester probably aren't options. Kelly Pavlik is battling some personal demons, so who knows when we'll see him again. Andy Lee is intriguing, but he isn't ready yet. From an entertainment perspective, I would love to see David Lemieux get a shot, but he isn't ready. So, the only money fight for Martinez is Cotto or Margarito. I expect Cotto to eventually rematch with Margarito. In the meantime, I wouldn't be surprised if Martinez considered fighting Kermit Cintron to right what was definitely a wrong. I also think Dmitry Pirog is in the mix for a fight with Martinez.
Jean Pascal vs. Lucian Bute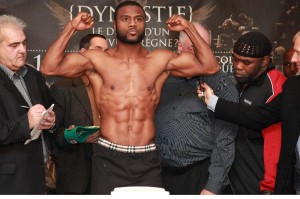 I know Showtime signed Bute to fight the winner of the Super Six as soon as it's over. I know Bute said he doesn't want to fight at 175. I know that Pascal could have lost to Bernard Hopkins. But Pascal knows a fight with Bute would shut down Canada on fight night. As much as Bute says he doesn't want to move up, money talks. It's not like Showtime would be that upset and the fight can't get made.
They did the Hopkins-Pascal fight. Plus, Bute knows Pascal is beatable. Bute would be in position to become fighter of the year in 2011 by becoming Joe Calzaghe 2.0. Calzaghe, you recall, was the last person to hold the Super Middleweight and Light Heavyweight titles at the same time a few years ago.
Giovanni Segura vs. Ivan Calderon
Their fight is a strong candidate for fight of the year. (I never thought Calderon and fight of the year would be in the same sentence.) Segura proved to be too strong for Calderon knocking him out in a changing of the guard moment. There should definitely be a second fight, however, Segura is reluctant to give Calderon a rematch, and is looking to move up to Flyweight. Calderon has clearly slowed down and can't take Segura's punches for 12 rounds. Maybe Segura believes Calderon can be brilliant again for one night. It's not like Segura has anything waiting for him at Flyweight. Pongsaklek Wongjongkam and the other top fighters at Flyweight probably never will leave Asia to fight.
Jason Litzau vs. Jorge Linares
Litzau pulled off a huge upset beating Celestino Caballero. As his reward, I'm sure HBO will give him another fight at some point next year. The obvious choice is Linares, because of his affiliation with Golden Boy. Linares could beat WBA champ Takashi Uchiyama. Linares could defend against Litzau on HBO's Boxing After Dark. I think it could be a fight of the year candidate. Litzau has a puncher's chance, but Linares probably will outclass him.
Erik Morales vs. Marco Antonio Barrera
It's a joke that these guys are still fighting. Since Marquez can't fight Pacquiao, Morales is being considered. That fight should have happened at least six or seven years ago. The second Pacquiao fight should have ended Barrera. After considering retirement, Barrera left Golden Boy and signed with Don King. Amir Khan pounded him, and that's when it became clear that Barrera is now just an opponent for a good fighter
Morales believes beating Marquez will bring him Pacquiao again. Erik, Pacquiao has already knocked you out twice. As Pacquiao once said: "That business is over." If the great Mexican warriors Rafael Marquez and Israel Vazquez can go four times, why can't Barrera and Morales? They need to beat the crap out of each other one more time with the contract stipulation that the loser (or both) must retire after the fight.