We continue our ranking of the best pound-for-pound boxers as the 2019 fight calendar unfolds.
Vasyl Lomachenko (12-1, 9 KOs)
Pound-for-pound, Lomachenko remains the best boxer in the world for the third consecutive time that we have conducted these rankings. Since his lone loss to Orlando Salido, Lomachenko has shut out his last 11 opponents, forcing nearly half of them to quit on their stools. His excellent footwork, movement and balance even if he misses his target are picture perfect. And while the Ukrainian has never been an underdog and hasn't beaten anyone he wasn't supposed to beat, caution must be deployed as he moves up in weight to take on bigger and more dangerous opponents.
Next Fight: TBA – An opponent has not been named although it is believed that a potential bout is in the works for April at the Staples Center.
Canelo Alvarez (51-1-2, 35 KOs)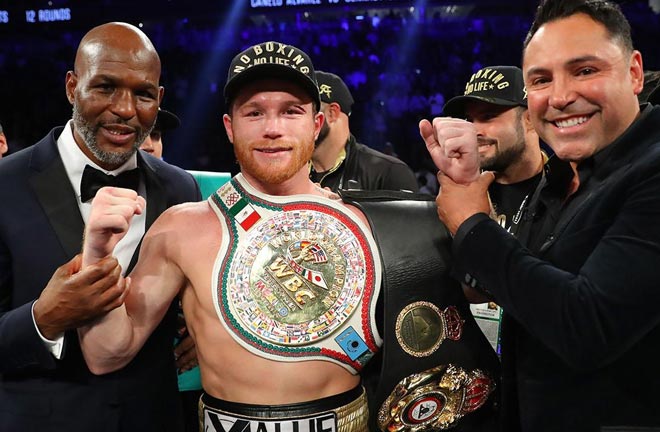 Alvarez closed out 2018 with a mismatch showing against Rocky Fielding in his maiden voyage at super middleweight. Canelo knocked Fielding down three times before the ref mercifully called off the match in the third round awarding him the TKO to claim the WBA (Regular) Super Middleweight title. It was easy work for Canelo who captured another title in his third division.
Next Fight: The shadow of Golovkin still looms large but fans were excited to learn that Alvarez will take on IBF middleweight champ Danny Jacobs in a unification bout on his traditional fight weekend of Cinco de Mayo on May 4. 
Terence Crawford (34-0, 25 KOs)
If there is a knock against Crawford, it is that he has not faced the kind of elite opposition befitting his considerable skills. The welterweight division is one of the deepest not to mention most entertaining in boxing, and yet the truly big fights have eluded Crawford and promotor Top Rank. All of the Hall of Famers have had that one defining fight to establish their greatness. We suspect Bud is similarly talented but just needs the right opportunities to show case it.
Next Fight: Crawford will put his WBO welterweight strap on the line against well-known Amir Khan on April 20. Khan fits the bill on two fronts as a big name that is both easily identifiable to the masses and can help Crawford build a case for better fights down the road.
Oleksandr Usyk (16-0, 12 KOs)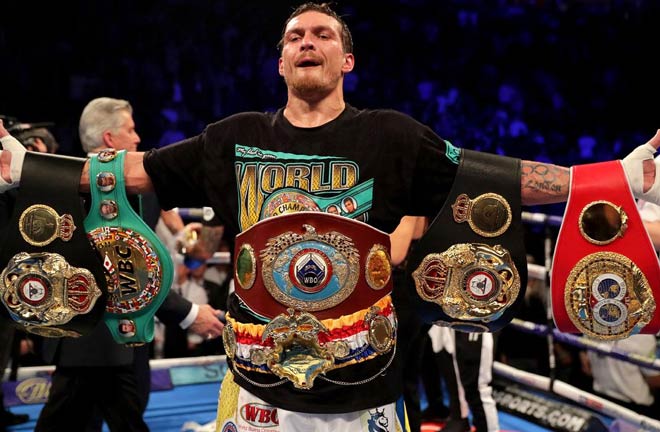 The Ukrainian southpaw and reigning Fighter of the Year is set to continue his onslaught upon the boxing world in 2019. The well-traveled Usyk was last seen knocking out Tony Bellew in their November mega clash in front of a sold-out crowd in Manchester, England. Rumor has it that the fight marked his last contest at cruiserweight and first major battle on the gargantuan DAZN-streaming platform.
Next Fight: News recently broke that Usyk will likely return to the ring on either May 18th or 25th at heavyweight in the U.S. Given his lofty status, I can see Usyk tearing through the WBO rankings in pursuit of a title shot.
Gennady Golovkin (38-1-1, 34 KOs)
There is a growing sense that GGG has entered the twilight of his impressive career. While still a formidable fighter, he is no longer the indestructible force he once was after back-to-back losses to Canelo Alvarez. At 36 years old and entering his 13th year as a professional fighter, the future is a bit uncertain for Golovkin. Yet he remains one of the most marketable active fighters with various networks and platforms vying for his services. Golovkin has stayed mum about his plans so far while the world continues to await his next move.
Next Fight: TBA – A viable path forward for the puncher could be a shot at WBO middleweight champ Demetrius Andrade, who immediately called him out after knocking out rival Artur Akavov on Jan 19.
Mikey Garcia (39-0, 30 KOs)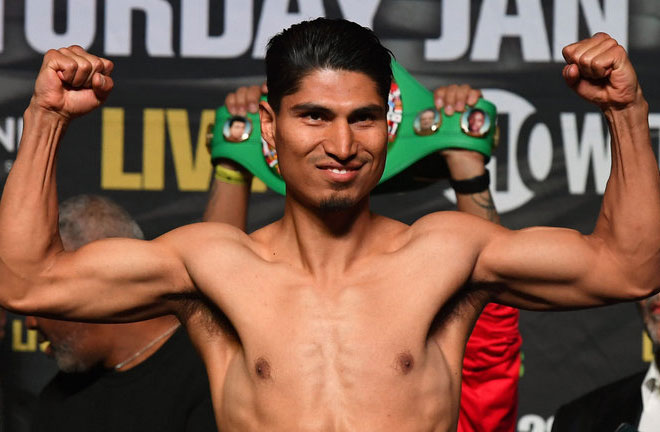 The Mexican-American is arguably the most technically sound fighter in the game today. It's been one statement performance after another following his two-plus year break from the sport having done well to invigorate this skilled prize fighter. Mikey's willingness to engage big-name opponents between 135 and 147 pounds is refreshing in an era where top fighters seldom battle each other for supremacy.
Next Fight: Garcia supposedly sees a way to defeat IBF middleweight ruler Errol Spence Jr. when they go toe-to-toe on March 16. We will soon know if there is any truth to that premonition but you can bet that Mikey will be up for the task.
Errol Spence Jr. (24-0, 21 KOs)
The 28-year old is just hitting his prime and largely seen as the toughest guy in the welterweight division. A terrific puncher who punishes the body, Spence finishes fights. He has dubbed 'The Truth' for good reason and has made a career of wrecking opponents on the way to compiling a perfect record and an 88% knockout ratio.
Next Fight: Undersized Mikey Garcia will put his sublime skills to the test in an effort to unseat the imperious Errol Spence Jr. I am not one to underestimate Garcia but this is one fight where size could prove decisive.
Srisket Sor Rungvisai (47-1-1, 41 KOs)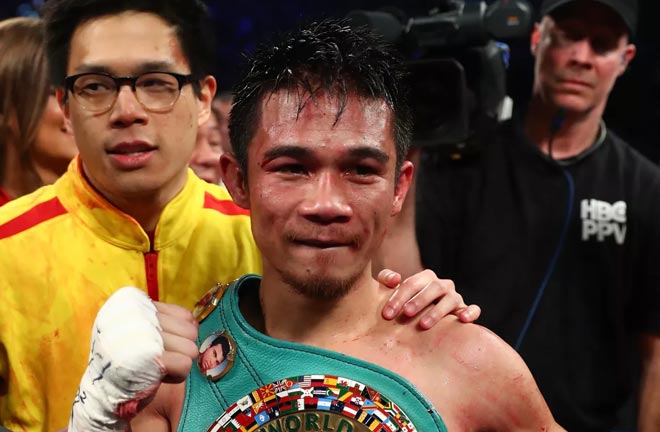 Relentless punching machine Rungvisai pounded his way onto this list and was last seen in action pitching a near-shutout over spirited Mexican warrior Iran Diaz in October 2018. That wide unanimous decision win helped him retain his Ring and WBC junior bantamweight titles. The popular Thai fighter from humble beginnings has come a long way to establish himself as one of boxing's top fighters.
Next Fight: TBA – Sor Rungvisai's immediate future was booked when he announced plans to get married following the win over Diaz. Let us hope to see him back in training very soon focusing on his next fight.
Naoya Inoue (17-0, 15 KOs)
Inoue, who is rated No. 1 by The Ring at bantamweight, was already idolized in his home country in need of the right opportunity to propel his name to international acclaim. That opportunity came in the form of the World Boxing Super Series where the Japanese star has continued to display his well-earned reputation as a devastating knockout artist.
Next Fight: In a hotly anticipated battle, IBF champion Emmanuel Rodriguez will attempt to tame "The Monster" when the two unbeaten champions meet in the soon to be announced WBSS semi-finals.
Anthony Joshua (22-0, 21 KOs)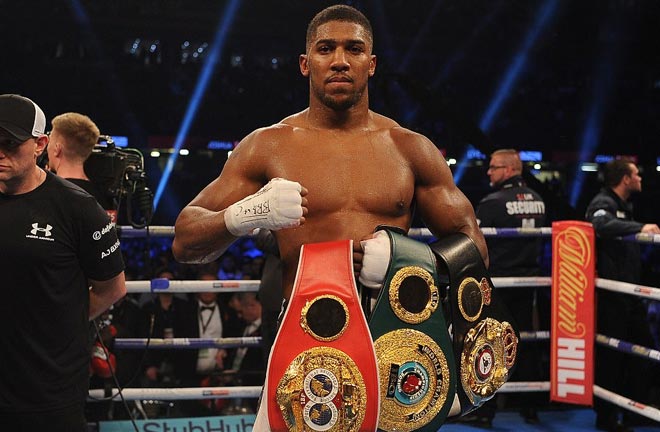 Joshua is a very good heavyweight champion but true greatness eludes him. On the surface, he is doing everything right by beating everyone put in front of him, which includes an aged Vladimir Klitschko, Alexander Povetkin dangerous Dillian Whyte and over hyped Joseph Parker. They are all solid opponents but fall short in giving the British star that career-defining fight that he needs.
Next Fight: Interestingly, AJ is the odd man out until the dust settles on the immediate rematch that the WBC ordered between his two biggest rivals Deontay Wilder and Tyson Fury. Pressure will be on Promoter Eddie Hearn to find a viable opponent for Joshua for his April bout at Wembley Stadium.  
What's your top 10 pound for pound? – let us know in the comment section below.