Boxing's Top 10 Welterweights of the 1990s
Boxing's welterweight division in the 1990s was extremely popular, and extremely loaded with talented fighters. The fights they waged with one another are still remembered and talked about to this day. Here's a look at the top 10 welterweights of the 1990s. This list of the top boxing welterweights of the 90s focuses on fighters who were at their prime in the welterweight division during this time and doesn't include any of the surrounding weight classes, which is why someone like Shane Mosley doesn't make the cut.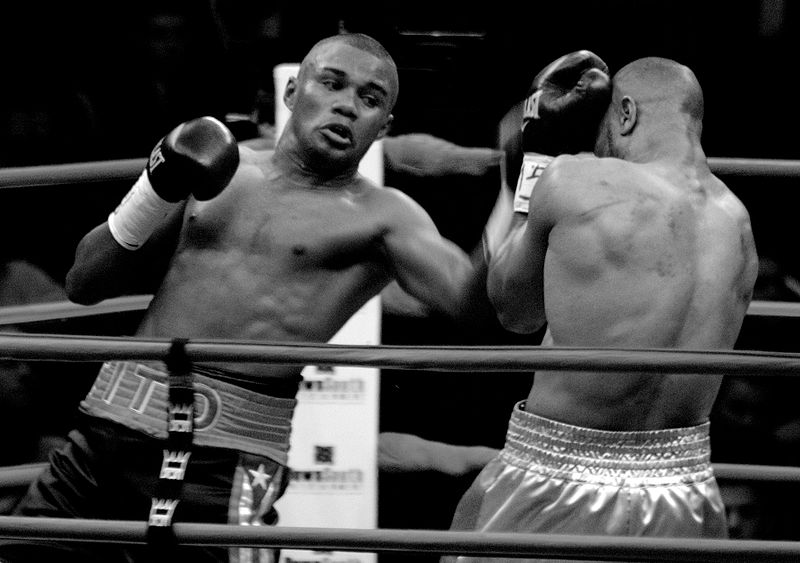 1. Felix Trinidad – Started his professional boxing career in March of 1990. Who knew this amazing fighter would win his first world title three years later against another fellow workhorse Maurice Blocker. Felix held his Welterweight title for 6 years, and was a skilled fighter, whose work rate often dismayed, and out dueled opponents in the ring. While remembered most for his power, he was a complete and dominant fighter at welterweight.
2. Oscar De La Hoya – Nicknamed the "Golden Boy", De La Hoya's Golden years took place during the 1990's. Oscar compiled an amazing 31-0 record with an astounding 25 KO's during his reign. Arguably one of the best Welterweights in history, this "Golden Boy" cemented his place in boxing for years to come.
3. Pernell Whitaker – Good ole "Sweet Pea," Whitaker was well known during his Welterweight years as an excellent defensive fighter. His extensive amateur career and defense led to his dominant force in the ring throughout the early and late nineties. Officially recognized as one of the best fighters ever in the Welterweight division, "Sweet Pea" was feared, hard to hit and a true champion during the 1990's.
4. Ike Quartey – Ike "Bazooka" Quartey was considered to have the best jab when he was in his prime. This former Welterweight champion from 1994-1997 primarily relied on a "peek-a-boo" or "clam-shell" defense. This defensive style allowed punches to land on his arms, elbows and gloves; which he held tightly to his cheeks and ribcage.
5. James McGirt – James "Buddy" McGirt fought many tough opponents, and finally won his Welterweight title from Simon Brown in 1991. McGirt then went on to carry the champion tradition, fighting his game, and had a knack of seeing angles that most fighters never seen. Hence, the reason for becoming a trainer after he ended his career in 1997.
6. Oba Carr – Brought fierce competition to any fighter who would oblige. Carr never earned the championship title he deserved; however he fought the best, and always put up a good fight. With this said, Oba Carr was one of the top Welterweights of the 1990's.
7. Maurice Blocker – The late 80s was a great time for an ever changing society. Maurice Blocker changed his outlook on boxing at the beginning of 1990. Maurice held the WBC Welterweight title and the IBF welterweight title during the early nineties. Blocker was an all around good fighter, even though at times luck was not on his side.
8. Jose Luis Lopez – Was originally handpicked as an easy opponent before he won his first WBO Welterweight championship in 1996. He then went on to challenge Ike Quartey and the outcome was a draw. Lopez went on to hold his Welterweight crown for 2 years before losing to James Page in 1998.
9. James Page – Slowly worked his way through the Welterweight division during the 1990s. However, it wasn't until 1998 until he was granted his first title shot. He won the title via TKO against Andrei Pestriaev and held the WBA title for 3 years.
10. Vernon Forrest – "The Viper" started his career in 1992 as a relatively quite fighter. Forrest did not win a world title during his undefeated span from 1992-1999 (30-0 (25KO's). However, this voracious fighter didn't go unnoticed. Vernon Forrest fought some fierce competition during the 1990s, and most fighters did not want to step into a ring against an undefeated fighter for a title defense. Vernon Forrest dominant presence alone earned him a spot on the Welterweight list of the 1990s.
Check out more all time lists at Pro Boxing Fans, such as Mike's top 10 heavyweights of all time and all of the top 10 lists in the Best of Boxing section.
Photo Credit: Matt Borowick from Wikimedia Commons