Early Look at Miguel Cotto vs. Canelo Alvarez:
Miguel Cotto and Canelo Alvarez have only just begun training for their upcoming clash. Though it's no longer for our middleweight title, thanks to being contested at a catchweight of 157 lbs, it's a huge fight with major implications, and hopefully, plenty of action. Of course, it's never too early to start analyzing the fight to determine how it may end up. Here are the top 3 questions that will determine how Cotto vs. Canelo plays out.
How much does Miguel Cotto really have left?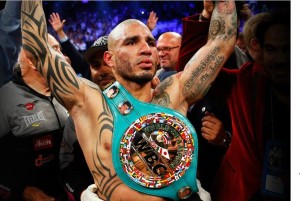 Cotto has looked sensational in each of his last two outings. However, he enjoyed a year's layoff in between them, affording nice rest for his older body. Further, in the first bout, he fought an ailing champ in Sergio Martinez who couldn't perform, and in the second bout, fought a weight-drained contender in Daniel Geale.
This is the fight where we see how much Cotto really has left. He's facing a hearty, young, confident fighter. Though there's a catchweight, Canelo has been fighting at 154 lbs, so he'll still enjoy more leeway than he's typically used to. And Cotto will have had only half the rest he took in between Martinez and Geale.
If Cotto can only muster even 90% of his physical and mental best, it's not going to be enough. He'll need it all to defeat Alvarez.
What does Freddie Roach have in store?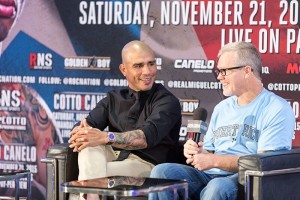 Cotto quite vocally has thanked Freddie Roach for the rejuvenation of his career, even lamenting that the two didn't team up sooner. Roach, particularly at this stage of his life, is a strategist, and he's always capable of cooking up something special for big fights such as this.
So what's it going to be? Countering a specific flaw in Canelo's less than ideal defense? Luring Canelo forward and then sending him back with a left hook downstairs? Pushing the pace instead of letting it meander, as might be expected? We'll have to wait and see.
Will Canelo box or attack?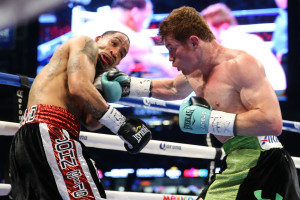 Canelo – younger, stronger, larger, fresher, presumably more energetic – will likely take on the role of aggressor in the fight, as is usually his style. Yet, is that playing into a Cotto and Roach strategy? If Canelo believes that to be the case, he may choose instead to box with Cotto. He's also been known to fall in love with his boxing occasionally, and more than is warranted considering its execution.
Opting to box would be a major mistake for Canelo. Cotto has always been highly underrated in terms of being a skilled tactician, sticking his jab, utilizing foot work and angles to both set up offense and maneuver out of harm's way. He's not Floyd Mayweather – and good thing for Canelo – but he's a premium level operator.
Coming forward may very well see Canelo literally walking into a trap, but it's the far superior option for him, and he'll have a chance to overwhelm and work against whatever that trap may be.
Ultimately though, I believe this fight will have far more to do with Cotto than Canelo. Cotto needs to be at his best, and he needs a very carefully refined strategy, otherwise, Canelo will most certainly emerge victorious.