Austin Trout is coming off a career defining win on December 1st over Miguel Cotto. It is no secret that Trout desires to fight the division's star attraction, Saul "Canelo" Alvarez, in the spring. However, the Alvarez camp is currently weighing various opponents and may opt to go in a different direction.
So what are Trout's logical options should Canelo fight someone else in the spring? I will analyze some choices the reigning WBA Junior Middleweight Champion may be facing in the coming weeks.
Jermain Taylor
Before everyone jumps all over me, remember the piece is about likely potential opponents – not the "best" opponents. Personally, I do not want to see this match. But I am analyzing logical fights and this certainly makes a lot of sense.
Trout needs to fight someone next who has something to offer. Jermain Taylor offers a big name. Taylor also has shown to be very vulnerable of late. And hence a big name in a low risk fight makes tons of sense. While Taylor is campaigning as a Middleweight and Trout as a Junior Middleweight, a simple solution to this is to meet at a catch weight. And a logical number seems to probably be 158 for this fight.
Taylor has been openly himself seeking a big fight next. His management team seems willing to go out and get him one more decent payday knowing it could be his last. Taylor was almost Peter Quillin's opponent for his February title defense. So if Trout's people called he certainly would entertain the offer.
So what does Trout gain with a win over a faded Taylor? Most importantly, Taylor would be big name to Trout's growing resume. And this will only help build his case for a future fight with a much bigger name down the line. However, Taylor is a huge middleweight, and his size alone would be a substantial problem from Trout.
Cornelius Bundrage
Another logical foe for Trout is current IBF Junior Middleweight Champion Cornelius Bundrage. Bundrage has a scheduled title defense against Ishe Smith. Obviously Bundrage, who will be heavily favored, must win for a fight with Trout to be possible.
So what does Bundrage have to offer Trout? Well he does carry a bit of a name but most importantly holds a title belt. And if Trout takes two belts then that would make him a much more marketable opponent for Canelo.
Stylistically this would on paper be a favorable matchup for Trout. Bundrage has never been fleet of foot and prefers his opponents to be more stationary. Trout of course is much quicker and prefers to box from a distance from the outside. If Cotto found Trout to be an elusive target just imagine how difficult a time the slower Bundrage may have.
So if this is such a bad style for Bundrage why would he entertain the fight in the first place? Well simply because he will have no other choice. He is pushing 40 and this may be his last big opportunity to do something in the sport. He may believe he can catch Trout with something and by doing so earn himself big money fight with Canelo.
Victor Ortiz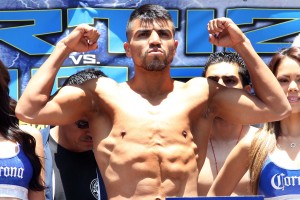 Another logical opponent for Trout is Victor Ortiz. Ortiz has not fought since he was unable to answer the bell for round 10 against Josesito Lopez in June. Ortiz is looking to jump start his career and a win over Trout would do just that.
Ortiz offers Trout a very marketable opponent and big name. This would bring a bigger payday Trout's way than the first two opponents mentioned above. And Trout would earn more respect in the boxing community with a win over Ortiz as opposed to Taylor or Bundrage.
Personally, I think Trout's people would love to make this fight if the Canelo fight cannot be done. Trout is a natural Junior Middleweight whereas Ortiz started his career at Lightweight. Trout is also much quicker than Ortiz. He can use this quickness to give Ortiz angles and keep the fight at a distance from the outside.
Other fighters have had success when they have been able to frustrate Ortiz. It is not inconceivable to see Trout controlling the early rounds from a distance comfortable to him with his jab and combination punching. In those moments when Ortiz would get to the inside Trout would simply tie him up. And this may frustrate Ortiz and cause him to get wild. Of course this would leave Ortiz even more open and make an even easier night of it for Trout.
Ortiz's people are well aware that Trout is not necessarily a good matchup for their man. But if they are unsuccessful in landing another big fight (an Andre Berto rematch?) they may take their chances and the payday with Trout.
Comments
comments