"Rivalry is the life of trade, and the death of the trader" – Elbert Hubbard
Previously I discussed some of the more spiteful recent boxing rivalries seen, and in some cases not seen, in a British ring. There is no doubt our fine sport has a greater resonance when there are two enemies with their pride on the line, bloodlust on their mind and hate in their heart. Here I will go through four current British Boxing rivalries that simmer more than the others, detailing their conception, present standing and consider the potential likelihood of their being settled in the future.
[See: Part 1 – The Best & Worst of British Boxing Rivalries]
Tyson Fury – David Price
Rivalries are often more fun when the characters involved have genuine differences. Tyson Fury is the mad hatter of British boxing. He once took his shirt off and challenged Dereck Chisora while the two sat ringside watching George Groves-James Degale. He has been known to be publicly chauffeured by horses with a megaphone to promote his fights. Even by accident he has his moments, uppercutting himself in the face mid-fight against Lee Swaby. Price, on the other hand, is much more solemn and thoughtful. His confidence has grown along with his reputation, but he clearly still belongs in the "gentle giant" category.
What's more is the two have previous history. Price beat Fury in the amateur ranks, but was knocked down in the process, and the two have continued to maintain a non-cordial dislike for one another since. Recently, Fury came under fire when making homophobic comments about Price via Twitter, and has not wasted time eating up the airwaves barracking Price on terrestrial television whenever the opportunity arises.
Right now, they are both gearing up for future fights against the Klitschko brothers, but both still have some proving to do before they reach that particular point in the road. The ideal scenario would be for them to both hold a version of the heavyweight title when they meet in the ring. However, this would be a hard scenario to foresee, given Price has only really established himself at European level while Fury finds quality match-ups hard to come by. A more realistic scenario is they meet much closer down the line, undefeated and with the precursor of "the winner fights a Klitschko".
Kell Brook – Amir Khan
When Ricky Hatton recently announced his return to the ring, it seemed to re-light the prospect of a welterweight match-up that had only ever been mentioned with the future in mind, and it didn't involve Hatton. Kell Brook and Amir Khan suddenly appeared on the Ringside boxing show, trading insults and raising the stakes for a potential meeting, at the same time putting themselves in the picture to meet Hatton.
Their careers have taken totally different paths. Brook turned pro almost a full year before Khan, but come 2009 Khan had been knocked out, rebuilt and was preparing for Marco Antonio Barrera while Brook had only had four fights against men with winning records. Despite this, the two have certain similarities in their willingness to rise to the occasion.
Khan has fought a steady diet of top class opposition since he won his first belt against Andriy Kotelnik. Sure, he may have lost a few, and you can put down the man's chin and question his in-ring tactics, but his courage and willingness to fight the best is simply unquestionable. In different ways, Brook has had no problem accepting a challenge either. Awarded the vacant British belt amidst controversy against Barrie Jones, Brook travelled to Scotland to take out former champion Kevin McIntyre in one round. Earlier this year, he overcame fitness issues and breathing problems suffering a broken nose that forced him to fight the second half of his match with Carson Jones in serious discomfort. He won.
They claim to have sparred each other, but differ on who got the better of it. One thing is for sure, a real fight between the two would command the attention of the British public. They may not be the best with their words, but with their fists they represent themselves of two of Britain's highest quality potential pairings and, should Khan get his career back on track a meeting between the two at welterweight down the line is nigh on a guarantee.
Nathan Cleverly – Tony Bellew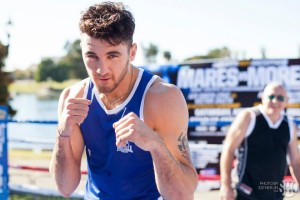 "Let's do it right now you f****** rat". So were the words of Tony Bellew when he and Nathan Cleverly were hauled together at a press conference to announce their (eventually temporarily postponed) first meeting.
When Cleverly and Bellew did finally meet to put and end to the conjecture last year, it was a miracle they managed to keep it together up until fight night. Tense head to heads and brooding looks were the order of the day, and the fight didn't disappoint either, with Cleverly prevailing on a tight points decision after a back and forth thriller. To think the rivalry ends there is naïve, however.
Bellew has improved since their first fight. Boxing with patience he dismantled Danny McIntosh and ground down Edison Miranda. He now sits proudly among Eddie Hearn's excellent stable of fighters, guaranteed wide audiences on Sky Sports.
His ascendancy has been such that he almost surpassed Cleverly, despite the Welshman being the world title holder and winner of their first meeting. With Cleverly struggling to get opponents and yet to make his much-mentioned mark in America, a rematch between the two could be ideal for late 2013, particularly if Bellew manages to snag himself a world title in the intermittent time period.
Scott Quigg – Carl Frampton
Before I discuss this much hyped future super bantamweight shake-up, I think it would be unjust not to mention Rendall Munroe in this argument. Munroe fights Quigg on the undercard of Ricky Hatton's return later this month, and should he win (which is a decent chance), a match between Quigg and Frampton would be on the back-burner for the time being. Nonetheless, the names of Scott Quigg and Carl Frampton have almost gone hand in hand for the past year or so, and they currently equate to what could be a brilliant clash of styles in future.
Both have the backing of weighty names in the sport, Quigg by Ricky Hatton, Frampton by Barry McGuigan, and this has helped the fight garner hype other match-ups could not. They are both young, undefeated, and have shown themselves to be attack minded in the past. Frampton resembled a whirling dervish when whipping Steve Molitor, Quigg attacked relentlessly against Jason Booth. So while the two may prefer to let others talk for them, they have no problem dealing with matters of a more fistic nature.
Should Quigg beat Munroe, the two would both be near enough ready for world title tilts. Who needs titles on the line when you have throngs of Northern Irishmen having singing contests with English fans, the star power of Hatton and McGuigan and the ferocious desires of two young bucks keen to stamp their authority on the British super bantamweight scene? I know I don't.
For me, the four above contests would be the ones to make if British promoters want to make the public lay down their hard-earned cash, lock up their doors and spend a night in watching the boxing without taking their eyes off the screen. I for one get excited just thinking about them.
Here's to hope, futile though it could turn out to be, that these men meet sometime soon. Not through Twitter, not through press conferences or public appearances, but through the hard truths of the boxing ring. It is after all the best place to settle a rivalry.