The Top 5 "Over 40" Fighters of All-Time
Bernard Hopkins' technical schooling of Tavoris Cloud, a reigning titleholder who was more than 17 years his junior, was significant.  I was among those who figured Cloud, with Father Time in his corner vs. B-Hop, would be too much for the ageless "Executioner". However, it appears Father Time apparently has as much trouble getting to Hopkins as Cloud did.
At the age of 48, he has once again set a new standard in boxing as the oldest champion ever, another impressive performance that will go down in the annals of boxing history. But does this latest historic win by Hopkins make him the greatest 'Over 40' boxer of all-time? 
Here are my top 5 boxers over the age of 40 in history.
5. Roberto Duran (Over 40 record: 18-7-0 w/ 9ko's)
Duran was mainly a bloated version of his iconic self after he turned 40.  He fell short when facing upper-echelon fighters of the time.  He dropped two fights to Vinnie Pazienza and Hector Camacho and oneto William Joppy.  What gets him on this list is the fact that he did win 18 fights, including one vs. former champ Jorge Castro, who was not yet 30 at the time.
4. Larry Holmes (Over 40 record: 21-3-0 w/10ko's)
Holmes did diminish quite a bit as he hit 40 and beyond but that legendary jab never seemed to leave him.  He managed to win 21 bouts after hitting 40.  While he couldn't beat Holyfield, he did impress by taking then titleholder Oliver Mccall to the wire.  Holmes put in another, high-profile win in handily beating an undefeated, 31-year-old, Ray Mercer.  He also scored wins vs. some known Heavyweight names with championship bout experience including Jesse Ferguson, Jose Ribalta and Quinn Navarre.
3. George Foreman (Over 40 record: 17-3-0 w/10ko's)
Foreman became extremely relevant and marketable after 40.  He scored impressive wins vs. one-time title contenders Gerry Cooney, Pierre Coetzer and Bert Cooper.  He did come up short in his first 3 title attempts, two against Holyfield and one versus Tommy Morrison, until he finally broke through with an electric, late round KO of 27-year-old titleholder Michael Moorer, becoming the oldest man to win a heavyweight title at just under 46 years old, and the oldest champion in boxing history until the next man on the list had something to say about it.
2. Bernard Hopkins (Over 40 record: 8-4-1 w/0ko's)
Hopkins is the oldest man ever to win a championship.  His feat of beating 31-year old Tavoris Cloud for the title, at age 48, is a singular accomplishment which is unmatched in boxing. Unlike others on this list whose 'over 40' win/loss record can be a bit "padded" by questionable opposition, most all of B-Hop's bouts were against champions and contenders.
He demolished Kelly Pavlik and Antonio Tarver, and though the record shows one win against Jean Pascal, you could easily argue that it should show two wins, after a questionable draw in their first meeting. Hopkins did not look good in losing to Dawson, which is really his only definitive loss, but he bounced back in impressive fashion and dominated Cloud Saturday night and made history, again.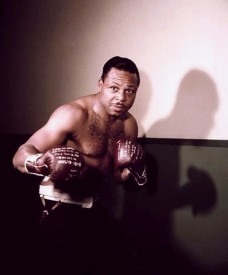 1. Archie Moore (Over 40 record: 26-2-2 w/16ko's)
Moore has long been the standard bearer for aged boxers.  He was already the Light Heavyweight Champion when he hit age 40, and then established himself as one of the best light heavyweight boxers in history. After turning 40, he yo-yo'd back and forth a bit between Heavyweight and Light Heavyweight.
He was dominant early in his 40's beating Light Heavyweight Contenders Tony Anthony and Eddie Cotton as well as Heavyweight Contenders Roger Rischer and Hans Kalbfell. In 1958, at the age of 41, he fought an eye-popping 10 fights, going 9-0-1 that year, including his epic, comeback win with Light Heavyweight contender Yvon Durelle in Montreal, to again retain his Light Heavyweight title.  His only losses after turning 40 were against Giuliani Rinaldi (later avenged in a 12 round UD) and a 21-year-old, Cassius Clay.
Moore's 'Over 40' crusade was legendary in quantity, as well as quality. 26 wins and 16ko's in his six years after reaching age 40, would be a remarkable 6-ear stretch for a fighter at any age.
In the end, the margin between numbers 1 and 2, Moore and Hopkins, is razor-thin. One more successful title defense by "The Executioner" may well cast him beyond the legendary "Old Mongoose". We'll all just have to stay tuned and see what he has in store for us next.