5 of the Greatest Knockouts in the History of Boxing:
Some punches have made superstars out of men when you would never have expected it. Some punches have turned superstars into megastars. Some punches have turned a one sided masterclass into a blur of flailing hands. That is the beauty of a knockout in boxing, because it can happen at anytime to anyone and they have the ability to flip any fight on its head.
If you were looking for particular knockouts that altered the course of history or maybe just made you sit up out of your seat then I have compiled a top five list that will not fail to amaze you. Here are my 5 favorite knockouts in modern boxing history.
5: Gerald McClellan vs Julian Jackson I
Jackson was a deadly puncher himself and nobody in the arena expected this fight to go the distance, one way or the other. McClellan really announced himself to the world by blasting Jackson out in five rounds to capture the WBC Middleweight Championship. McClellan would then demolish Jackson inside a round in their re-match.
4: Lennox Lewis vs Hasim Rahman II
Lewis was after redemption after losing to Rahman in South Africa and he got it emphatically in this re-match. A perfect one-two combination sent Rahman to sleep instantly, putting Lewis back on top of the mountain as the undisputed champion.
3: Manny Pacquiao vs Ricky Hatton
Hatton was out cold before he hit the ground and it was a solid minute or two before he had even realized what had hit him. Before the fight it was expected that someone was getting KO'd, but in this bout we realised that Pac-Man has certainly carried his punching power well from the lower weights. After flooring Hatton once he then went on to demolish him before the end of the second round. Hatton would retire after the bout and you can't really blame him.
2: James Douglas vs Mike Tyson
Not only was this a fantastic knockout but it was also one of the biggest shocks ever. Tyson was the unstoppable force in the Heavyweight division, destined for all-time great status, making short work of quality fighters, such as Bruno, Tubbs, Holmes, Tucker and Berbick. But somebody forgot to tell "Buster" and he shocked the whole world with the greatest upset in boxing history, knocking out Tyson in the tenth round. Many cite out-of-ring problems for why Tyson lost that night in Tokyo, but take nothing away from Douglas because he fought the fight of his life.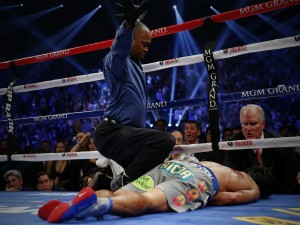 1: Juan Manuel Marquez vs Manny Pacquiao
Many people will disagree with my list and that is what opinion is all about, but this knockout is one of my favorites ever. Marquez was unlucky to not have already won two, or even three, victories over his rival before this fight. But this time he didn't leave the decision in the hands of the judges, leaving Pacquiao completely unconscious in the fourth fight of their historic saga. Marquez will never time a punch better in his life.
There has been a lot of clamor for a fifth clash between these two future hall of famers, but I don't think the series could have ended any more decisively.
Of course, it will be interesting to see the debate that can be sparked from this, so feel free to chime in with your own favorites and thoughts. I' m always on the lookout for a KO or two that I have never seen before.