Ruslan Provodnikov proved that he belongs at the top of the sport after twelve brutal rounds against Timothy Bradley Jr. in March. On October 19, Provodnikov faced another brawler in Mike Alvarado, and as Provodnikov told Max Kellerman on HBO's Face Off, "Whoever can break the other's will is going to win."
Provodnikov's goal was to do just that. In a breakout performance, Ruslan Provodnikov broke down Mike Alvarado and scored a tenth round TKO victory.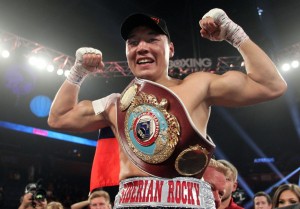 Provodnikov grew up in the small village of Beryozovo in Russia and recalled moments in his life where other kids would constantly pick on him because of how small he was. In order to get anywhere in life, Provodnikov had to prove he was worthy and that was one of the main reasons why Ruslan decided to fight. Because of his hard work in the ring, Ruslan has been rewarded with the opportunity to fight in prizefights where thousands of fans from across the world come to watch.
After fighting Bradley earlier this year, many fans wondered, did Provodnikov smply fight Bradley on a bad night? I have to disagree with the notion that he did. Bradley came into the ring that evening with something to prove following his gift decision victory against Manny Pacquiao.
Provodnikov also came with something to prove and he showed it with his fists. Timothy Bradley showed it with his heart, taking a serious beating at numerous points in the fight. Although the fans booed Bradley at the end, he showed that he has the heart and will of a champion. The fight could have gone either way, and as such, this begs for a rematch.
It's unlikely that we will see Provodnikov fighting Manny Pacquiao because they are both trained by Freddie Roach, and are reported to be good friends. However, we could see Provodnikov fight Brandon Rios if he can pull an upset on November 23rd in Macau, China.
Let's say that Pacquiao beats Rios, as expected. That would be the second straight defeat for Rios, and would certainly signal what I already believe, that Provodnikov would annihilate Rios.
From there, Bradley would be able to choose between Pacquiao or Provodnikov. I believe that Provodnikov and Bradley would have another epic performance, but Ruslan could get the decision. Considering more money is available with the Pacquiao fight, Bradley would obviously go in that direction.
So Bradley vs. Pacquiao II could be coming up in the beginning of 2014, leaving Provodnikov without a major fight. Alvarado's team would be wise to avoid a rematch. But who does Provodnikov get? Rios coming off a loss? Or does a rare Top Rank-Golden Boy agreement allow him to face on of their bevy of 140-147 lb stars — Danny Garcia, Lucas Matthysse, Amir Khan, or even Floyd Mayweather? We'll have to wait and see.