Andre Ward's resounding stoppage victory over Chad Dawson confirmed his dominance over every boxer in the world between 160 and 175 lbs, but it also created a problem for him: where does he go now to find the kind of exciting, challenging fights that guarantee PPV buys and the lucrative paydays that go with them? Ward had already cleaned out the top half of the super middleweight division, and in defeating Dawson he toppled the top dog of the light heavyweight division as well. What remains for him to do?
Ward now shares the same problem as the Klitschko brothers, in that all three sit astride their respective domains like giants. None of the three has a dangerous challenger in sight, and although Ward's crowd-pleasing style partially overcomes that problem and helps to keep attention focused on him, it still raises the question of who might come next for Andre "S.O.G." Ward.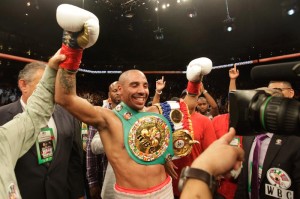 Ward has called on Joe Calzaghe to come out of retirement, but that is most unlikely. Instead, Ward has to look around to either clipping the wings of up-and-coming middleweights, defending his super middleweight titles against lower-tier contenders, and/or cleaning out the light heavyweight division.
1. Anthony Dirrell: 24-0 Anthony "The Dog" Dirrell is the younger brother of 2004 bronze medalist Andre Dirrell, and shares many of his big brother's qualities as a boxer, but without the damaged goods status coming out of Dirrell's clashes with Carl Froch and Arthur Abraham. Although he is not well-known, Dirrell has a solid amateur background, and is probably quicker than Ward. Dirrell the Younger is ready now to step up and into contention, although he needs a fight or two against real contenders before tangling with Ward. He could theoretically get that before late 2013.
Dirrell is also the #1 WBC 168 lbs contender, so if Ward intends to keep his green belt, he will need to give Dirrell a shot at him sometime in 2013. However, Ward may forgo this fight out of sentiment. He once declined to fight big brother Andre, his Olympic teammate, [Note: Ward vs. Dirrell was scheduled in the Super Six before Dirrell withdrew] so he may also decide to drop the green belt so as to not fight little brother Anthony.
2. Tavoris Cloud: If Dirrell were looking to move into the light heavyweight division permanently (his fight against Dawson was at 168 lbs), Cloud makes for a good target. The undefeated IBF champion is a formidable puncher, but otherwise raw and would prove the perfect foil for Ward's tactical wizardry.
3. Kelly Pavlik: This would be the big name payday option for Ward. Even in his prime, the hard-punching Pavlik would have found himself smothered and unable to find the range for his power against the guileful Ward. If aged Bernard Hopkins could out-fox a prime Pavlik, imagine what Ward would have done to him! And after a bout with alcoholism, Pavlik is no longer in his prime. Even so, he has name recognition, and is looking for a big fight. The bout would be an easy one for Ward, and bring in bigger bucks than Brian Magee.
4. Brian Magee: Magee is the #1 contender for Ward's black WBA strap, and so makes this list. However, it's hard to see Magee as anything other than a tomato can and an easy payday for Ward, on the same level as Bryant Brannon or Richard Frazier against Roy Jones. The only reasons I can see Ward making this fight is that he might want to keep his WBA strap out of sentiment (it was his first world title) and/or desire to avoid Anthony Dirrell (see above). Judged on the business and sporting merits, Dirrell is a better mandatory defense than Magee, so if a strap and a defense has to go, it ought to be this one.
5. Sergio Martinez: Until Carl Froch or Mikkel Kessler do something spectacular (like Froch kayoing Bute for a second time), "Maravilla" is the only potential challenger that could be even remotely sold as a threat to Ward. Even so, Martinez is such a smart customer, he must realize he would be toast against Ward. On a P4P level, he might have the stuff to rival Ward, but on a real life level? Martinez is small for a middleweight; Ward is big for a super middleweight. Ward would have the edge on Martinez is every single category except hand speed, and Martinez's edge there would be minor. I can't see Martinez taking such an obvious losing proposition, although I'm certain we will hear talk of it in 2013.