The Toughest Boxers in the World:
Being a tough guy in boxing is about more than just having a good chin, but that is a good start. Other facets include stamina, strength, punching power, and the kind of iron will where a guy really doesn't care what the other guy throws at him, so long as he gets to throw back.
Keeping those factors in mind, here are the five toughest men in the sport today:
5. Marco Huck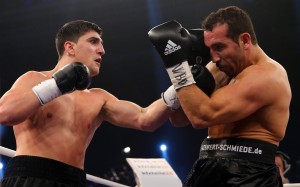 This well-established WBO cruiserweight titlist and our #1 contender is an all-action brawler who gets by on hurtful punches, out-muscling guys in the clinches, and being able to take a hit. In his most noteworthy fight, he came very, very close to taking down Alexander Povetkin, a much more skilled boxer who outweighed him by 20 fit pounds. Past that, his career is one of walloping undefeated and battle-tested cruisers. The "Kapitan" is one tough Serb.
4. Brandon Rios: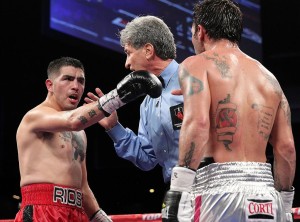 Do I need to make a case for Bam Bam? He comes to fight, and fights rough. In his recent and controversial bout with Diego Chaves, the Argentine discovered the only way he could stymie Rios was to get dirtier, so much so he was disqualified!
Rios is also one durable character, with some pundits speculating if his cast iron chin, and his well-stated passion for being punched, isn't buying Rios a one-way ticket to pugilistic dementia. Finally, he has carried hitting power from lightweight to welterweight.
3. Sergey Kovalev: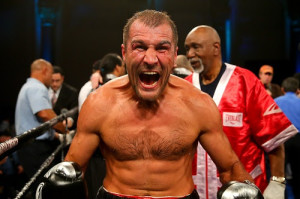 The Krusher is so tough that I'll probably catch heat for not making him the #1 tough guy in boxing. He is seemingly heedless to pain (albeit not impervious), which is a good thing since he eats a lot of punches in his fights. Yet he wins by dishing out more damage than anyone thus far has been able to mach with the kind of punches that hurt even when they glance off. Another nickname for him could be "The Mincer."
2. Marcos Maidana: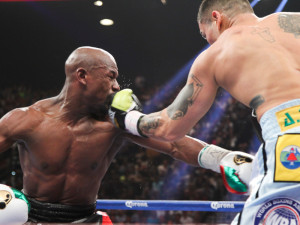 He's the bull from Argentina, a lock as one of the toughest guys in the sport and a contender for all-time tough guy lists. Pound for pound, Maidana is also one of the strongest men in boxing today. In terms of style, he has evolved from all savagery to a focused, savage assault. His punches hurt everybody he fights, and only ferocious bangers manage to hurt him in turn. With Sergio Martinez on the down-slide, Maidana's machismo make him Argentina's top gun.
1. Carl Froch: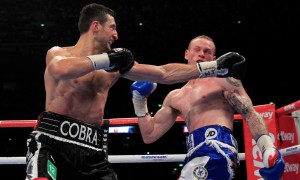 What makes the sport's iron man it's toughest fighter? You might say other guys take a punch better, are uglier infighters, or have more power, but have any of them established the resume of Carl Froch? The guy is the toughest guy who literally has fought and is still fighting everybody, bar none. And that makes him the toughest hombre in boxing today.