Heading into the 2012 London Olympic boxing competition, the United States is sending one of the largest squads in the field. They will be represented in nine out of 10 men's weight classes, tying them for the 2nd largest team.
The USA boxing team is a mixed group consisting of experienced amateurs and others still just getting their feet wet in the sport. Having such a large squad is certainly a good thing, but it offers no assurances of frequent trips to the medal stand.
That said, there is reason to be optimistic about this year's USA boxing team and their chances at the London games. Certainly, they figure to do better than the meek 1 (bronze) medal performance at Beijing in 2008, and if things shake out in their favor, they could bring home a respectable medal haul.
Here's a look at some of the top medal contenders and hopefuls for USA Boxing at the 2012 London Olympics.
[A note on world rankings: The AIBA issues monthly rankings for all of their weight classes, and it's a useful tool to see where fighters stand amongst their peers. However, the rankings are based on a points system based on participation and finish in certain events. Therefore, they are more similar to the topsy-turvy rankings of a boxrec.com than they are a realistic view of which fighters are truly the best in the world. Only three USA Olympians are even ranked in the top 25 of their weight class. As mentioned, it's a useful measuring stick, but an incomplete view of the truth].
Top 3 Medal Contenders for USA Boxing at London 2012
Rau'shee Warren – Flyweight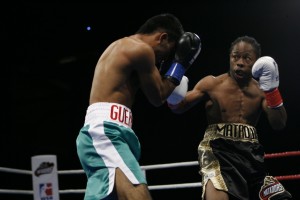 Warren is making his third trip to the Olympics, an American boxing record. His performances at the Games have been rather dismal, particularly considering the expectations that come along with the rest of his track record. He won a gold at the 2007 World Championships, a bronze at the 2009 Worlds, but in 2011, was denied the medal stand in a close fight against eventual winner Misha Aloian of Russia. Currently ranked 10th in the world, Warren has a great chance at a medal, and his biggest competition will come from the likes of Aloian, and Andrew Selby of the UK.
Marcus Browne – Light Heavyweight
Browne won a gold at the American qualifying event, locking up his berth to London. In the final match-up, he easily dispatched of Brazil's Yamaguchi Florentino, the 21st ranked fighter in the weight class. He didn't last long at the 2011 Worlds, but he ran into a tough match against former World Champion and current number 2 Egor Mekhontsev. At 6'2″, he has great size and athleticism, and is continuing to improve. He just needs to avoid Mekhontsev and Cuba's Julio Cesar La Cruz in the early going, the current World Champion and number 1 ranked fighter.
Joseph Diaz Jr. – Bantamweight
Just 19 years old, Diaz showed great potential at the 2011 World Championships, escaping the experienced Oscar Valdez from Mexico, and losing to eventual gold medal winner Lazaro Alvarez Estrada of Cuba. He's ranked 19th in the world, and he's a tough kid, but he's in an even tougher weight class, with Alvarez Estrada from Cuba, Luke Campbell from the UK, and others. Rapidly improving, he could work his way onto the medal stand.
3 More USA Boxing Medal Hopefuls
Michael Hunter Jr. – Heavyweight: Hunter, the son of Michael "The Bounty" Hunter, certainly has the pedigree. He is one of the more well seasoned members of the team, having competed internationally since 2007. He's well schooled and athletic, a combination that could give some of the stiffer European opponents he'll be facing problems.
Dominic Breazeale – Super Heavyweight: Breazeale only recently gave up football for boxing, and has been improving at an absurdly rapid level. He took home a silver at the qualifying event, his first international competition, and has loads of athleticism. Like Deontay Wilder in 2008, the sole medal winner for the US, he's learning on the fly and the sky's the limit. He could turn a lot of heads in London.
Terrell Gausha – Middleweight: Gausha took home gold at the Americas qualifying event, going 4-0 in the tournament. That's of course always a good sign to be doing well on the international stage prior to the Olympics. He's a late bloomer comparatively speaking with some other fighters, and he has a lot of athleticism. Middleweight is a tough division to be certain, but not as daunting or deep as some of the other weight classes at London.
Of course, the rest of the squad ain't shabby. Errol Spence in ranked 24th in the world at Welterweight. Jose Ramirez is an experienced, young kid with a ton of heart and an attacking style. Jamel Herring is a US Marines sergeant, and as you might expect, is a tough, experienced and well respected fighter, as well as team captain.
Truth be told, the right draw and a peak effort could see almost any member of the team work his way into a medal, and that's what has a lot of fans of USA boxing very hopeful and excited about London 2012.