Vic Darchinyan and Yonnhy Perez collide on the undercard of Agbeko-Mares on April 23 in Los Angeles. This is no typical 3rd place game. In some sports, teams play in inconsequential third-place tournament matches such as these where there is little to play for. The top spot is not attainable, so why even sweat it? Make no mistake about this fight, however, as it is a very high-stakes bout, which will determine the path of these men's careers.
Both fighters obviously lost their last fight in the bantamweight tournament format. To keep pace with an exploding weight class, each fighter desperately needs a win to remain relevant. With both on the wrong side of 30, they are hanging by a thread and a loss could make it nearly impossible to climb back into the mix. These conditions should make for a hotly-contested match. In essence, each man is fighting to save his career.
When: Saturday, April 23, 2011
Where: Nokia Theatre in Los Angeles, California
Weight Class: Bantamweights: 12 Rounds
Vic Darchinyan, 35-3-1 (27 KOs), Armenia
Vs.
Yonnhy Perez, 20-1-1 (14 KOs), Colombia/Santa Fe, California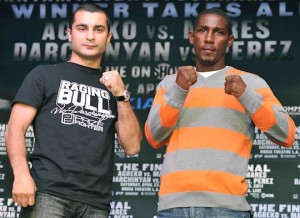 Styles
Vic Darchinyan: Awkward southpaw slugger looks to do damage with his shots. Has become more adept at throwing punches voluminously when his power doesn't settle matters. Gives opponents a different look and seems easier to hit than he actually is.
Yonnhy Perez: Rubbery fighter depends on a high punchrate to score points and win rounds. Great flexibility and anticipation allows him to stay in the pocket and dull the sharpness of the blows from his opponents. Does well in controlling the distance between him and his opponents.
Quality of Opposition
Vic Darchinyan: Vic has a compelling resume, beginning with a 2004 TKO over undefeated and long-reigning flyweight titleholder Irene Pacheco. Six defenses, none of which went the distance, followed before the shocking loss to Nonito Donaire. From 2008-2009, Darchinyan stopped Dmitri Kirilov, Cristian Mijares, and Jorge Arce to restore some luster to his career. Vic has also lost to Abner Mares and Joseph Agbeko.
Yonnhy Perez: Turned pro late at 26 in 2005 and operated somewhat anonymously before stopping favored Silence Mabuza in a title elimination bout in 2009. Beginning with that fight, he has fought a tough schedule—with 4 taxing battles in 18 months. Scored another upset by decisioning Joseph Agbeko for the IBF belt. Seemed fortunate to earn a draw against Abner Mares in May of last year, before dropping a clear rematch decision to Joseph Agbeko in his last fight.
Recent Form
Vic Darchinyan: On one hand, he has lost his two tests at bantamweight and is already 35 and still trying to break into the bantamweight elite. One might think he is waning. In his performance against young and unbeaten Abner Mares, however, he didn't catch a break in losing a split decision. Still showed he had "it" and even if he has lost half-a-step, is still a handful for anyone at 118.
Yonnhy Perez: Thrown into the fires and came out of it intact. Made a gigantic leap in class in 2009 and did very well. Winless in his past two fights, he seems to have lost his way a bit. Has appeared increasingly frayed in his past two fights. Still, recent body of work is among the best in this weight class.
Issues
Vic Darchinyan: At 35, how much tread is on his tires? He fought fairly well against Mares, but he has been unable to beat a top bantamweight yet—losing to both Mares and Agbeko in his only two big tests at 118 pounds. Is it not meant to be for Darchinyan at 118 pounds? Or does a valiant performance against a youthful and peaking Mares indicate he still has what it takes?
Yonnhy Perez: I suspected that Perez didn't face a focused Agbeko in their first fight and this inkling was validated in the Ghanaian's clear decision over Perez in the rematch. In addition, I thought there was a chance that Perez' recent heavy workload would have him looking a little worn out, which also came to pass. Ideally, this would be a time where Yonnhy would take an extended break and maybe resurface later in the year at 122 pounds. Being locked into this format, he has no such options. How much does he have left in the tank?
Darchinyan vs. Perez Prediction
I suspect that Yonnhy Perez is one of those fighters who really needs to be at close to 100% to be successful at the top levels. There are just certain fighters who can't make it work at 85-90% and I think Perez is one of them. Tournament finalist Abner Mares barely edged past Darchinyan, relying entirely on strengths tied to his youth and freshness as a fighter. At this point, I don't think Perez is capable of bringing these qualities to the table.
Normally with these two fighters, their two styles would combine for a nip-and-tuck 12-rounder with little to separate the pair. It would largely come down to the individual tastes of the judges. At this point, however, Perez might have hit a wall. He turned pro very late for this weight class and was allowed to coast for several years. Then all of a sudden, he's facing one top fighter after the next in a very difficult era at 118 pounds. I don't think he's shot—it's just a hard road to tow for anyone. Winless in his last two; he seems to have lost his mojo. He just might be a little burned-out.
At the same time, Perez has lost only one fight against a man he also beat. Against the guys he's been facing, that's not too shabby. I think he will put some early rounds in the bag. Darchinyan will be better in the last two-thirds of the fight. The pressure will begin to trouble Perez. The more telling power of Darchinyan will surface and Perez will be fading fast as the last four rounds approach.
In the 11th, A Darchinyan assault will have Perez in peril on the ropes, where he will be saved from further punishment.
Result: Vic Darchinyan wins by 11th-round TKO.