The fight between Andre Ward and Sakio Bika for the WBA Super Middleweight Championship is now official, and will take place in Oakland, California on November 27th. Bika replaces Andre Dirrell, who has pulled out of the Super Six Tournament and may very well retire from the sport of boxing.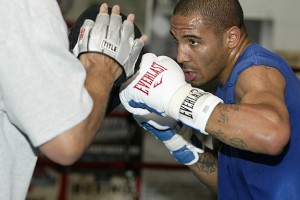 However, the WBA title will be the only thing at stake that night in Oakland. Bika will not be participating in the Super Six tourney (contrary to my expectations). Instead, Ward will receive two points for what is being rated as a Dirrell forfeit. Ward was already set to advance into the Semi-Finals prior to the bout, and with six points, he'll very well be assured of a top seed.
As far as Sakio Bika is concerned, the decision to exclude him from the Super Six tournament means very little. I give him little chance of defeating Andre Ward, and his payday will be the same whether the fight is a Super Six bout or not. The forfeit ruling is reasonable, even though no such ruling was applied to the withdrawal of Jermain Taylor (which would have given Andre Ward another pair of free points) or Mikkel Kessler (which would have given Allan Green two points). Dirrell withdrew very late and with little notice, circumstances which fit the definition of a "forfeit" nicely.
The forfeit ruling has one other effect on the tortured travails of the Super Six tournament: it ensures Abraham, Froch and Ward all go to the Semi-Finals. As it stands, Ward has six points, Arthur Abraham three, Carl Froch two, and the substitution duo of Allan Green and Glen Johnson none. Were Bika in the tournament and able to upset Ward, winning two or three points, there is a chance that either Bika or the winner of Green vs. Johnson could eliminate the loser of Abraham vs. Froch.
Hypothetically, if Bika won his fight by knockout and the winner of Green vs. Johnson scored a knockout as well, that would eliminate Froch outright if the Briton lost to Abraham. Under the same scenario, if Abraham lost, a complicated formula would be applied to determine the winner of any tie, and Abraham still might lose. In the case of Bika scoring a points upset, Green vs. Johnson going to the scorecards and Froch losing, all three contestants would have two points and the same formula could eliminate Froch.
The presence of Ward, Froch and Abraham is critical for the promotional success of the remainder of the beleaguered Super Six, since that trio includes the much bigger names than the replacement trifecta of Bika, Green and Johnson. Even though it is unlikely, any scenario in which Bika might upset Ward risks upsetting the entire apple cart, which is probably the real reason the forfeit was applied to cover Dirrell's departure.