Guerrero Talks Taking on an Old Rival in Escobedo & Looking Ahead to a Potential Showdown With Juan Manuel Marquez or Michael Katsidis:
On November 6th, former two-division champion Robert Guerrero, 27 (18) – 1 – 1, continues his quest for a title in a third division as he takes on Vicente Escobedo, 22 (14) – 2, on a televised supporting bout to the Zab Judah vs. Lucas Matthysse contest. "The Ghost" is looking to capitalize on the upcoming bout, another prominent showcase on HBO, and propel himself back in line for a title shot, potentially against Juan Manuel Marquez.
Guerrero set aside a few minutes during his busy training camp to talk about the upcoming bout, his past history with Escobedo and what's in store next. Take a look…
Robert, thanks for joining us. I guess you could say it's been a busy, up and down 12 months for you… winning the title, vacating it, moving up to junior welterweight and now back down to 135 lbs, and obviously the up and down journey with your wife and her health that's now led to a successful recovery for her. That's a mouthful! So how is everything?
Robert Guerrero: Everything is going great, I'm happy to be back at lightweight and I'm excited to be fighting on November 6th on HBO against Escobedo. It's been a long, bumpy road, but we got through it, so I'm excited right now.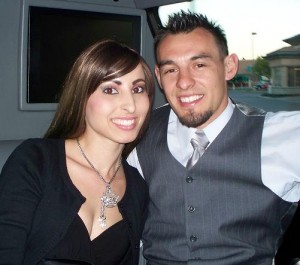 Both you and your wife have been very active with the fundraising and awareness side of things,  concerning cancer research and other causes. Take a minute to talk about what you guys are working on in respect to that, what it means to you guys and why it's so important.
RG: It's very important and we do what we can to help out. Right now my wife is working on Light the Night (Lightthenight.org – A Walk for Leukemia & Lymphoma Society, visit Casey Guerrero's page) and she's doing fundraising for that. Unfortunately, I haven't been able to do anything in training camp, I've been busy preparing for the fight and staying focused. After the fight, we're going to go from there, and after being in my shoes and what we've been through, getting a chance to help out and give back is great.
Alright, so back to boxing, when did you get to training camp, and how has the camp been moving along?
RG: Training camp has been great, and I'm in great shape. I'm focusing on sharpening up and I've been in good shape all year long, training year round and since my last fight against Casamayor. So I want to capitalize on being in good shape and pretty much work on my skills, getting better. There are some things I want to improve on, and that's one of the things that is helping me out, coming in good shape already.
So what exactly are you working on, or is there one specific thing you're trying to sharpen up on?
RG: I'm working on sharpening up on fighting right handed fighters. We did a lot of work with lefties for Joel Casamayor. So we're working on sharpening up the skills for right handed fighters and just staying in shape, changing it back up and being sharp.
You're taking on Vicente Escobedo, and you two have had a few previous encounters as amateurs back in the day. Why don't you tell us about those and how they played out.
RG: Yea, you know we fought three times in the amateurs. I won twice, he beat me one time, and we always had good amateur fights together. Coming out of the same area, we had a bit of a rivalry there. So yea, it's an opportunity to meet as professionals now, and I'm excited that me and him are getting the chance to fight again and put on a good fight. It'll be cool to be back in the ring with him.
So who won the last time out?
RG: Last time out was me.
Always nice to go in on a winning streak…
RG: Yup.
You both were just teenagers then, and obviously the professional game is different than the amateur game. Looking back on the fights though and those experiences, is there anything you're thinking about that might carry over or anything specifically where you're thinking, hey that worked then, I'm going to use that now?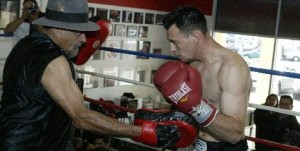 RG: Pretty much I want to be well rounded, we're working on everything. We have to prepare for everything, man. He has a new trainer, and so a lot of things change, you change trainers, you work on different things. You have to be ready for whatever he's gonna bring. We're working on a bunch of different things and being well-rounded in the ring, pretty much coming in with a game plan for each and every style that we've seen out of him. We've seen him as a pressure fighter, we've seen him as a good puncher, we've seen him as a good boxer-puncher. He can go in the ring and change it up. That's what you gotta prepare for and not just focus on one thing.
He has a four inch reach advantage, you're on a long unbeaten streak, and you've both been showing good power as of late while facing tough competition. How do you see the fight playing out?
RG:  I'm coming to win, and hopefully everything goes good. Anything can happen, and I have some good pop and power. If it happens, it happens. It could be a knockout or it could go the distance, and I'm ready for a great fight. I'm prepared to go for every round, and you have to prepare to go 12 rounds with the thinking that if it's short, it is. But you can't expect to go out and knockout somebody out or just dominate someone, you have to be prepared all the time for whatever happens.
Are you planning at staying at 135 lbs now, and is that where you feel at your best?
RG: Yea, that's where I'll be campaigning. I'm excited for that. I went up to 140 lbs to fight Joel Casamayor, but I'm excited to be at 135 lbs. I feel great, I'm in good shape, I feel light, I feel fast, and I can't wait to get into the ring.
Are there any big fights or big names at 140 lbs that could lure you back up there, or considering you were just at featherweight basically a year ago, is there anybody you'd be willing to get back down to 130 lbs for?
RG: No, 135 is where I want to be and I want to win a title there. But I mean if there's an opportunity there at 140 with Amir Khan, or there's a bunch of other good fights out there, I'm ready. It's whatever is going to be the best fight for me. I'm excited to be right there in between and around 135 and 140 lbs, but I'm done with 130 lbs.
I'm sure training camp is a little bit easier without losing that last 5 lbs…
RG: Oh yea, it makes it a lot easier when you don't have to go down to 130. I'm just ready to rock and roll, I'm excited for this fight, I can't wait to go.
I know you're not looking past this fight, but a few weeks after your bout Juan Manuel Marquez is taking on Michael Katsidis, and Marquez holds the WBA title and WBO title, where you're ranked as the #2 and #1 contender respectively. [Katsidis is currently the interim WBO champ]. Are you targeting the winner of that bout as your next opponent?
RG: Oh yea, god willing everything goes good this fight, and I'll get the opportunity to fight the winner of Marquez and Katsidis. That's going to be a great fight on its own. I just feel real blessed to be in the shoes I'm in and have the opportunity.
What do you think about that fight, and who do you think will win? Would you rather face one man over the other?
RG: Well I'd definitely fight Marquez! He's going to be a Hall of Famer and getting to be in the ring with him, he's a real good fighter. He's the best out there right now, and that's who I want to be in with. I think if Marquez is on his game, and which from watching his last fight with Diaz he looked incredible, his boxing was good, he looked sharp, he was ready to go… I think if he comes out like that again he'll be victorious.
If all goes according to plan, what does 2011 look like for you, and what are your goals?
RG: To fight for that world title in 2011, it'll be a big year for me. Keep on working hard in training, and if everything goes good this fight I'm right there in line to fight the winner of Marquez and Katsidis. So, hopefully everything goes good, take care of business on fight night, and hopefully we make the fight between me and the winner of that one.
Thanks for taking the time and I'm sure we'll all be watching on November 6th. Any last words you want to share?
RG: Yea, tune in on November 6th, it's going to be exciting. We have some history there, we're both coming ready to fight, and it's going to be a great show. You don't want to miss it, so tune in, it'll be a good one.