Tonight's the big night, as we get to finally see Manny Pacquiao vs. Juan Manuel Marquez once again, and all the fight fans out there from the United States to the Philippines will be looking for Pacquiao vs. Marquez 4 live streaming online. Of course, while millions might buy the PPV on television, not everyone can afford that or wants to do it.
That's why many will be checking out our live Pacquiao vs. Marquez round by round results coverage, and others will be searching for the best Pacquiao-Marquez live stream website or service. To begin with, there will be multiple official destinations to watch Pacquiao vs. Marquez online. With these sites, you're basically buying the pay-per-view for your computer or other machine. It's another convenient option to consider depending on where you'll be on fight night, or if you don't have cable service.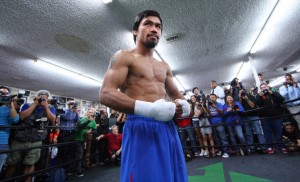 But many people are looking for free Pacquiao vs. Marquez 4 live streaming options, and you'll even likely see advertisements on our website here offering you Pacquiao vs. Marquez live streaming. Ultimately, whether or not that's something you want to do is up to you.
The benefits are that you don't have to pay to see the fight. And there are certainly high quality sources which should be trustworthy.
However, on the downside, you are skirting the system a bit. You may or may not end up with a reliable feed, and nobody wants to be watching and have it cut out right as the fight gets underway. In addition, there are risks to consider in terms of downloading sketchy programs and getting malware or viruses on your computer.
So, what you can do instead is make a visit to our live Pacquiao vs. Marquez results blog. We'll be offering continuous updates of all of the action, so even though you aren't watching, you'll know exactly how it's all playing out in great detail.
Our coverage is live up to the minute, so you know what goes on, right as it happens. We provide updates on the action in each round, an ongoing scorecard, and notes from the entire event and evening. There will also be coverage of the undercard fights as well, and you'll be able to leave comments and chime in, and discuss with other fight fans too.
You won't end up getting a video feed as you would by watching a Pacquiao vs. Marquez live streaming website, however, this is the next best thing, and it doesn't come with any risks or consequences. So if you're not buying the pay-per-view, not heading down to a bar or going to a friend's house, or whatever else, you can come right here to ProBoxing-Fans.com where we'll be showcasing our live blog. If not, then utilize some of the other options discussed, shell out the cash for the pay-per-view, or decide to check out and watch a Pacquiao Marquez live stream. Enjoy the fights!