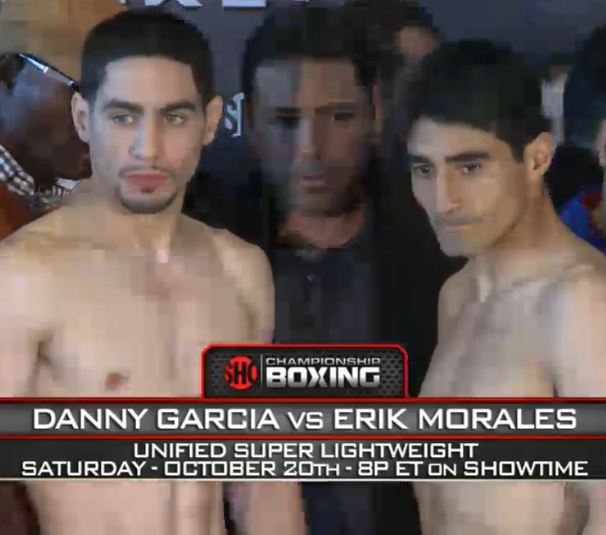 The official weigh-ins for Showtime's stacked card from Brooklyn took place this afternoon. The card features Danny Garcia vs. Erik Morales II, and despite the supposed failed drug test from Morales, the fight is still going off as planned, and there are many other great fights as well. Check out the official weigh-in results, including photos, videos and official weights for all of the featured fighters.
Weigh-in Photos
Alexander vs. Bailey
Randall Bailey: 147 lbs
Devon Alexander: 146.8 lbs
These two have been talking lots of trash, and got up into each other's face during the weigh-in. Interesting clash of styles here in this welterweight title fight.
Quillin vs. N'Dam
Peter Quillin: 159.2 lbs
Hassan N'Dam: 159 lbs
N'Dam is actually a defending champion of sorts here, and both guys are undefeated. Quillin is certainly the more well known commodity though, and will be looking to make his way into bigger fights and opportunities from here. Both guys showed each other respect leading up to this fight.
Malignaggi vs. Cano
Paulie Malignaggi: 146.2 lbs
Pablo Cesar Cano: 148.4 lbs – he'll have one hour to reweigh and make 147 lbs
Malignaggi rocked a mini mohawk of sorts at the weigh-in and received a warm welcome in his native Brooklyn. Of course, he easily made weight, but Cano didn't on his first attempt and will need to drop about a pound and a half in order to fight for the title.
Garcia vs. Morales
Danny Garcia: 139.8 lbs
Erik Morales: 139.2 lbs
All of the news about the fight has been concerning the failed drug test from Morales. But basically it looks like the B sample won't be tested in time, so the fight is going to go off as planned. And the WBC took the approach of – shut your mouth, this is Erik Morales here, so we don't care either way. Morales then had to go in the buff to try to make weight. The two guys really got up in one another's face during the weigh-in, and they're both fired up for this bout.
It should be a great night of boxing on Showtime on Saturday, that's for sure. Thanks for checking out our coverage of the Garcia vs. Morales II weigh-in results, as well as the rest of the fights from this loaded event. Check back in with us during the weekend for post-fight coverage and analysis.