Top 5 Boxers in Recent Boxing History I Flat Out Disliked
When you're a kid watching boxing, a lot of fighters fall quite easily into the hero/villain dynamic. As we get older and become adults, we become more fans of the sport and less of individual boxers. Sure there are fighters we like and those we might not care for, but it just takes a lot more than it did when we were kids. We're not so quick to idolize a fighter or to cast one as a villain. It's part of growing up.
But there are some fighters who managed to evoke hate, even in adulthood. They are fighters who had to go that extra mile to get on the bad side of fans. Some of the fighters I hated as a kid actually grew on me, as I came to like them as a grown-up. Others, however, just always rubbed me the wrong way. Here are 5 fighters who I just couldn't bring myself to like.
Teddy Reid
He always struck me as a jerk, but then there was one particular night that forever cast him as a villain in my eyes. In 2000, Reid faced Emiliano Valdez, 10-2-1, in a fight that is difficult to forget for anyone who saw it. Valdez, in his first 10-rounder, was game, but overwhelmed by the hard-hitting Reid. In the 10th round, Reid stiffened Valdez and left him dangling in the breeze, waiting to crash. With a sinister sneer on his face, Reid laid into Valdez full-blast–rendering him unconscious. Sadly, Valdez would never wake up.
I thought it was unnecessary for Reid to lay into Valdez like that. Sure, it was legal, but Reid seemed to fully calculate the situation. He saw Valdez wavering before the fall and saw that as his chance to land the whopping coup de grace. Maybe you would give him a pass for the final shot. He's not the first or last guy to lay into an incoherent opponent. But the way he relished in the annihilation of Valdez really made him look like an evil M.F. Watching him and trainer Pepe Correa stomp around the ring in triumphant adulation while Valdez was stretched out unconscious in obvious peril was a sickening display of unsportsmanlike behavior.
Tommy Morrison
On one hand, he made for some exciting fights. The hard-hitting Morrison was actually a pretty entertaining heavyweight and in today's age–it makes you almost miss him. Almost. There was always something hard to like about the guy, though. My antennas first came up after seeing him in a boxing magazine wearing what appeared to be eye-liner. Bad start, Jack.
We heard he was the great-grand-whatever to John Wayne. Then in Rocky V, he turned against Balboa. Being the villain in the worst of all Rocky movies didn't help. He bullied around a bunch of former champs and worn-out contenders to bolster his status. And at some point along the way, it became easy to root against him.
You have to give him credit. He won a few big fights, including wins over George Foreman and Razor Ruddock. Whereas he fought with valor against Ruddock, his win over Foreman was gutless in a way. Watching him suddenly fighting like Virgil Hill was unsightly, though a smart and winning strategy. But for those like me looking for him to lose, our wishes were not only granted, but in graphic fashion. His KO loss to Ray Mercer still stands out as one of the more massive ass-whippings ever witnessed.
As time goes on, my stance has softened a bit. Things didn't really end up so rosy for Morrison and it's hard to feel the same way about him now that he is so down on his luck. As time goes on, it becomes difficult to figure out how to regard Morrison. He might not be as good as some felt he was, but he certainly was not a joke.
Winky Wright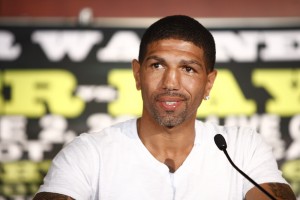 I had no personal distaste for the man. Seemed like an alright enough guy. I even felt sorry for him, as he languished in anonymity for far too long considering his record. I just found his style almost unbearable to watch. Good for him that he was able to form a cage with his arms and gloves. It was effective.
But his fights, for whatever reason, just put me to sleep. I couldn't even tell you if he beat Fernando Vargas, as many claimed. By the third round, I was out colder than John Tate when he ran into Mike Weaver. To me, Wright just exuded dullness.
I felt vindicated in my beliefs when the chess-master was schooled by a far superior tactician in Bernard Hopkins. I even felt he had enough to beat a slip-sliding Jermain Taylor. All he had to do to win that fight was move his hands in the last round. He had the energy to do it, but chose to literally give that round away, allowing Taylor to keep the title with a draw. I found it to be simply disgraceful to watch. I can't think of another top fighter who would have phoned in the 12th round like that.
Sven Ottke
He was the embodiment of everything bad about boxing. He reigned in the comfy confines of the WBA, getting fed one patsy challenger after the next. In Germany, he enjoyed repeated helpings of hometown cooking. At the end of the day, he is able to claim that he retired undefeated, among elite company like Rocky Marciano and Ricardo Lopez. He made 21 title defenses.
On paper, it doesn't look so bad. He did beat some good fighters like Charles Brewer (twice), Thomas Tate, Glen Johnson, and Anthony Mundine, among others. With all 22 of his title fights being in Germany, he caught more than his share of breaks and could have lost any number of fights. Some of his title defenses were almost laughable, against marginal American contenders like Gabriel Hernandez, Tucker Pudwill, James Crawford, and Joe Gatti.
In reality, some of these guys weren't even in the top 30 of American super middleweights. The thought of them celebrating their local boy's victory over an American challenger didn't sit well.
People in the future might hear about a guy like Ottke and expect to see clips of a world-beating juggernaut. That's not what you'll see. You'll see an artist of non-engagement–a cute boxer whose fights were about as exciting as a WNBA game. No one over here is even sure how to pronounce his name for crying out loud.
Michael Nunn
Nunn is a guy where I did a 180. As he made his bones, I was onboard. He was simply brilliant. Watching him dissect Frank Tate and make knockout defenses against Juan Roldan and Sumbu Kalambay, Nunn looked like a middleweight for the ages. He was elegant, had thoroughbred legs, and his boxing skills were through the roof. In addition, he had style and flair. He was so good that the bigger-name fighters around his weight, like Sugar Ray Leonard and Tommy Hearns, wanted nothing to do with him.
Then it got weird. He continued to hold onto the belt, but took a gigantic step back in fights against Iran Barkley and welterweight titleholder Marlon Starling. He shamelessly danced the night away against Barkley and against a man he dwarfed in Starling, he was backing up en route to a points win. Soon, the budding HBO superstar was off the network and the public had grown weary of his underachieving ways.
It would get worse. Way ahead on the cards, he was stopped by James Toney to lose his middleweight title. He moved up to 168 and though he was struggling with the likes of Victor Cordoba, many of us expected the old Nunn to return at some point. It never happened. He picked up a piece of the 168-pound title, before sleepwalking his way to a decision loss to the 21-13-2 Steve Little. Against Little's conqueror Frank Liles, Nunn kept it close, but failed to exert himself sufficiently to take the belt.
For the next 8 years, Nunn would fight on, showing flashes of the talent that once made him "Second to Nunn." But he would show up out-of-shape and was just sleepwalking through fights. It was clear something else was going on–that Nunn's lifestyle was not a spartan one.
I hate to pile on. Nunn has enough problems. Serving a ridiculously-long prison sentence for an ill-fated cocaine purchase, Nunn surely will have time to reflect on the missteps of his career and life. He could have been one of the best, rather than just just a peripheral figure from the 80's-90's. He is saddled with enough misery now. The last thing he cares about is how some guy like me who never did diddly-squat in this sport feels about him.
It's just hard to not have a bitter taste about the guy. He had the talent to be a top 5 all-time middleweight. Michael Nunn was special. When talking about fighters from that era, Mike Tyson is usually singled-out as the king of screwing up. But considering Nunn's talent and where he ended up in life, he just might be the biggest f***-up of all.