The bantamweight division has enjoyed the influx of talent coming up from the flyweight ranks over the last several years. The result is a talented mix of some of the most talented fighters in the game. Still, many of those great fighters have now kept on moving straight up to super bantamweight. So let's take a look at how this exciting division in flux current looks with our latest current bantamweight division rankings.
Bantamweight division rankings (118 lbs.) last updated September 2015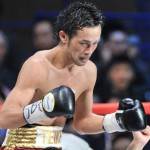 Bantamweight Division Champion:
Shinsuke Yamanaka
Record: 23 (17) – 0 – 2
Next Fight: September 22nd vs. Anselmo Moreno
The undefeated Japanese fighter picked up the vacant WBC strap by besting Christian Esquivel, scoring an 11th round TKO win. He then surprised a lot of folks by successfully defending the belt by winning a clear decision over Vic Darchinyan. Seven more fights and six stoppages since. Faces Anselmo Moreno next.
Top 10 Bantamweight Contenders
Jamie McDonnell – McDonell has reaffirmed his status as one of the top fighters in the division. It was a tough sell, when his best wins were over Stuart Hall, and more impressively, an undefeated Julio Ceja. Since then though, he's notched two tight wins over Tomoki Kameda.
Tomoki Kameda – Tomoki Kameda had been undefeated through 31 pro fights and picked up a title strap to throw around his waist along the way. With his place so strong at 118 lbs, brother Koki dropped back to 115 lbs. Tough sailing since, losing twice to McDonnell, with some arguing he could have won both encounters.
Juan Carlos Payano – Payano has burst onto the scene in this division. First came a big win over Anselmo Moreno, and then, a win over unbeaten three-time US Olympian Rau'shee Warren in a fight in which he was the clear B side.
Randy Caballero – A former ProBoxing-Fans.com prospect of the year, Caballero has risen his way through the ranks and finds himself on the brink of potential stardom. Holds a title strap now, but needs to pick up the pace with the level of opposition he's fighting. Faces Lee Haskins next.
Lee Haskins – Haskins looked like he was going to settle in for a career as a domestic journeyman. But then he defeated the likes of Martin Ward and Jason Booth and stopped Ryosuke Iwasa. That earned him a date against Caballero.
Anselmo Moreno – Moreno is another guy who could have a claim to the division's perch. That said, he was beat down by Abner Mares when he moved up in weight, and has only fought three times since, including most recently, a loss to Juan Carlos Payano. Still one of the sport's premier slicksters when at his best.
Ryosuke Iwasa – Lost to Yamanaka (this is a trend, isn't it?) in just his 9th pro fight. Went on a huge winning streak in the crazy competitive Japanese and southeast Asian scene at 118 lbs, but then lost to Lee Haskins in his last fight.
Nikolay Potapov – Potapov hadn't faced much, if any, solid competition. That is until his last fight, a win over Jason Canoy. That gives him some street cred in this division, and gained him backing by an American promoter.
Jason Canoy – Since losing to Potapov, Canoy has won three straight. Most impressively, topped former top Filipino prospect Drian Francisco in the 1st round in his last fight. That puts him right back in the mix.
Rodrigo Guerrero – Since a loss to the third Kameda brother, Daiki, Guerrero has slung together a handful of wins. The most impressive was the first, a win over the unbeaten Daniel Rosas.
More Boxing Weight Class Rankings