Middleweight kingpin Sergio Martinez next climbs through the ropes on April 27, when he faces Briton Martin Murray on his home turf of Argentina. Murray is #8 in the world at middleweight, and his 2011 Split Draw to Felix Sturm was a close, disputed, and thoroughly hometown call, making him a worthy opponent. This continues Martinez's recent track record of taking on contenders, and contenders only (the last time Martinez fought unranked opposition was in 2008, when he beat Alex Bunema so badly that the doctor stopped the fight).
Even so, the outcome of Martinez vs. Murray is practically a foregone conclusion. Furthermore, in terms of fight hype Murray is on the same level as Sergiy Dzinziruk, Matthew Macklin, and Darren Barker rather than Paul Williams and Julio Cesar Chavez, Jr.
With that in mind, what might the latter half of 2013 hold for Maravilla? He may be required to give Chavez, Jr. a rematch, or he might just have an open dance card …
Gennady Golovkin?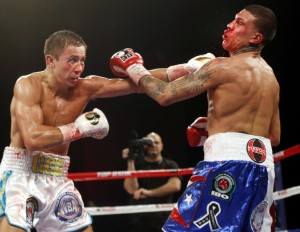 The undefeated Russo-Kazkah slugger Gennady Golovkin has replaced Julio Cesar Chavez, Jr. as the natural challenger for Martinez's top slot. However, Martinez's promoter Lou Dibella is on the record as not being interested in a Martinez vs. Golovkin fight, at least not at the present time.
For his part, Golovkin owns a championship belt in his own right, and doesn't have to tussle with Martinez to keep it the way Chavez did. A clash between the division's #1 and #2 boxers is most unlikely.
Daniel Geale?
IBF champion Daniel Geale is eager to come to grips with Martinez. How Martinez and his team feel about Geale is unknown. "Real Deal" Geale might very well have to face Sam Soliman, who became the #1 contender and mandatory challenger upon beating Felix Sturm, but that shouldn't pose a problem. Technically speaking, Geale has until at least March 2014 to face Soliman, leaving plenty of time for a Martinez bout. This match-up is a "maybe."
The Other Middleweights
Peter "Kid Chocolate" Quillin is a possibility, and like Geale, Quillin wants Martinez. Quillin is perhaps a more likely possibility than Geale as well, since his lack of exposure means Quillin won't get as big a piece of the purse, making the fight more financially attractive for Maravilla. So here is another "maybe."
Dmitry Pirog is another middleweight who has been calling out Sergio Martinez, and last year Pirog's people offered Martinez a purse that would supposedly have made for Martinez's biggest payday yet. However, the terms of the fight were unacceptable and unrealistic to Martinez (the fight would have been in Russia, and with no U.S. TV arrangements), and the offer was basically just a smokescreen.
A Junior Middleweight?
Another option is to bring a 154-pounder up to middleweight for a title challenge, as was the case with Dzinziruk. Carlos Molina and Ishe Smith are both junior middleweights with some career momentum right now, but not so much momentum that they have options more attractive than moving up to fight Martinez for some major exposure and a nice payday. If Martinez and Lou Dibella were looking for another Dzinziruk, Molina and Smith could provide them with one.
So Who Is Next?
Looking at the options, Geale, Quillin, or one of the junior middleweights look like the most likely opponents for Martinez should Chavez, Jr. decide not to exercise his rematch clause, an increasingly likely possibility. So long as all four those fighters keep winning, they are also the most viable options for Martinez in early 2014.
Comments
comments