Featherweight champion Yuriorkis Gamboa (21-0, 16 KO's) has been out of action for over a year now, preventing him from displaying another exciting performance, the kind of which he has consistently produced over the past years. The highly skilled former Cuban amateur looks to make a return on the Pacquiao vs. Marquez IV event, after having been scheduled to appear on the debut card of the already defunct TMT Promotions, the 50 Cent and Floyd Mayweather promotional venture which never was.
Gamboa had been linked with a fight against Juan Carlos Salgado at Super Featherweight, despite Salgado's less than convincing performance against Jonathan Victor Barros. This comes after he had pulled out of a fight against Brandon Rios, and got into a promotional entanglement with Top Rank.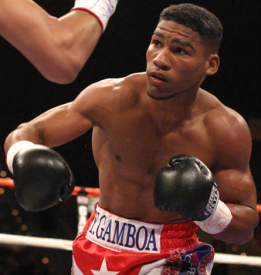 Unfortunately, with so much time on the shelf, one wonders if and when he will be tested and forced to showcase his full potential. After all of the out of the ring drama and rumors, what's his next move?
With just 21 fights and already ranked number 7 pound for pound and feeling quite the conqueror, Gamboa needs to face a fresh challenge, and he needs it fast.
Fight Salgado?
The Salgado fight was intriguing because it would have allowed Gamboa an opportunity to grab a belt in a second division. That being said, fighting Salgado would have been a mismatch. The Olympic gold medalist has already had similar challenges throughout his career and will learn little while gaining little accreditation by fans. Gamboa could use this bout as an attempt to shake off the ring rust before facing someone more likely to mount a challenge, and as mentioned, picking up a title trinket to establish his presence at 130 lbs.
Brandon Rios?
The featherweight champion was scheduled to move up two weight divisions in April to take on the relentless Brandon Rios. Gamboa vs. Rios would have been a thrilling encounter, the type of which fans always clamor for. However, after deciding to take the fight Gamboa and his camp then backed away.
Now, Rios is coming off an exciting and grueling KO victory over Mike Alvarado, and is already regarded as one of the best junior welterweights in the world. With Gamboa still not having debuted above featherweight, the size and weight discrepancy is simply too large at this time.
The Bottom Line
With numerous links between Gamboa and higher weight classes, its seems inevitable that he will eventually make the plunge into a heavier weight division. What division that is, and when it happens, is still up in the air. Having him on the Pacquiao undercard would be a mouth-watering prospect, as long as he was in the ring with a decent opponent, and would make that PPV even more appealing for fans.
Hopefully, the hard hitting featherweight will continue where he left off as he promises to produce non-stop action in any weight division. Don't bet against him fast-tracking through a few more divisions in the near future before eventually facing some of the big guys at 135 or 140 lbs in intriguing showdowns. The key now though is just to get in the ring once again.