The Future of the Heavyweights Following the Klitschko-Haye Aftermath:
It has been nearly a full week since Wladimir Klitshcko and David Haye's" epic" encounter in what was essentially the most significant heavyweight fight in years. At least that's how I hoped the headline would've read, unfortunately what we got was another Klitschko domination, devoid of action or suspense. It was a textbook night for Wladimir, as his comfort zone was rarely rattled by a "toe-less" David Haye.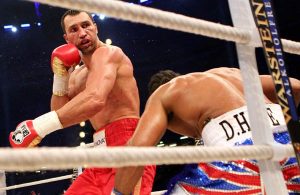 He stayed behind the jab and as far away from Haye's hayemaker as possible, and he cruised to a unanimous decision, winning almost every round. With Klitschko winning the WBA belt, that completes the brothers' monopoly on the heavyweight division and paints a clearer picture of the state of the division. The Klitschko brothers are the undisputed heavyweight champions, but what exactly does that mean for us? Perhaps more importantly, where do the heavyweights go from here?
What's Next for Wladimir Klitschko?
The clear winner of Saturday's bout is in a peculiar situation. He has vanquished his "biggest threat" at heavyweight, he has literally beaten half of the top 10 of the heavyweight division and Alexander Povetkin has already passed on a career high payday as opposed to actually facing Wladimir.
In theory, Wladimir's best bet for a good fight is having his brother Vitali lose against Tomasz Adamek in September. Setting up a huge unification fight between Adamek and Wladimir for the undisputed heavyweight championship and all four belts, a fight that would be bigger and more significant than the one with Haye. In the case that Vitali beats Adamek convincingly, Wladimir's best option would actually be either a rematch with Haye, or perhaps a bout against Chris Arreola.
Arreola is still in the middle of his comeback, and Vitali has already pummeled him, so don't count on that happening anytime soon. As for the Haye rematch, sure general consensus is that he doesn't deserve a rematch, but looking at it from a objective point of view, Haye wasn't beaten down or destroyed, and he managed to land a couple of good shots on Wladimir. Maybe having been in the ring with him would give him a better idea of how to deal with Klitschko's reach in a second fight, making it perhaps more exciting. It's not exactly a pleasant sounding scenario, but Haye still has enough fan support to make a second fight worthwhile for Klitschko, although you can be sure it won't be on HBO.
What's Next for David Haye?
The last thing that should be on Haye's mind is retirement. Haye is a young man, and is just getting started in the heavyweight division. He's had a hand full of fights and maybe with a little more experience he could still eventually be the future of the heavyweight division. If he chooses not to retire this year, his best bet is to challenge the loser of the Vitali Klitschko vs. Thomas Adamek fight.
Either fight would be big… if Klitschko loses, Haye would get another shot at a Klitschko. If Haye were to win there, it would give him the leverage needed to bait Wladimir into a rematch. A fight with Adamek would be equally as big, as it would be two of the best cruiserweights of their era finally squaring off. A win over Adamek, while not as big of a bargaining chip as a win over Vitali, would still reignite his heavyweight career and make him worthwhile for one of the Klitschkos once again.
What have we learned? We've learned that while the state of the heavyweight division is a little clearer, we still need to wait on the result of the Vitali Klitschko vs. Thomas Adamek fight on September 10th to paint the whole picture. Thomas Adamek has been very successful in his heavyweight run thus far, and with Vitali not being as cautious as his brother, it could be a closer fight than people think. At least it should be more exciting.