What's Next for Manny Pacquiao after Pacquiao-Bradley Debacle?
For the first time in years, Manny Pacquiao is in a position where he needs to make something good happen. It's hard to believe that his main rival can surpass him while sitting in a jail cell, but looking over the pound-for-pound list in the wake of the Bradley "loss," not many outfits are ranking Pacquiao number-one anymore. Mayweather has pretty much locked in that number-one spot for the time being. Following a close fight that could have gone either way with Marquez and an official loss to Bradley, the light at the end of the tunnel is in sight for the first time.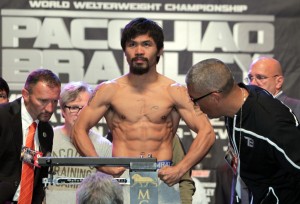 No one is writing Pacquiao's boxing obituary. After all, he appeared to clearly defeat an undefeated champion in Bradley. Before that, he struggled with an opponent who he also labored to beat in his 20s. But after almost 15 years at the championship level with a busy and demanding schedule, even Pacquiao apologists have to acknowledge that this is a crucial time in his career.
He only has a few fights left. There is a limited amount of remaining time to put a stamp on what has been an incredible career. Let's look at the different routes Pacquiao can now take.
Rematch with Bradley
It makes sense on a lot of levels for both parties. Pacquiao, despite appearing to clearly win the fight, faces some questions as he appears to be sliding ever so slightly from his peak. Bradley also wants to erase the stink of winning what everyone thought was a terrible decision. The only downside is that it's a whole lot of effort for nothing. Pacquiao already won. A rematch will force us to play the role of dummy, going through the whole build-up, as if this is unsettled business.
There is a tradition in boxing where the bottom-line is what counts. Bad decision or not, it's a loss for Pacquiao and when the top dog loses–there is a rematch–end of story. Looking back, it would look like an uncleaned mess on Manny's record if he didn't fight Bradley in a rematch. Then again, going through this whole production again just because two judges had a bad night is sort of a pointless exercise. It seems like the boxing public could go either way on this. It's an issue of unfinished business to an extent, but immediately following the fight before the cards were read, you definitely were not thinking "I hope there's a rematch." So why should you now?
Ignore the Result
In the wake of Manny's "defeat" at the hands of Tim Bradley, the only thing people are talking about is the decision itself. The awfulness of the decision is what people are focused on, as opposed to any feeling that Manny was beaten.
Officially, it will forever be his 4th loss. It's in the books now. But the fact that everyone knows it's BS allows Manny to just move on if he so chooses. Bradley can be put in the category where fighters like Joshua Clottey, Antonio Margarito, and Shane Mosley sit–guys who lost 12-rounders to Pacquiao. Was Bradley more competitive that those guys? Sure, but he still lost or at least according to the vast majority of people who saw the fight.
It certainly wasn't Pacquiao's best performance. And after the third Marquez fight, his showing against Bradley only bolsters opinion that he is losing a step. The best way to exorcise those demons is by coming back against the same guy and producing a superior performance. So in that vein, a rematch with Bradley makes sense.
Marquez IV
It's actually the ballsiest option at this point, with a Mayweather fight off the table for the time being. Let's face it–a lot of people don't think he won that third fight in November of 2011. This is the real unfinished business. But after a "loss" and a split decision against Marquez, can Pacquiao sustain another possible blemish?
At some point, you have to let it go. A lot of great fighters had rivals they couldn't quite figure out. Muhammad Ali had Ken Norton and after three fights, that was enough. You have to draw the line at some point. Pacquiao has been pretty dominant over the years. Marquez was a breath of fresh air for those who wanted to see Pacquiao get pushed. But just because Marquez happens to match up well with Pacquiao and will always give him problems doesn't mean Manny has to fight him 10 times. Eating up each man's waning remaining good years looking for a conclusive result that will never come is a big waste. We've seen it before. We get it. They make for close fights. Now let's move on.
Go Outside the Box
Rather than trying to add to already existing layers, maybe Pacman should try to create a new layer to his legacy. He could try to fight a young budding superstar who will be on the scene years after Manny is gone–like a Canelo Alvarez. He could try something really nutty–like going for a title at 160.
Too bad for him that a welterweight division that was bustling with talent is now in a transition phase. Manny himself certainly played a role, cleaning out a lot of the talent. But whatever the case, there simply aren't many attractive options at 147. The risk outweighs the minimal glory that can be extracted by beating the Andre Bertos or Devon Alexanders of the world. And with only a few fights left, why bother?
Put All Eggs in the Mayweather Basket
With time running out on his career, there is only one fight that can provide the perfect punctuation to his Hall of Fame career and it is the Mayweather match. Time doesn't figure to play in Pacquiao's favor as far as his chances to win. Not to turn this into a debate over who had the better career, but Mayweather has been more safety-first in his career than Pacquiao. Manny hasn't enjoyed the luxury of taking extended layoffs or going through long stretches of fighting undemanding opposition.
After over a decade of fighting top competition, Manny might be losing it a little bit. The waiting game might better serve Mayweather, whose style and career path has been more geared to self-preservation to some extent. When Floyd gets out of the joint, maybe Manny needs to go Tommy Gunn from Rocky V on Mayweather. Dog him. Embarrass him. Do whatever it takes to get him in the ring. Paint him as a coward in the media. Go to his local bar and call him yellow. Bloody Paulie's mouth.
It's hard to imagine this behavior from a guy who couldn't even bring himself to say the judges were off their rockers in the Bradley fight. That's not his style. But maybe his promoters and management can lead the crusade so Manny can maintain his dignity. Whatever the route, let's get the effing thing done already. When two fighters are 1 and 1-A in the PFP ranking and in the same division for several years, there should be a bigger concerted effort to get the fight made.
You'd like to see a little more urgency on Manny's part. When the topic of Mayweather comes up, he discusses it with minimal urgency, like "Oh, that would be nice. We'll see." I understand he wants to carry himself with class, but c'mon! Mayweather has called him a cheater and attempted to smear him in the media. Is it so much to lay down a serious challenge? Humble is nice. Treating the obvious match of his career with flippancy, however, is really starting to wear old.
There are a lot of different ways he can go, but all of them involve risk. So why not take the ultimate risk and fight Mayweather? Even if he loses, he enjoys the luxury of history not judging fighters too harshly in their 15th year of world championship boxing. Boxers enjoy a little extra leash at the end of their careers. And there is some evidence that Pac is not what he once was.
While fights with Bradley or Marquez would put Manny in a no-win position, a fight with Mayweather could be closer to a can't-lose proposition. If he loses, it's not great for his legacy. At the same time, he would exit having just fought the fight of the century so far. Not to mention that a lot of all-time greats leave the sport after losing to a lot worse fighters than Mayweather. In addition, it is now considered a long-overdue fight where it's no longer a fight with guys in their primes. They're in their mid-30's. Losing to Floyd in 2013 wouldn't as reputation-damaging as losing to him in 2009 or 2010.
If he wins, forget about it. It's a wrap. He would now have the perfect punctuation. Floyd, though aging, has shown almost zero erosion. Being the first guy to beat a 43-0 fighter just sounds better than being the first guy to beat a 54-4-2 fighter. In this sport, things change quickly. It seems that in a risk/reward point-of-view, the timing for a Mayweather fight couldn't be much better for Pacquiao at this point.