Possibilities for Floyd Mayweather's Next Fight – Which Won't be his Last:
Less than three months remain until Floyd Mayweather returns to ring. The event is slated for September 12th at the MGM Grand in Las Vegas, Nevada, and represents the sixth and final fight of his contract with Showtime. While Mayweather is insisting it's his last fight, it won't be — that'll be when he goes for 50-0 and a middleweight championship against the winner of Miguel Cotto's clash with Canelo Alvarez.
There are plenty of intriguing options for the September fight though, with the stacked scene at 147 lbs. Certainly, there are plenty of eager opponents too, as everyone wants to land the Mayweather Sweepstakes and the career high payday it offers. Here's a look at the top potential choices for Mayweather's next fight.
Top 6 Potential Opponents
(In descending order of likelihood)
Shawn Porter (26-1-1; Ranked #5 at Welterweight)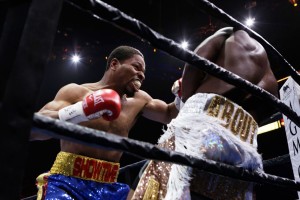 Shawn Porter is fresh off a strong showing against Adrien Broner. Of course, that has been a successful route to a Mayweather fight in the past for one Marcos Maidana. Beyond that, Porter serves as a legitimate opponent, and a hungry, talented and athletic challenge.
Of course, there are holes in his game as well, and he's not far removed from suffering his sole career setback, a defeat against Kell Brook. Still, he has the bigger name and higher profile in the U.S.
Keith Thurman (26-0; Ranked #4 at Welterweight)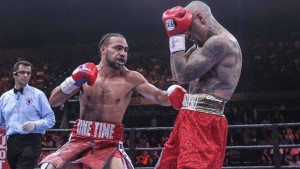 Keith Thurman took care of business against Luis Collazo in his homecoming fight, and immediately took his turn calling out Mayweather. There's a lot going for Thurman in terms of his marketability as an opponent. He talks the talk, he brings the threat of legitimate knockout power and he's undefeated.
It doesn't hurt that he's backed by Al Haymon, either — a similar trait with many of the fighters on the list. While it would have always been better to see the likes of Thurman and Porter square off before the winner got thrust into a fight with Mayweather, alas, here we are.
Amir Khan (31-3; Ranked #1 at Welterweight)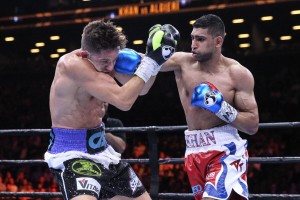 Oh, Amir Khan. The guy just can't stop himself from sitting by the phone all day and waiting for Floyd Mayweather to call. It's been years now, and in the process, he's been his own worst enemy, suffering defeats to Danny Garcia and Lamont Peterson, and taking a circuitous route, while waiting and waiting for Money to come calling.
Now though, he's earned his spot as the top ranked challenger for Mayweather's welterweight crown. His large, international fan base is a plus for the promotion, but something tells me he's just not getting this fight.
Andre Berto (30-3; Ranked #10 at Welterweight)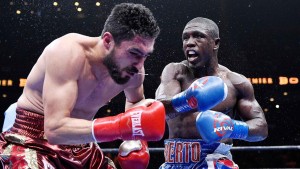 Andre Berto makes the cut here as he was mentioned by Mayweather as a potential opponent. That not so subtle piece of subterfuge also mentioned Karim Mayfield, though, which would be a laughable selection. Berto might not be the top choice, but he's not a laugher, and has clawed his way back into the welterweight top 10.
The Haymon connection makes all the contractual issues easy, and Berto still presents a unique array of speed and athleticism for Mayweather to overcome. Of course, Mayweather would be licking his chops at the defensive liabilities, the old man perhaps hoping to score a rare stoppage victory.
Kell Brook (35-0; Ranked #2 at Welterweight)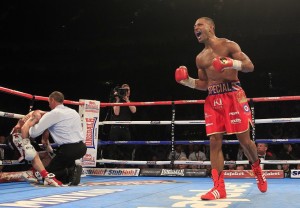 Brook has looked in good form, scoring
two comeback wins in quick succession
after recovering from the stabbing which derailed his career fresh off his breakout win over Porter. Despite that win, he hasn't made much of a dent in the United States in name recognition, which ultimately plummets his stock here.
He'd likely need to take care of domestic foe Khan first, but Khan appears in no rush to take on Special K.
Danny Garcia (30-0; Former 140 lbs champ moving up to Welterweight)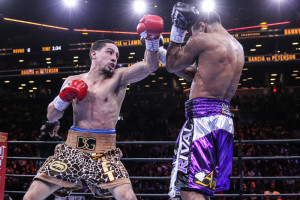 The former junior welterweight champion was stripped of his title and is officially headed to Welterweight, after a series of silly catch-weight affairs. He might be ranked higher up this list, however, he has an August 1st fight on the calendar against Paulie Malignaggi.
Yet, Mayweather is not adverse to finalizing an opponent on such short notice, about six weeks out from fight night. There could, potentially, be an agreement behind the scenes that says that should Garcia emerge unscathed from his fight, a strong possibility considering Malignaggi's lack of punching power, that he lands the Mayweather fight, which gets announced the next day.