The WBC has now clarified the muddied situation the organization itself created with its surprising pair of announcements just before the New Year.
In back to back announcements, the WBC declared that Julio Cesar Chavez, Jr. had to defend his (fake) middleweight title against (rightful champion) Sergio Martinez sometime in 2012 and that Chavez, Jr. had not formally notified the WBC of his bout with Marco Antonio Rubio, scheduled for February 4. The latter announcement implied that the WBC might not sanction the fight with Rubio, despite Rubio being the WBC's #1 contender, a sure sign of disapproval on the part of the WBC.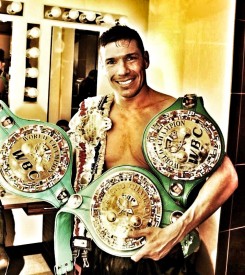 The WBC could have ordered Chavez to fight Martinez instead of Rubio, scheduling and Rubio's #1 contender's status be damned. The organization did far worse in stripping the belt off Martinez in the first place, and that action is the least of the organization's sins.
Instead, the WBC has directed the winner of Chavez, Jr. vs. Rubio to meet the winner of Martinez's St. Patrick's Day clash with Matthew Macklin. This new announcement is not quite the same thing as the WBC's original declaration that Chavez must fight Martinez next year, nor does it confirm Sergio Martinez's supposed right as "Diamond Champion" to make a mandatory challenge to Chavez, Jr. whenever he wants to.
However, this move by the WBC is the best practical solution give the current schedules of Chavez, Jr. and Martinez.
JCC, Jr's fight with Rubio is less than a month away, and Marvilla has a fight scheduled to follow six weeks later. Chavez and Martinez are both the favorites in their respective match-ups (Martinez heavily so), so the odds are both men get to collect one more payday in an HBO televised fight before meeting later this year.