It seems that while the more things change, the more they stay the same. Take the light heavyweight scene from today and compare it to that of 2 years ago.  There was a recognized champion  who had one last mountain to climb to be considered the undisputed light heavyweight champion, that mountain being Bernard Hopkins. Then you had a challenger on the comeback, after a close loss, looking to get past Adrian Diaconu in order to get a crack at the top dog in the division. The only difference between then and now seems to be that the challenger on the comeback and the recognized champion decided to switch places.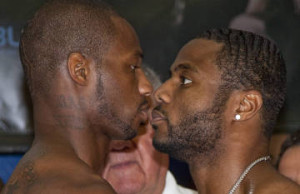 In 2009, while Jean Pascal was trying to rebound from a close loss to Carl Froch by taking on the former WBC Champion Adrian Diaconu, "Bad" Chad Dawson kept trying to land a big fight with Bernard Hopkins.  Dawson had established himself as the recognized champion by defeating former light heavyweight champions Glen Johnson and Antonio Tarver. However, he kept calling out Hopkins, who instead decided to fight Roy Jones Jr. in a lackluster rematch 10 years in the making, stating Dawson needed to prove himself more.
After negotiations with Hopkins fell through, Dawson opted to unify titles by fighting newly crowned champion Jean Pascal in August 2010, as Pascal was coming off two victories over Diaconu.  To the surprise of everyone, Dawson struggled early and lost via 11th round technical decision, in a close encounter. Pascal became the recognized champion, leaving him to deal with Hopkins and knocking Dawson down to a mere challenger status.
Flashing forward to the present day, we still have Bernard Hopkins as the lingering thorn on the side of the recognized champion, Pascal. They are fighting on May 21st in a rematch of a controversial draw that most people saw Hopkins win. In the undercard to the Pascal-Hopkins rematch, we have Adrian Diaconu, once again posing as a stiff test to a hungry challenger looking to get his career back on track. This time he'll be facing Dawson, who if victorious is contractually set to fight the winner of the main event that night.  The real question here is, does Diaconu have what it takes to upset the order of things and prevent history from repeating itself? With a record of 29-2, with 15 KOs, and his only losses coming at the hands of Jean Pascal, anything is possible.
Adrian "The Shark" Diaconu is a Romanian boxer who fights out of Montreal, Canada. He is a classic pressure fighter with no special boxing skills, just a rough and tough, always going forward type fighter. He has a good chin and is coming off a victory over Omar Sheika. Jean Pascal, in his two victories over Diaconu, used his superior speed to strike first and was constantly in and out; we can expect Dawson to follow the same game plan Pascal used. Even so, with a nickname like "The Shark", expect Diaconu to come out hunting and maybe disturb the established order, giving the Light Heavyweight division a good old fashion shake up.
Taking all of this into consideration, the Light Heavyweight Division certainly has its fair share of drama for the coming year. Can Pascal climb the mountain that is Hopkins? Will Dawson be able to get his career back on track? Or can a wild card interfere with the best laid plans?  Answers will be coming on May 21, 2011, but as much as things have changed, it all seems awfully similar to how it did several years, and big fights, ago.