The Breakout Performance in Boxing During 2010
Sometimes all it takes is one great performance, one perfect night in the ring. From that point forward, everyone has to take a step back and go, alright, this guy is good, period. Last year, Andre Ward had boxing's breakout performance, with his easy victory over Mikkel Kessler. This time around, it was a former super middleweight who got the job done.
Jean Pascal vs. Chad Dawson: Pascal TD11 is 2010's Breakout Performance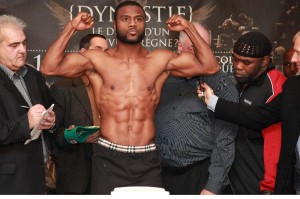 When Jean Pascal and Chad Dawson met in August of this year for Pascal's WBC light heavyweight title – which Dawson had vacated – Dawson's name was the first one on the ledger. Undefeated at 29-0, he was in the top 5 or 10 of everyone's pound for pound lists. Pascal, at 24-1, was seen as a pretty good fighter on a hot streak, but a fighter that Dawson should have been able to handle with ease.
Detractors will still say that Dawson should have handled him with ease, if he only stepped on the gas and turned up the heat. Maybe that's true, but that's not what happened. Pascal beat Dawson to the punch, completely took him out of his game plan and off of his rhythm, and dictated the course of the bout throughout, until a cut forced the action to be stopped. The bad performance by Dawson, and his inactivity for the rest of the year, earned him ProBoxing-Fan.com's 2010 Disappointment of the Year (dis)honor.
No, Pascal didn't look good against Hopkins, earning a disputed draw to retain his titles. But nobody looks good against Bernard Hopkins. That's what he's been doing for the last two decades. Pascal survived, and now he's onto either a mandated rematch against Hopkins, or perhaps a rematch with Dawson instead.
Regardless of what happens next though, there's no doubt about it, Pascal's thorough victory over Dawson catapulted him onto the big time boxing stage, and propelled him from titleholder to the upper echelons of the sport. [On another note, just as Dawson's win over Tomasz Adamek keeps on getting better with age due to Adamek's work in the ring since, how about Carl Froch's win over Jean Pascal for the vacant WBC super middleweight title when both were undefeated in 2008?]
Breakout Performance 2010 Runner Up: Devon Alexander TKO8 Juan Urango
Devon Alexander began 2010 as a new titleholder with a ton of promise that had yet to truly be seen in the ring. Just how good was the St. Louis native, and would we see his best stuff against a top rated fighter? His first title defense was actually a unification bout against Juan Urango in March, a fighter who survived encounters with Ricky Hatton, Randall Bailey and Andre Berto without being stopped. He wouldn't survive this meeting against Alexander though.
Alexander didn't just use his superior skills to play keep away. He used his speed, timing and reflexes to walk Urango down, step inside and unleash punishment, effectively derailing the Urango juggernaut before landing a few crushing blows to end his night in stunning fashion.
Just as with Pascal, Alexander's follow-up performance to his breakout win, in this case a disputed decision over Andriy Kotelnik, was less than stellar. But, like Pascal, he survived, and is onto bigger and better things, a showdown with the top guy in his division, Timothy Bradley.
Check out the complete list and collection of the ProBoxing-Fans.com 2010 boxing awards!