ProBoxing-Fans.com Year End 2010 Awards for Boxing:
After a fast and furious end to the boxing calendar for 2010 over the past five or six weeks, it's finally that time of year to take a look back at all of the fights and events of the past 12 months to see what it all meant. It's the 2010 boxing awards from ProBoxing-Fans.com, where we present not only our Fighter of the Year, Fight of the Year and Knockout of the Year, but also a slew of other awards, with over a dozen in total. Check out all of the 2010 year end awards in boxing right here!
Update – December 24th, 2010 –  It's a Christmas miracle! ProBoxing-Fans.com has completed all of our 2010 boxing awards, which you can access below, with the help of writers Jake Emen, Rich Thomas and Scott Levinson. So when you need a break from the family and want to escape with a look back at the year in boxing, be sure to view all of the individual awards and chime in with your own opinions.
2010 Boxing Awards from ProBoxing-Fans.com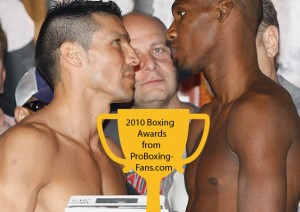 2010 was an up and down year for the sport of boxing. Many of the biggest and most anticipated fights – most notably the contest between Manny Pacquiao and Floyd Mayweather – never took place, and left boxing fans craving more. Meanwhile, the heavyweight division largely continued to be uneventful.
But many other big fights did take place, and there was lots to talk about in terms of excitement and entertainment. Just think, in the last few weeks alone we saw Juan Manuel Lopez vs. Rafael Marquez, we saw the Super Six wrap up the group stages, we saw a bantamweight tournament, Amir Khan vs. Marcos Maidana, Sergio Martinez vs. Paul Williams II and a variety of other intriguing contests. That's a close to the year that would make any boxing fan happy!
Moving on from there, next year there are already a few big things lined up, with the finals for both of the aforementioned tournaments – the Super Six and the bantamweight tournament, a big start of the year fight between Timothy Bradley and Devon Alexander, and much more. Hopefully that early momentum can keep building up, and more megafights can get made that keep us on the edges of our seats.
In the meantime, relive all of the 2010 boxing action above, and take a look at all of our awards. Feel free to chime in with your own opinions and comments, and don't be shy about who you think should or should not have won! That's part of the fun of being involved with the sport and being a fan of boxing.
Thanks for checking out the 2010 boxing awards from ProBoxing-Fans.com and keep tuning in for more of the best boxing coverage on the web right here!