The Biggest Disappointment in Boxing in 2015:
The biggest disappointment of the year can go to anything. It can be "awarded" to a fighter who came up way short of expectations for one reason or another, or one who avoided the best competition. It can go to an entire aspect of the sport, a string of bad decisions for example, or a failure of certain promoters to put together important fights. It can also go to an event which failed to live up to the hype.
In 2015, there was a smattering of all of those, so instead of declaring one single disappointment as the winner, we've anointed one from each category. Here's our rant against the worst of 2015.
Biggest Disappointment: Fighter Category – Deontay Wilder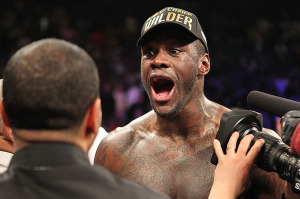 Deontay Wilder picked up a heavyweight title strap to start the year by defeating Bermane Stiverne, by far the best opponent and win of his career. So why is he our biggest disappointment?
For one thing, we're sick of hearing this nonsense that he's the heavyweight champion of the world. He's not.
For another thing, his two fights since have been absolute jokes. Eric Molina. Really? And then follow that up with Johann Duhaupas. Huh? Two utter mismatches, verging on or entirely crossing the line of shams. And next up? Artur Szpilka. Scintillating stuff.
Meanwhile, it's not as if the heavyweight division has been dead to action. Bryant Jennings stepped up against Wladimir Klitschko, lost, and then took on another dangerous opponent in Luis Ortiz, and got kayoed. For Ortiz, it was a breakout fight. Tyson Fury faced and defeated Klitschko, ending his reign. Alexander Povetkin fought and kayoed both Mike Perez and Mariusz Wach. Malik Scott squared off against Tony Thompson. Steve Cunningham fought Vyacheslav Glazkov, and got hosed in the process. Anthony Joshua continued to set the world afire.
All of this, and the guy fighting on primetime network television main events who we're being told is the "heavyweight champion of the world", faces Eric Molina and Johann Duhaupas, with Artur Szpilka in the pipeline. Pathetic.
Biggest Disappointment: Sport-wide Category – Premier Boxing Champions
What enabled Wilder to take on such awful opposition, in network television main events? Premier Boxing Champions, of course.
PBC put together some truly terrible mismatches and entirely meaningless, time-killing cards this year. In addition to the above with Wilder, there were just strings of awful one-sided fights: Peter Quillin vs. Michael Zerafa, Jermell Charlo vs. Joachim Alcine, Adonis Stevenson vs. Tommy Karpency, Erislandy Lara vs. Jan Zaveck, Lucian Bute vs. Andrea Di Liusa… the list goes on, and on.
We understand that every fight can't be a blockbuster. But why do so many of them have to be utter jokes? And these were all main events.
Premier Boxing Champions also put together a lot of high quality matches and strong cards, and we're seeing more boxing on more television channels. That's great. If they weeded out the space fillers though, then they'd actually be accomplishing something.
Biggest Disappointment: Event Category – Floyd Mayweather vs. Manny Pacquiao
Mayweather vs. Pacquiao almost has to be on the list. While any knowledgeable fight fan could have told you before the match that it would not be an exciting fight, to the mainstream public, it was expected to be a spectacle. To the casual or entrant fan, the biggest names and biggest stage should produce the best and most memorable action.
Of course, that's not the case, and styles make fights. I wasn't personally disappointed in Mayweather vs. Pacquiao as it was more or less what I expected it to be.
Nevertheless, it disappointed millions of would be fans, and failed to capitalize on that grand stage to bring more people into the sport. The undercard was also pathetic, along with the outrageous $100 price tag for the pay-per-view.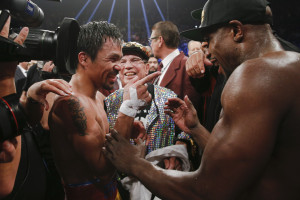 Of course, look how happy Mayweather and Pacquiao were after the fight. All those hundreds of millions of dollars and neither had much to risk, did they?