In this week's three punch combo, I will first comment on two fighters who need to be a little more realistic if they hope to land big fights — Robert Guerrero and Guillermo Rigondeaux, as they search, respectively, for Floyd Mayweather and Nonito Donaire. Next, I will explain why Seth Mitchell caught a major break earlier this week. Finally, I will state why Diego Magdaleno stands to benefit the most from the controversial draw between Roman Martinez and Juan Carlos Burgos.
Guerrero and Rigondeaux need to be realistic
Robert Guerrero and Guillermo Rigondeaux have both been linked to big both fights of late. However, both are reportedly pricing themselves out of the opportunities they are being presented.
Up until a couple weeks ago, Guerrero had long been assumed to be Floyd Mayweather's opponent in May. However, since no contracts were ever signed, speculation has run rampant in recent weeks as to whether or not Guerrero would be the opponent. Mayweather himself has signaled that he's not, and that Devon Alexander is the frontrunner.
Recently, rumblings have gotten out that Guerrero's asking price has simply been too high. One report stated the Guerrero wanted $5 million plus a portion of the pay-per-view.
If true, Guerrero is not being realistic about the situation. He can certainly make a seven figure payday against Mayweather… but not the $5 million plus extra pay-per-view proceeds which he is asking. There are plenty of other potential foes similar to Guerrero who would be willing to take half that for the opportunity to be in the ring against Mayweather.
Rigondeaux's situation is even more puzzling than Guerrero's. He was offered $750,000 for the opportunity to face Nonito Donaire. This is by far the biggest payday and opportunity of his career. Yet, Rigondeaux is balking about the money being offered.
First, Rigondeaux will not making anywhere near this kind of money fighting anybody else. He has a very limited following right now and on his own would have a hard time selling tickets as a headliner.
Secondly, Donaire represents a major opportunity for Rigondeaux. Donaire is a major name and star in the sport, and there is no name bigger than Donaire's right now where Rigondeaux fights. Thus, there is no opportunity available as big as the one currently being presented to him.
Boxing is certainly a tough business. But it is a business. All those involved in the business must keep that in mind and remain realistic about the opportunities presented.
Mitchell catches break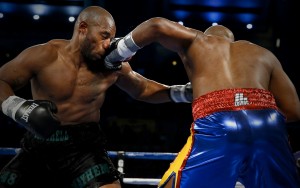 Johnathon Banks was forced to withdraw from his scheduled rematch with Seth Mitchell due to a broken thumb suffered in sparring. Believe it or not, this may actually be a tremendous break for Mitchell.
In their first fight in November, Banks hurt and dropped Mitchell with the first solid punch he landed.  From there, Banks would drop Mitchell two more times before the fight was stopped. It was truly a dominating performance by Banks and devastating knockout loss for Mitchell.
Mitchell showed a lot of bravado by immediately exercising the rematch clause. In my opinion, however, this was not a wise move.
Coming off such a crushing knockout loss, Mitchell would have been wise to take one or two tune up fights. By doing so, he can begin to restore his confidence and begin to get the stigma of the knockout out of his mind.
Instead, he wanted to get right back in the ring with the man who just destroyed him, and apparently was able to easily hurt him with any solid punch that was landed.
Mentally, there is no way Mitchell could have recovered that soon. His confidence would have been very shaky when he entered the ring. In his mind, he would certainly have been wondering what would happen the first time he absorbed a punch from Banks.
If they had faced each other this coming week, I think Banks would have taken care of business sooner than he did in November. With the postponement, Mitchell now has the opportunity to reconsider his decision.
He first needs to urge his management team to remain on Saturday's card. Since he has been training, this is the perfect opportunity for a tune up fight. That way, he can get back in the ring and begin to restore his confidence.
A rematch with Johnathon Banks will always be available to Seth Mitchell. I admire Mitchell's courage for wanting to get back in the ring so soon with Banks, however, I feel he needs to take a step back and regroup before entering the ring again with Banks.
Real winner of Burgos-Martinez: Diego Magdaleno
A couple weeks ago, Roman Martinez fought to a very controversial draw with Juan Carlos Burgos. And now Diego Magdaleno will face Martinez for that belt in China on April 6th.
This situation could not have worked out any better for Magdaleno. If Burgos got the decision he deserved, Magdaleno would probably still be sitting on the sidelines waiting for his opportunity. Instead, he gets to face Martinez for the title. Not only that, but Martinez also fights in a style that is very favorable for Magdaleno.
Magdaleno is a southpaw boxer-puncher. He prefers to box from the outside and control range with his jab. He uses his speed and southpaw stance to create angles to land combinations off his jab.
Martinez is an aggressive fighter who prefers to make the fight and work on the inside. He tries to wear down his opponents with his pressure and outhustle them on the inside.
The natural aggression Martinez uses, however, should play right into Magdaleno's hands. As Martinez comes forward and tries to make the fight, Magdaleno should be able to pick him off with his jab. This will allow the faster Magdaleno to also set up combinations on the outside.
Also, Martinez is bound to attempt to lead with punches to try to work his way inside. Magdaleno is an excellent counter-puncher and should find ample opportunities to do so against the aggressive Martinez.
In the end, I expect Magdaleno to take full advantage of the opportunity presented to him due to the poor decision in the Martinez-Burgos bout and win a decisive decision.