In this week's three punch combo I will start by analyzing where Andre Ward belongs in the pound for pound rankings following his performance on Saturday.  Next I will take a close look at upcoming prospect Daquan Arnett.  Finally, I will look back at some quick stoppages over the weekend in both the Vitali Klitschko vs. Manuel Charr fight and the Antonio DeMarco vs. John Molina fight.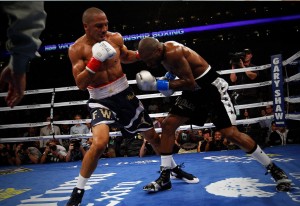 Andre Ward
For the past few years the top two fighters on every experts pound for pound list have been Floyd Mayweather and Manny Pacquiao. They have bounced back and forth for the top spot with Mayweather over taking Pacquiao on most lists in the last year.  However, with his impressive 10th round TKO victory over Chad Dawson on Saturday night, I feel Andre Ward has now supplanted Manny Pacquiao on the pound for pound chart.
Ward was completely dominant over the reigning Light Heavyweight Champion Dawson.  Ward was in control when the fight was at a distance and in control when the fight was on the inside.  He displayed tremendous hand speed and incredible reflexes.  Finally, he showed great punching power hurting the bigger Dawson early and finishing him off late.
With this performance and his recent body of work, I confidently move Andre Ward ahead of Manny Pacquiao in the pound for pound rankings.  Ward has all the tools and it may not be long before he supplants Floyd Mayweather as the sport's pound for pound king.
Daquan Arnett
Daquan Arnett stopped Jesus Tavera in the 4th round on the Lucas Matthysse-Ajose Olusegun undercard.  This was a very impressive performance by a fast rising prospect in the Junior Middleweight division.
Arnett is only 19 and already may have established himself as the sport's top prospect.  He displayed excellent hand speed in his bout against Tavera along with tremendous combination punching.  Unlike many young fighters, Arnett also committed to body work throughout the fight, and he showed excellent punching power in finishing off his very game foe.
I try not to get too excited about fighters in the early development stages of their pro careers, but feel that Daquan Arnett is an exception to that rule.  He has eye popping talent and a set of skills that may someday land him among the sport's elite.  His development as a fighter over the coming years should be a treat to witness for fight fans.
Quick Stoppages
Generally I try to refrain from criticizing referees.  They do have a very difficult job inside the ring and must make split second decisions.  However, there were two big bouts over the weekend which ended prematurely due to very quick stoppages by the officials involved in the fights.
The Vitali Klitschko-Manuel Charr bout was stopped in the 4th round by the ringside doctor due to a bad cut over Charr's right eye.  The cut did appear to be deep but not bad enough to cause an instant stoppage in a Heavyweight Championship fight.  At the very least, Charr's corner should have been allowed an opportunity to treat the cut between rounds.  And Charr should have been allowed at least one more round to essentially go for broke.  The decision of the officials at ringside robbed Charr of an opportunity he worked very hard to earn.
The Antonio DeMarco-John Molina was stopped 44 seconds into the first round by referee Jack Reiss.  DeMarco hurt Molina with a straight left hand that drove Molina back into the ropes.  DeMarco then let his hands go with Molina ducking back into the ropes with some punches getting thru and some being blocked.  Molina was in an awkward position and seemed about ready to go down when referee Jack Reiss stepped in and stopped the bout.
In this situation, Reiss should have let the bout go on a little further before making a judgment.  Molina was hurt but it was in the first minute of the fight.  It is not like he had absorbed punishment throughout the bout.  Secondly, referees should know the history of the fighters involved prior to the bout.  Molina had been hurt before in fights and had come back to win.  He should have been allowed a little more time given this history.  It was very disappointing to see this high profile bout end so prematurely.