Cruiserweight contest ends in draw after a very scrappy affair.
The night of boxing got underway with a very scrappy Cruiserweight affair between Simon Vallily and Arfan Iqbal. Entering the ring it was obvious the Newcastle crowd were very much on the side of the man from Middlesbrough, Vallily. Derby born fighter Iqbal however, managed to grind out a draw in a fight made up very much of two halves.
Simon Vallily had an impressive amateur career, being part of the the team GB squad of course but has failed to live up to expectations as a professional. The 32 year old came into the fight in what looked like great shape, starting the fight well. Vallily looking sharp, took control right away, snapping his opponents head back regularly in the opening round and landing good body shots.
Round two followed the same script as the opener, Vallily sticking to his jab well and landing more and more body shots. Iqbal (27) looked the considerably smaller man out of the two Cruiserweights and Simon Vallily used this to his advantage in the first few rounds, keeping his range well.
Arfan Iqbal tried his best to raise the intensity, however it was Vallily doing the basics well once again, landing a consistent jab along with a great straight right hand to the body in the third round. English champion Iqbal, found it extremely difficult to cut off the ring early on, with Vallily frustrating the fighter from Derby keeping him at range and continuing to land his jab. Leading into the 6th round it looked like it was Simon Vallily s fight to lose.
Poor discipline turns the fight on it's head. 
A combination of ill discipline and fatigue almost helped to make sure that Vallily did lose the matchup. The Middlesbrough fighter had a point taken from him in round 7 for leading in with his head, after being warned by the referee for a number of things beforehand. Iqbal slowly built the momentum in his favour off the back of this, landing big shots to the body, resulting in signs of fatigue in Vallily.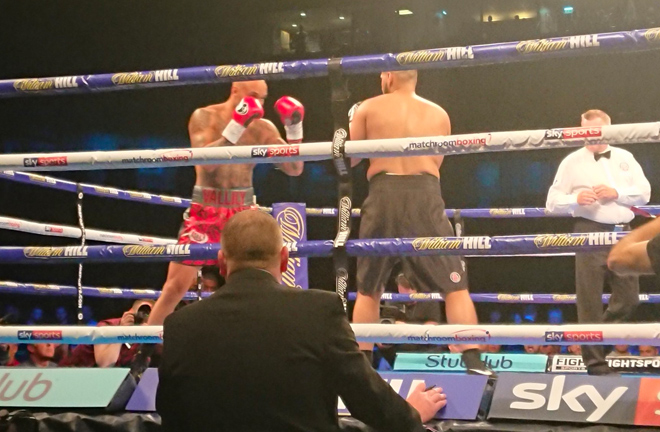 Iqbal continued to march on, controlling the tempo of the fight and starting to use his jab, making Vallily hit and miss. Another display of poor discipline resulted in Simon Vallily losing a point once again, this time for hitting to the back of Iqbal's head, after already being warned by the referee. By the end of the eighth round the fight seemed to have been completely turned on its head.
The ninth round was very close and could have gone either fighters way in what was becoming an extremely tight encounter to call. Vallily landed a very good right hand which hurt Iqbal, but still looked fatigued after a solid minute of boxing from the 32 year old.
Hard to call.
Leading into the tenth and final round, the win was on the cards for either fighter. The feeling In the arena was that whoever won the final round would ultimately win the bout. Vallily hurt Iqbal for the second time in the match up, but the Derby born boxer came firing back with good shots of his own. Overall both fighters showed a lot of heart, although the fight was certainly very scrappy, the intensity of the fight made it an exciting watch and a draw seemed a fair result in the end.
Scorecards: 97-92 (Vallily)
95-94 (Iqbal)
94-94 (Draw)
Edwards shines in career best performance, calls out Kal Yafai.
"Stop fighting people who just stand in front of you, I want you." That was the message from Charlie Edwards for Kal Yafai after a fantastic stoppage win over Anthony Nelson, in what was an exhilarating super flyweight bout, for the vacant WBA continental Title.
The man from Croydon used the ring well in the opening round, putting his jab into effect right away. South Shields fighter Nelson, didn't get off to a bad start but it was Edwards who just looked a tad bit sharper from the off.
The second round got off to an explosive start, a fantastic left uppercut from Edwards (25) dropped Anthony Nelson in the first minute of the round. Nelson (32) got back to his feet after a six second count, but many in the arena thought it might have been over, including the former world title challenger Edwards, who showboated to the crowd immediately after scoring the knockdown. Credit to Anthony Nelson for making it through that very tough round.
Unexpected power. 
Edwards, who is not known for his power, only having 5 knockouts on his record prior to the fight, cleverly used Nelsons momentum moving forward to apply more sting to his shots. As a result Edwards managed to drop his opponent once more with a beautiful shot to the body.
After going down twice already in the opening rounds it wouldn't be a surprise to anyone if Anthony Nelson tried to hold back and work behind his jab; that was not the case. Nelson continued to try and apply pressure, rushing in, eventually resulting in his downfall. Edwards landed a huge right hand which put Anthony down and out for good.
The performance from Charlie Edwards was a career high and I'm sure fans will be very intrigued to see an all British affair between himself and Kal Yafai, hopefully in the not so distant future.
Solid performance from McDonnell helps retain WBC international Title.
Gavin McDonnell managed to retain his WBC international super bantamweight title in a unanimous decision win against Stuart Hall. The Doncaster fighter showed impressive movement in the early rounds, landing a variety of different shots on Hall. Former British and commonwealth champion Hall, looked unusually nervous in the first few rounds of the bout. Mcdonnell did well to keep the fighter from Darlington out of range.
Not a fast starter. 
McDonnell, who is usually known as a much slower starter in fights, was the complete opposite tonight. Gavin showed fantastic variety in his shots and was the quicker fighter when it came to landing jabs. The Doncaster born man looked like he could take Stuart Hall out early on.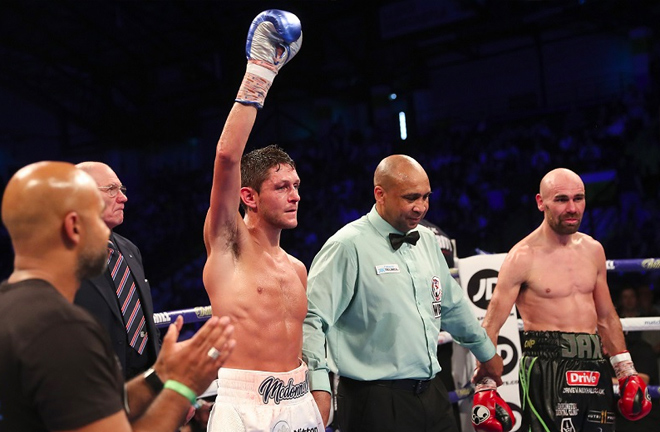 As the fight entered the fourth round, McDonnell was still very much on top, still keeping to his jab and finding his range. Gavin (32) did very well not to be drawn into a slugfest by his opponent.
Anyone who knows Stuart hall, knows he was never going to give up without a fight, landing a good left hook in the fifth round. McDonnell, continuing to fight well opened up a cut over the right eye of Hall.
Trademark grit.
Stuart Hall showed his experience as the fight went on, he warmed into the bout and landed some great shots of his own, showing that despite being down in the fight he was not out of it. Halls trademark grit resulted in him inflicting a cut of his own over the eye of McDonnell.
Hall showed no signs of being stopped but McDonnell continued to box smart, jabbing well and showing a similar variety of shots which helped him cause a huge upset in his previous fight against Gamal Yafai.
Stuart Hall was never going to give up and dug deep right to the very end, however McDonnell managed to box on and pick up the unanimous decision win.
Ritson Blows away opponent on home soil.
The first co-main event of the night saw Lewis Ritson demolish his opponent, Paul Hyland Junior in just one round to defend his British Lightweight title.
It was clear that Hyland felt Ritsons power from the very first jab that landed. 'The sandman' who usually starts very fast showed no different tonight, applying pressure to Hyland JR right from the very first minute of the fight. The atmosphere inside the arena was electric as the crowd spurred on the Newcastle born fighter to land a fantastic uppercut, followed shortly by a huge right hand to trouble Hyland early on.
This fella @lewis_ritson is a absolute killer, best thing about him is he's proper as down to earth as they come 🙌🏻 pic.twitter.com/zlpRizgYJZ

— Anthony Fowler (@afowler06) June 17, 2018
The inside work from Ritson was remarkable and helped set up a big right hand to knockdown his opponent for the first time, just two minutes into the fight. Hyland who hails from Northern Ireland, showed tremendous heart and bravery to not only get up from the knockdown, but to then begin to try and trade with Ritson. After knocking down Hyland three times in what was only the opening round, the referee rightfully stepped in to protect Hyland (27), from sustaining anymore damage.
Record breaker.
As a result Ritson (24), became the quickest man ever to retain his Lonsdale belt, a record three times in 8 months. After sparkling in front of his home crowd it is clear that Lewis is far too good for British level fights as he looks to cause a real statement in the Lightweight division in the future.
'One for the future' Josh Kelly displays his talent in win over Australian Kris George.
Josh Kelly managed to retain his WBA international title and pick up the Commonwealth British Welterweight belt along the way, after his opponent Kris George retired in his corner before the eighth round.
Kelly, who had a fantastic amateur career has started his professional one very brightly. The first round saw the young fighter from Sunderland dominate the bout, presenting a solid jab, good versatility and fantastic movement. George (28), experienced the power of Kelly after being caught by a sweet counter left hook early on.
The opening rounds followed suit with Kelly once again showing superb movement and a wide range of shots, however the former commonwealth champ made it clear he didn't come over to British soil in order to just lie down, catching Kelly with some good body shots early on. George who owns a fishing tackle shop back in Australia, looked a little static in his movement, resulting in Kelly landing more and more shots as the rounds went on and the intensity was raised.
Toughest test yet for Kelly.
Kris George certainly landed more shots on Kelly than anyone else that theBritish fighter has fought in his 6 previous bouts , which is an achievement In itself. George looked like he sustained an injury to his right hand in the earlier rounds and it was beginning to show, 'pretty boy' Kelly marched forward with his hands low, landing clearer shots for the first time in the fight. A brilliant left hand landed, lifting Kris Georges head in the air in round 6.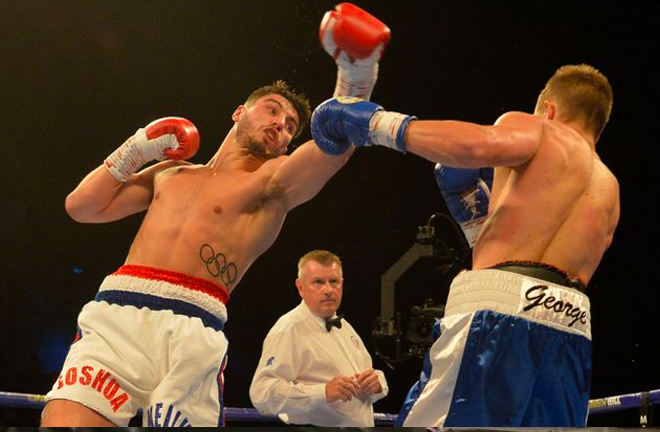 As we approached the seventh round it was clear that Kelly was winning the fight and wearing his Aussie opponent down.George retired in his corner before the start of the eighth round. Kris George can hold his head up high, he didn't come into the bout just to roll over; he came to fight and landed some solid shots, he just didn't possess the power to land that one punch knockout he was looking for. The win results in Kelly becoming the Commonwealth champion after just his seventh professional fight.
Still learning.
After the fight the 24 year old commented on the fact that he is still new to the professional world of boxing, he said: "I'm only seven fights in and I'm still learning." As he moves up the welterweight ranks, he cannot allow himself to be open to the kind of shots he was open to against Kris George, Kelly recognised this, saying: "Nothing really fazed me, I don't need to be taking shots and we need to clean that up"
Adam booth describes Josh Kelly as the most naturally gifted fighter he has ever worked with, that is some statement considering Booth has worked with the likes of Haye, Groves and Ryan Burnett for example. Kelly certainly has the perfect platform and ability to achieve great things in boxing, however only time will tell whether he can live up to his high expectations.