Golden Boy Promotions saved face today, and made a very smart decision, in moving the Abner Mares vs. Daniel Ponce de Leon WBC Featherweight title fight back onto the May 4th Floyd Mayweather vs. Robert Guerrero Showtime Pay-Per-View. It saves the faltering once mega-card from becoming a one-trick pony.
It took just a few days for a three fight bonanza, with Mayweather vs. Guerrero, Mares vs. Ponce de Leon and Saul "Canelo" Alvarez vs. Austin Trout, to devolve into three separate fight cards. First, the Mares-Ponce fight was moved to April 20.
However, Canelo vs. Trout was then moved to the same date, but from San Antonio, as opposed to California. Canelo essentially needed a signed guarantee that he would be Mayweather's next opponent in September, assuming they each won their respective bouts, to be happy in also-ran status on May 4.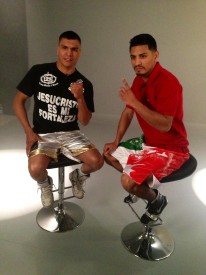 When Mayweather balked, Canelo and his team went elsewhere. Personally, I believe that to be a shortsighted decision, and a failure on the part of all parties to try to elevate this event into something truly unique and special for boxing fans.
Nevertheless, with Canelo vs. Trout off the bill, Golden Boy was in a scramble, because April 20 was suddenly no longer available for the Mares fight, and the Pay-Per-View lost two of its three components. So, they wisely slotted Mares and Ponce de Leon back on May 4th, resurrecting the lost mystique of the event, and handing April 20 to Canelo vs. Trout.
According to RingTV.com, Alfredo Angulo, already named as an "accepted" future opponent for Floyd Mayweather, would also likely get an undercard spot on the PPV.
While the Mayweather vs. Guerrero pay-per-view certainly won't be as big without the excellent Canelo vs. Trout match as the co-feature, with Mares vs. Ponce de Leon back on, you have an excellent number 2 fight on the docket, and that is certainly not always the case with PPVs these days.
Comments
comments