Good news and bad news coming in, as the Saul "Canelo" Alvarez vs. Austin "No Doubt" Trout fight looks increasingly more official, with just the official paperwork still waiting to be completed. However, it is now being moved off of the May 4th Floyd Mayweather vs. Robert Guerrero pay-per-view, and put onto an April 20 card taking place in San Antonio, Texas. While it's great that Canelo vs. Trout will indeed be happening, it's an unfortunate move away from what could have been a truly special and memorable event.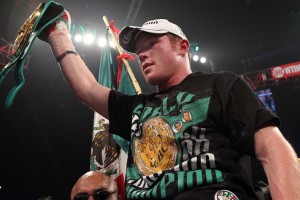 Somehow, what was supposed to be a super-card, with three stellar fights lined up, now looks increasingly like more of the same old business: throw one big star on a PPV event, charge as much as you can, sell as much as you can, and don't worry about putting on a high quality undercard.
Remember, the May 4 Showtime PPV was supposed to be a bonanza, with Floyd Mayweather vs. Robert Guerrero, Canelo vs. Trout, and Abner Mares vs. Daniel Ponce de Leon. Now those three fights are all taking place separately,with Mares vs. De Leon also on April 20, but from California, not on-site with Canelo's fight in Texas.
Hey, three great fights, and we're still only "paying" for one of them. But now we're in all likelihood doomed to another middling PPV undercard, and the promoters are shortchanging fans and lowering their expectations yet again.
Maybe I'm partially to blame for my own high hopes, but I thought a Golden Boy PPV tripleheader with those three bouts could have been an industry game changer. Let's start giving the fans what they want, let's start exceeding their expectations instead of dashing them. Not so much.
Instead, an extra week of TV fights and the budget allotted to show fights of the caliber of Canelo vs. Trout and Mares vs. De Leon are being outlayed here, when all three fights could have been put on one card, with a huge sum of leftover money and television time available to be directed at even more great bouts we'd like to see.
Why bother with that though, right?
Oscar De La Hoya was quoted in a story on RingTV.com, saying:
"Canelo's team called me and said he wanted out of the card on May 4. That's what's been going on for the last few days. Finally, they pulled the trigger. They wanted a new date. They wanted the Alamodome in San Antonio on April 20. They're ready to go. That's what Canelo wants. Canelo wants Trout."
So, De La Hoya pins the blame on his next-generation Golden Boy, while still making it seem like we're coming out ahead, because the kid still wants to fight Trout.
But we already knew that. He was already going to fight Trout. But instead of a fantastic PPV with three top-tier fights, each has been spread out to its own separate event. More of the same old.