Abner Mares will challenge Daniel Ponce de Leon for his WBC Featherweight title on April 20, in a Showtime-televised fight from the Home Depot Center in Carson, California. It will be the first fight at 126 lbs for Mares, who decided to move up in weight after not landing the fight against Nonito Donaire, and it represents a tough challenge in his debut, and a better fight than expected, as his team initially said it would simply test the waters.
Mares vs. Ponce de Leon was originally rumored to be on the Floyd Mayweather vs. Robert Guerrero and Saul "Canelo" Alvarez vs. Austin Trout supercard, but apparently that was too good to be true, and the fight will be held on Showtime a few weeks prior.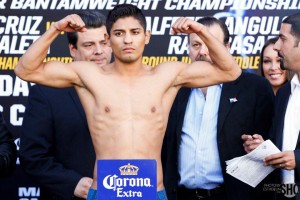 Mares vs. Ponce is a great, meaningful match-up, and it should be a fun one to watch. Ponce is tough and brings a punch, and has continually improved over the years. Mares just doesn't know how to lose, but he'll run into a guy here who he likely won't be able to simply bully. If Ponce can drag him into a slug fest, it could become a very dangerous fight for Mares.
It's also a match-up of popular Mexican fighters, and former Mexican Olympians. With a win, Mares would already bring home a title in a third division.
The bout would have been an absolutely stellar third fight on the Mayweather-Guerrero and Canelo-Trout pay-per-view, but that wasn't to be, and having those two big fights on the same bill is still pretty excellent. It's also likely that Adrien Broner, who had been rumored to be on the same card, will not be after all.
Nevertheless, Mares vs. Ponce de Leon is certainly a fight to look forward to, and we'll learn much more about how Mares will fare in his new division.