Darchinyan vs. Perez Results; Round by Round Updates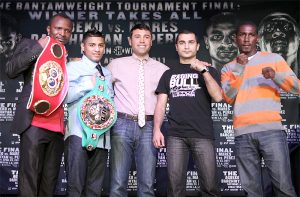 The Bantamweight Tournament finale is all set for Saturday, April 23rd. The card was featuring the championship match of Joseph Agbeko vs. Abner Mares and Vic Darchinyan vs. Yonnhy Perez. However, Agbeko vs. Mares has been postponed. But ProBoxing-Fans.com will still be covering the Darchinyan vs. Perez bout, which is now the main event, and this is your spot online to find Darchinyan vs. Perez results and round by round updates.
See below for the full results, live coverage of the entire fight card, and more. Before the events get started, you can take a look around the website and find our Agbeko vs. Mares preview and Darchinyan vs. Perez preview, video highlights of the semifinal bouts, and all of the rest of the coverage we have had in the buildup to the bantamweight tournament finale.
Darchinyan vs. Perez Round by Round Scorecard
| | | | | | | | | | | | | | |
| --- | --- | --- | --- | --- | --- | --- | --- | --- | --- | --- | --- | --- | --- |
| Round | 1 | 2 | 3 | 4 | 5 | 6 | 7 | 8 | 9 | 10 | 11 | 12 | Total |
| Vic Darchinyan | 10 | 10 | 10 | 10 | 10 | – | – | – | – | – | – | – | 50 |
| Yonnhy Perez | 9 | 8 | 9 | 9 | 9 | – | – | – | – | – | – | – | 44 |
Darchinyan vs. Perez Results & Updates
Rd 1: A Darchinyan left hurts Perez 30 seconds in, with Perez a bit taken aback. Perez gets his hands moving, but Vic's left looks menacing. With 50 seconds left, another Darchinyan left smashes home. Perez shakes his head to say he wasn't hurt.
Rd 2: Darchinyan comes out blazing, pummeling Perez, who takes a count. Darchinyan bashes him throughout the round. Perez gamely tries to get back into it, until a late Darchinyan uppercut again has him coming unraveled. A rout so far.
Rd. 3: Perez is reilient after the onslaught, trying to get back into this fight. Vic is maybe taking a break, as Perez wins the first half. Vic gets untracked with a combo. Vic, as raw as ever, comes roaring back. The third good round and the first close one.
Rd 4: What a fight! A lot of back-and-forth, but Darchinyan doing the far more authoritative work.
Rd. 5: Oh, no! A headbutt opens a squirting cut over the eye of Perez. It looks like it's going to the scorecards. Another potential classic spoiled by a butt. The cut was called "an arterial bleed" by the doctor and that there was no way he could continue. After 5 rounds, all 3 judges have it 50-44 for the winner–Vic Darchinyan!
Darchinyan looked very strong, while Perez looked flat. Even though Darchinyan grew increasingly ragged as the fight moved into the 3rd-5th rounds, Perez was unable to capitalize, as Vic's power kept him in command. Perez didn't look like the same guy, while Vic looked focused, energetic, and very strong–something that's been questioned since his entry into the bantamweight ranks.
For Darchinyan, this win puts him in position to get in the mix of the deep bantamweight championship picture. For Perez, a long rest at the very least would seem to be the proper course of action. He has been excellent over the past few years, but a run of consecutive tough fights have robbed him of his exuberance.
Undercard Updates & Event Notes
The Agbeko-Mares fight was called off due to a late injury to Agbeko, but the night forges on with a still-solid night of boxing. The postponement of Agbeko-Mares, in a bizarre way, allows us to focus properly on Darchinyan-Perez. Vic Darchinyan and Yonnhy Perez have proven to be not only highly-capable practitioners, but exciting ones as well. In addition, both men are facing a do-or-die situation, which should give way to a spirited fight.
On the undercard, Allentown, Pa's Miguel Diaz, 112, won a unanimous 4-round decision over Huntington Park's Alejandro Solorio, now 4-4. Diaz goes 5-0 (3 KOs, as all 3 judges scored it 39-36.
DaVarryl Williamson, 42, scored a 7th-round TKO over Michael Marrone, 219. WIlliamson used right hands to move to 27-6 (23 KOs) over the 19-3 (14 KOs) Marrone, who has dropped 3 of his last 4 bouts.
Unbeaten Omar Figueroa moved to 11-0-1 (9 KOs) with a 2nd-round knockout over the unrelated John Figueroa, now 7-10-3. Referee Jack Reiss stopped this junior welterweight bout at 2:05.
Art Hovhannesyan, 13-0-1 (7 KOs), scored a fifth-round TKO over former victim Jose Alfredo Lugo, who falls to 11-16-1. Lugo, a consummate trialhorse who has faced a who's-who of up-and-comers from 130-140 pounds, lost a 6-round nod to Hovhannesyan in '08.
Azat Hovhannesyan, the debuting junior lightweight brother of Art, lost a 4-round unanimous decision to Jose Reyes, now 2-0-1.
—
Thanks for checking out the live bantamweight tournament results coverage from ProBoxing-Fans.com. Enjoy the Agbeko vs. Mares and Darchinyan vs. Perez round by round updates, and keep on coming back for the rest of the boxing news and coverage that you need.