Who Should Canelo Alvarez Fight Next?
During the past week, the boxing community was shocked to hear the devastating news concerning a motorcycle accident involving former welterweight champion Paul Williams which left him paralyzed waist down. Besides the tragedy of the incident, it left Saul Alvarez without an opponent for the fall, as Williams had just signed on to fight the young world champion boxer in September.
Since the accident, many fans have been eager to find out who Alvarez would be fighting instead of Paul Williams. Everything seemed to lead to James Kirkland and the fact that all contracts had been signed for a fight on September 15th. However, Kirkland has re-injured his shoulder and pulled out of the fight, while simultaneously making absurd money demands in order to go through with the bout.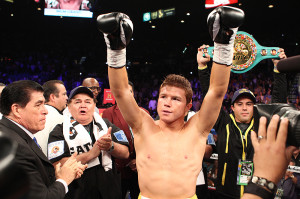 So who's left for Alvarez now that Kirkland's gone? There are only two opponents that I can see being both a challenge, and a possibly great fight, for Canelo.
The first man on the list is Carlos Molina. Molina's last fight ended with a premature stoppage in the ring with James Kirkland and this controversial disqualification left many fans, including me, bewildered about what had happened. Molina has proven that he can give a tough fight to anybody, and hang in there with the best of the division.
That being said, he doesn't seem to be at the same level as where Alvarez is right now. Canelo is the bigger man and is also a far stronger puncher than Molina. The fight between both these two is intriguing on paper but in reality, I'd expect Canelo to dominate throughout the later rounds of the fight.
A fight with Miguel Cotto on the other hand, has all the makings of a 'fight of the year', which would solidify each fighter's status in different ways. Even though Cotto is coming off a hard-fought loss against Floyd 'Money' Mayweather, many boxing fans believed that Cotto was the first man to cause Mayweather problems in the ring in quite some time. A fight and a win over Saul Alvarez would earn him the title of junior middleweight world champion once again, and would be stand as the biggest win of his career.
However, if Alvarez were able to pull off a win against Miguel Cotto, his ring status would not only increase but may earn him a chance to face greater opponents such as Mayweather, Julio Cesar Chavez Jr. or even Sergio Martinez.
Cotto and Alvarez have very similar styles, both having strong punches and throwing many hard shots to the body. At this current moment, Cotto is probably slightly ahead of the game compared to where Alvarez is, having fought and won against some of boxing's biggest names such as Shane Mosley, Antonio Magarito, and Zab Judah.
However, youth, size and athleticism all reside with Canelo, and with those traits, he would have a very good chance in winning the match. Alvarez's footwork and accurate punches will be key in winning a fight against Cotto. Furthermore, barrages of body punches between both fighters will definitely be displayed, and of course a knockdown caused by a body shot would go well with the boxing fans.
Miguel Cotto and Carlos Molina are the next two best opponents for Saul Alvarez in the wake of the devastating news of Paul Williams, and subsequently James Kirkland's torn shoulder. It seems as though Molina really does want to fight Alvarez judging from the news of him calling out Alvarez. However, in my opinion, the best fight possible would be Cotto and Alvarez, and I'm pretty sure the fans would love to see that one come together.