It was a very busy weekend in the wide world of boxing, which means it's time to update some of our divisional rankings. Specifically, we're taking a look at the cruiserweight division following the draw between Antonio Tarver and Lateef Kayode, and the junior middleweight division, following Austin Trout's dominant win over Delvin Rodriguez, and several others fights at 154 lbs as well. Take a look.
—> Updated junior middleweight division rankings
—> Updated cruiserweight division rankings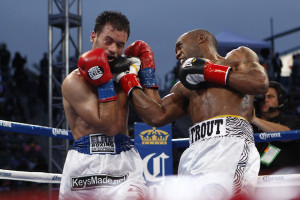 The Tarver vs. Kayode fight was the biggest match over the weekend, although it ended in a disappointing draw after an exciting close to the match. The division as a whole is a bit stagnant right now, and it's a debate to see where each of these two guys may be moving in the future.
At junior middleweight, there is a ton of shakeup in the rankings. Trout took out Rodriguez without much of a problem at all. Also, Gabriel Rosado is proving himself to be a legit force on the rise, as he knocked out Sechew Powell to score the biggest win of his career. Of course, the division is also missing another major name – Paul Williams, following his tragic motorcycle accident. That leaves a lot of room for fighters to move around and enter the top 10 for the first time as well.
So, there's definitely a lot to consider here. Enjoy our updated junior middleweight division rankings with Trout vs. Rodriguez, Rosado vs. Powell and more, and the cruiserweight division top 10 after the draw between Tarver and Kayode.