Floyd Mayweather vs. Robert Guerrero & Saul Canelo Alvarez vs. Austin Trout on May 4
After what has seemed like an eternity of speculation, it looks like the May 4th card in Las Vegas is finally taking shape, and that Saul "Canelo" Alvarez vs. Austin "No Doubt" Trout will be a part of the event. Canelo Tweeted out a statement confirming the fight, while a separate report (in Spanish), and apparently sourced from Golden Boy matchmaker Robert Diaz, confirms the fight as well.
Here's what Canelo had to say on Twitter: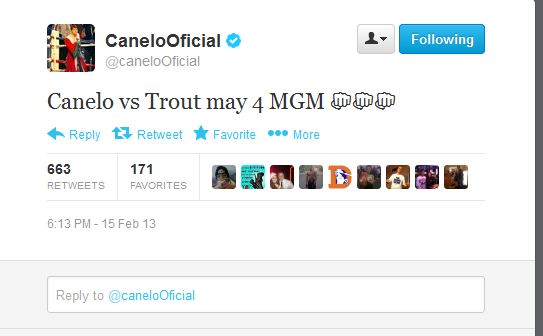 "Canelo vs. Trout May 4 MGM"
Short but sweet, I suppose, but I doubt he would have said it if it wasn't all but finalized.
But that's not all we've learned either. It looks like besides Canelo vs. Trout, the fight we've all been waiting on may be set as well – Floyd Mayweather vs. Robert Guerrero.
According to the same Univision report, Mayweather vs. Guerrero would headline the card, Canelo vs. Trout would be the co-feature, and then the winners would hopefully fight in September. Of course, Golden Boy would be crossing its fingers that Mayweather and Canelo are the winners and in September we see that huge showdown between them.
Also on the card would be a third great fight, a Featherweight title affair between Daniel Ponce De Leon and Abner Mares. Mares has announced his intentions to move up to 126 lbs since he couldn't land a fight against Nonito Donaire. Meanwhile, news just broke of Ponce's fight against Jayson Velez being cancelled due to an injury suffered by Velez.
That would be a fantastic three-fight lineup for Cinco De Mayo weekend. Three competitive fights with big names, tons of star power, and lots to see for fans of all rooting interests, with even more future payoffs down the line with bigger fights for the winners.
You can count me in, that's for sure.
We'll keep you posted on anything else we hear that officially confirms Mayweather vs. Guerrero, Canelo vs. Trout and the rest. Stay tuned.