New IBF Junior Middleweight titlist "King" Carlos Molina says when he heard the ring announcer say the words "and the NEW", he could finally relax a bit. "I knew I had reached one of the goals I set on the day I started boxing," said the happy champion, now home in his beloved Chicago.
But like every elite competitor, for Molina, who is now the number 2 ranked fighter at 154 lbs, reaching one goal just means moving onto the next one.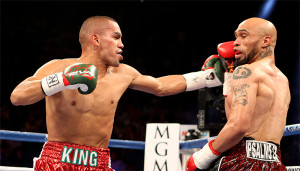 Molina (22-5-2, 6 KOs) won a split (116-112 and 117-111 over-ruling a card of 112-116) decision over now former champ Ishe Smith on Saturday night at the MGM Grand Garden Arena in Las Vegas, on the undercard of the 12-round Floyd Mayweather vs. Canelo Alvarez fight.
"Now that I'm home, I want to start defending my belt right away, before the end of the year if possible." Molina continued. I want (Saul) Canelo Alvarez or (Miguel) Cotto next. Beating either of those guys is the fastest way to Floyd Mayweather, so that's who I want to fight."
Truly an inspiration, the habitual underdog Molina says he is grateful to his whole team for believing in him during his difficult climb: his promoter, Leon Margules of Warriors Boxing and Advisor, Luis DeCubas, as well as his training team, Trainer Victor Mateo, co-trainer Lou Askenette, cornerman Harrison "Hammer" Funmaker, and Strength and Conditioning Coach Freddy Cuevas, as well as all the local fighters who helped prepare him for the big fight at Oakley Fight Club in Chicago.
Having been the victim of boxing politics and been ripped off and robbed in several other high-profile fights, Molina also wants to thank a certain sanctioning body: "My sincere thanks to the IBF. If they hadn't made me the mandatory, there's no way I would have had this opportunity."
Molina's Promoter, Leon Margules, says Molina deserves every bit of the credit he has earned.
"First let me say congratulations to a fighter who works hard every day and didn't let anything get him down for years. Carlos truly deserves this belt and I am every bit as happy for him as he is. What a great story his climb up the rankings has been."
Advisor Luis DeCubas says Molina's victory was one of his proudest moments in a long career in boxing.
"Saturday was one of the most satisfying victories I've been a part of in 30 years in the boxing business. I am so proud to be part of Team Molina and so happy for Carlos. I will always tell young fighters about Carlos's dedication and how badly he wanted it, no matter what they tried to do to him. That's how you become a champion. He's a true inspiration."
Margules says he and DeCubas are going back to work quickly, looking to make a big fight for Molina.
"Carlos is the only world champion in the 154-lb division right now who is not named Floyd Mayweather. If a Canelo or a Cotto want to leverage a world championship into another Floyd fight, they have to go through Carlos… only our guy has something for either one of them if they try it. Carlos will use them to get himself to the front of the line for Floyd."
Molina says he wasn't surprised by anything Smith brought to the table on Saturday.
"We had a game plan for him to out-work him and that's what we did. My team is so strong. We knew exactly what we had to do. It wasn't easy, but we did it. No fights are easy. But now, looking forward, we've also got a plan against Canelo or Cotto. Looking forward to using it on either of them next."