Following Saturday's The One Pay-Per-View, which included Floyd Mayweather's dominant showing against Saul "Canelo" Alvarez, Danny Garcia's gritty win over the favored slugger Lucas Matthysse, and Carlos Molina's title winning effort against Ishe Smith, we have to go back to the drawing board with our top 10 divisional rankings.
We already updated the top 20 pound for pound list yesterday. But now, we have updates to the top 10 in the junior welterweight division, welterweight division and junior middleweight division following all of those bouts, and all the rest of the sport's recent action.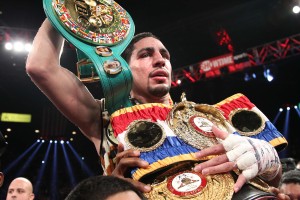 Usually, here at ProBoxing-Fans.com we don't rank fighters in more than one weight class at once. However, Floyd Mayweather continues to prove that he's the exception to the rule. He's defeated two of the top guys at 154 lbs, but it seems like his next fight will be back in the Welterweight division, perhaps against Danny Garcia. As long has he continues to alternate fights between the divisions and taking on the best names while he's there, we kind of have to leave him ranked in both spots.
As for Garcia, he resumes control of the number 1 position at Junior Welterweight, until we get official word that he's abandoning that division for good. There are still plenty of fights for him at 140 lbs too, if he so chooses, and Matthysse will be a force to be reckoned with regardless of who he goes up against.
At Junior Middleweight, it's hard to downgrade Canelo Alvarez too much for losing to Floyd Mayweather. But how high up does Carlos Molina move, as he finally brought home a title even if it was in a rather unexciting bout? Few divisions have a murkier top 10 than 154 lbs, with the interesting and mixed results the contenders have had against one another.
Finally, we've also updated the Lightweight division rankings, taking into account Ricky Burns' lucky draw against Raymundo Beltran.
Enjoy all of the updated top 10 divisional rankings and keep on checking back for more of the aftermath from Mayweather vs. Canelo and The One!