Wladimir Klitschko receives a large, and to some degree unfair share of criticism from fight fans, particularly fight fans outside of Europe. The gripers say he is boring, because he fights out of a safety-first, robotic style. They also complain that his quality of opposition is subpar, and that the current generation of heavyweights is the worst ever.
Comparing fighters from different eras is always difficult, but one heavyweight champion stands out as being very much like Wladimir Klitschko: Larry Holmes. The Easton Assassin was also little appreciated in his era, and while boxing has come around to appreciating his virtues and giving the man his just due in the 21st Century, you can still find unreconstructed and diehard criticism of Holmes out there. Will the day come when Klitschko gets a healthy dose of revisionism, or will he remain a questionable figure in heavyweight history? A comparison to Larry Holmes might give us the answer.
Tangling With the Old Guard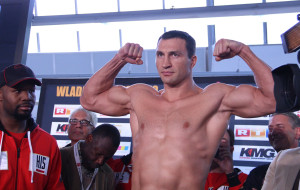 One similarity between the Easton Assassin and Dr. Steelhammer is that they were both rising fighters who tangled with fixtures of the previous generation of heavyweights. In the late 1970s, a rising Larry Holmes fought a still-formidable Ken Norton in what became one of boxing's classic fights, as well as duking it out twice with the hardest hitting man in history, Earnie Shavers.
These fights are useful in the respect that they serve as a yardstick for how Holmes would have fared in the Golden Age of the Heavyweights, the Ali-Frazier-Foreman period. Beating Norton and Shavers said Holmes would have done very well indeed.
Wladimir Klitschko scores poorly on this note. He fought a number of fringe contenders from the previous generation (Axel Schultz, Franz Botha, etc.), but the only big name Dr. Steelhammer nailed from the Holyfield-Bowe-Lewis era was Ray Mercer. Unlike Norton and Shavers, Mercer was very far from his prime, having spent the previous six years in career limbo.
The Klitschko with the yardstick fight was Vitali, not Wladimir, who took on reigning champion Lennox Lewis in 2003. Wladimir's record leaves us with no idea how good he is, except as compared to fighters of his own generation and the current generation.
Title Reign
Larry Holmes reigned as first WBC, and then IBF heavyweight champion in one long, unbroken stint of 19 defenses over seven years. Wladimir Klitschko had a reign as WBO titlist before losing his belt to Corries Sanders in 2003. That points to another difference: Klitschko began his reign as dominant heavyweight champion only after suffering a trio of embarrassing losses, and the Sanders knockout defeat was only the second of the three. Holmes was on his way to matching Rocky Marciano's achievement of as undefeated heavyweight champion with a 49-0 record when he lost to Michael Spinks, having spent years as an undefeated, dominant champion.
In terms of stats, Klitschko's second and dominating reign is catching up with Holmes. Dr. Steelhammer is currently in the seventh year of his reign, with 14 defenses under his belt.
Yet there is more to a title reign than just numbers. Both guys have defended against their share of second raters, such as Randall Cobb for Holmes or Calvin Brock for Klitschko. However, both have generally defended against the bulk of the best guys out there. It must also be said that, in general, all their opponents have shown up with their best stuff. Holmes was bedeviled by the so-called Lost Generation of Heavyweights, but those guys all showed up loaded for bear when facing the Easton Assassin.
Likewise, only Sam Peter in his 2010 rematch with Klitschko showed up with less than his all. Holmes's and Klitschko's opponents might be a collection of underachievers, but as a rule they got it together for their night with the big man.
The Next Generation
Another yardstick is how well a fighter stacks up against the next generation, as the old lion takes on the young lions. Holmes did fairly well in this test. On the one hand, he was stupid enough to fight Mike Tyson while caked in ring rust; he dropped a very close decision to fringe contender Oliver McCall; and Evander Holyfield whipped him. Even so, he managed to out-point a prime, then-undefeated Ray Mercer.
Klitschko has yet to fight any of the new prospects, so it remains to be seen how well he'll do. However, if Tony Thompson vs. David Price is any indication, he should fend off all comers for the next few years, and that will add some more luster to his name.
Verdict
Wladimir Klitschko is sitting on top of the makings of one of boxing's sterling title reigns, but ultimately I don't think he'll quite measure up to Larry Holmes. The thing that will always be missing is that Larry Holmes was a credible boxer in three generations of heavyweights, reigning as dominant champion in one of them. Klitschko the Younger will never do better than being credible in just two generations. For that to measure up, he'll need to dominate the bulk of both groups of challengers, a feat that would require him to stick around into at least his early 40s.