The Klitschko brothers have been so dominant, that perhaps we have been going out of our way to find new blood. The latest hopeful, England's David Price, was on top of many people's lists as a possible heir-apparent. Then this past Saturday, he was unceremoniously crushed in the second round by retrograde American contender–the 41-year old Tony Thompson.
What the Future Holds for Price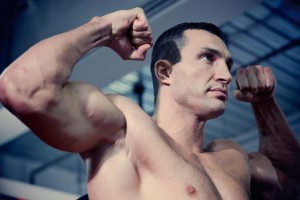 A few words in defense of Price and those who fancied his future championship aspirations. He got caught early by a big right hand and couldn't handle it. Then again, the man sitting on top of the division, younger brother Wladimir, had similar results on his way up the ladder and still managed to get to the top. Early-round knockouts, while the most decisive of results, are in fact one of the more misleading. It actually would have been worse to see Price lose every round to Thompson and get stopped late.
As for the fans and media who are feeling bad about their ability to peg future stars–don't beat yourself up about the Price setback. You don't really know until you know–and the issue of punch resistance is an area where we can only guess until given definitive proof. It turns out Price's chin was not major league, but it's one of those things.
No one was given ample forewarning and that's just the way it goes sometimes. Price is certainly far from the first impressive talent to be betrayed by a sketchy set of whiskers.
Wladimir himself showed that a fighter can overcome things like what happened on Saturday to Price. At the same time, it's a bad sign. You can't fix things like an inability to take a punch. The only way you can try to do that is by adopting a safety-first style, but that won't be as easy for Price to pull off as it was for Wladimir. Still, you don't want to write the guy off completely. Maybe he can get back on a roll and when he's like 28-1, the Thompson defeat will seem like a distant memory.
Why We're So Eager for New Blood
The Klitschkos are so dominant, while being so unexciting, that you can't fault people for looking for the new blood. In addition, they're getting up there in age. It only makes sense to search for some replacement talent. The heavyweight class has been so dull and uncompetitive at the top in recent years. It has made it so people are perhaps going overboard in looking for new talent. But this is nothing new. Whenever someone is so dominant as a champion, the urge to find worthy competition grows.
A byproduct of that is that we will sometimes attribute something to a rising fighter that isn't really there. That's how you end up with fighters like Price who not only proved he is not ready to fight a Klitschko, but he's not even ready to beat a guy Wladimir twice handled easily. With all respect to Thompson, he is 41, and had never beaten a legit top-ten foe in his 13-year career until Saturday.
Appreciate the Klitschkos While They're here
Some fans, particularly in the West, have only given respect to the Klitschko domination of the division begrudgingly. In all fairness, we should give them the credit that comes with being the most dominant heavyweights in recent memory. It's hard to remember a time where there was such a wide gulf between the top and the best-of-the-rest. Tyson was in that boat, but his run lasted just a few precious years. Joe Louis ran roughshod over the division, but even he had Billy Conn to give him a run for his money. With the Klitschkos, it's been years since they've even been challenged.
The belief on the part of many is that the Klitschkos parlayed incredible size and boxing skills forged over the course of the last two decades to patty-cake their way to the top. They get fed one weak challenger after the next and then they nullify that opponent with their mastery of the long-range game and the ability to issue non-combative beatings.
It's preposterous to surmise that two guys could run a division for this long just by virtue of being tall, having a good jab, and managing to not let their foes get close enough to do damage. It's a gross oversimplification. So is lumping the Klitschkos together, which we are all somewhat guilty of. At some point, you have to respect the results. When we do that, it's clear that there is more at play that two big brothers using their size, reach, and sense of anticipation to subdue today's roster of subpar heavyweights.
At some point, the Klitschko domination will have to be accounted for properly in the annals of boxing history. Being several notches above your contemporaries has always been a key standard in determining greatness and in that area, no one can really touch the Klitschkos. Sure, there is some warranted criticism. This era appears to be one of the worst in modern heavyweight history, though who's to say that if the Klitschkos didn't exist, that a few other heavyweights wouldn't have forged meaningful legacies?
It just lends greater credence to their powers when we see the rest of the division struggling. While they're easily handling every test, the rest of the division struggles. Price gets knocked out by a 41-year old two-time Klitschko victim. The ballyhooed Seth Mitchell can't even beat Wladimir's trainer Johnathon Banks. Hopeful Robert Helenius gets his butt kicked by Dereck Chisora. David Haye gives people hope with the most bombastic pre-fight talk heard in years, then he can't even lay a glove on Wladimir.
It underlines how excellent the Klitschkos truly are. They can't help the state of this era. That's not their job. Their job is to win and when it comes to that, they are hard to criticize. To the credit of both brothers, not only have they been winning, but no one is even giving them a run for their money. That counts for a lot. That's dominance in crystal-clear form.
With Wladimir, the number-one brother, his fights can be painful to watch. The way he endlessly softens up far-inferior foes and the fact that he's basically trying to not fight is not in keeping with our view of a dominant big man. But why is it his job to level the playing field? That's on his opponents and none of them have managed to put a dent in him in recent years. That brings us to the dreary prospects of the post-Klitschko era.
The Future of the Heavyweight Division
Before you wish for the Klitschkos to fade away from the scene, consider the alternative. What we might gain in entertainment value, we lose in clarity. If they were to both retire now, the division would be poisoned with a heavy dose of parity. Would you rather have a division where all the guys the Klitschkos beat are going at it to determine a heavyweight kingpin?
The young wave hasn't really taken off. Sure, we still have guys like Tyson Fury, Kubrat Pulev, and Bryant Jennings in the role of possible future champions. At the same time, none of those fighters are sending anyone's pulse-meter into the red. In reality, the post-Klitschko era might look a lot like the the actual Klitschko era–just without the Klitschkos. Without the top two supreme commanders at the top, that means a power vacuum where a mish-mosh of guys are vying for the top seat.
It'd be like a crime family where you wanted a new boss. The head of the family isn't well-liked and there is upheaval. But the urge to get rid of the boss only blinds you from the uncertainty of the alternative. So they whack the boss and what happens? It's a power vacuum where unqualified capos and soldiers are vying for a position they're not worthy of holding. Before too long, the family members are longing for the days where there was more clarity.
Sometimes we get so tired of a current condition that we just want something different, regardless of what it is. In this current age of heavyweights, however, we shouldn't be so eager to ditch the status quo in light of the unpleasantness that awaits. Taking a look at the current crop of the best-of-the-rest does not inspire much optimism for the post-Klitschko era. You're just going to see a group of unexceptional fighters where no one will be a big favorite over the other guy. The eventual "champions" will likely be an ever-rotating cast of imperfect newcomers and old leftover meat from the Klitschko era.