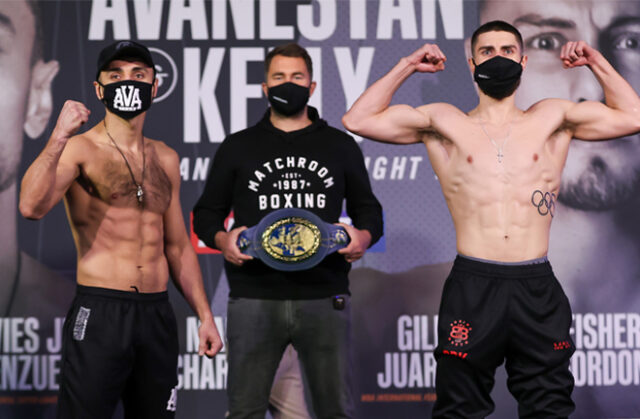 Josh Kelly weighed in just lighter than David Avanesyan ahead of their Europeean Welterweight title showdown at the SSE Arena on Saturday night, live on Sky Sports and DAZN in the USA.
Avanesyan and Kelly will finally settle the score in a rivalry dating back to December 2018, when the Brit was forced to pull out of the clash on fight day, due to illness.
A March 2020 date was then postponed due to the outbreak of the Covid-19 pandemic and a further cancellation occurred when the British Boxing Board of Control suspended all events under their jurisdiction in January, due to rising Covid-19 cases, therefore postponing a January 30 clash.
The pair shared an intense final face-off, with Kelly weighing in at 146lbs, whilst the champion hit the scales just heavier at 146.6lbs, with both men inside the 147lbs contractual limit.
On the undercard, Florian Marku and Rylan Charlton both made the Welterweight limit, ahead of their eagerly-anticipated meeting, with the Albanian just heavier than his rival.
Robbie Davies Jr and Jordan Gill will be aiming to avoid a similar fate to that which Josh Warrington suffered last Saturday against Mauricio Lara when they face Mexican opposition in the form of Gabriel Valenzuela and Cesar Juarez respectively, with Gill opening the bill against the latter.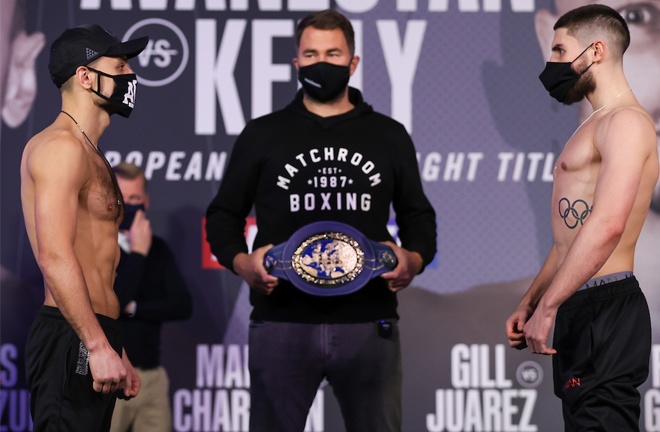 Heavyweight Johnny Fisher, a sparring partner and managerial stablemate of Joe Joyce, will make his debut and weighed in for the first time, alongside opponent Matt Gordon.
Full weights and running order:
19:00 LIVE ON SKY SPORTS & DAZN
10 x 3 mins vacant WBA International Featherweight Title
JORDAN GILL 8st 13lbs 5oz v CESAR JUAREZ 8st 13lbs 2oz
(Chatteris, England)                  (Mexico City, Mexico)
followed by
4 x 3 mins Heavyweight contest
JOHNNY FISHER 16st 13lbs 10oz v MATT GORDON 17st 3lbs 10oz
(Romford, England)                          (West Bromwich, England)
followed by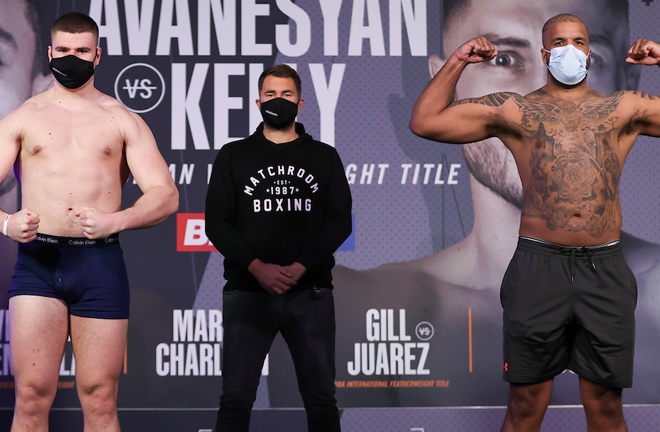 10 x 3 mins vacant IBF Intercontinental Super-Lightweight Title 
ROBBIE DAVIES JR 9st 12lbs 2oz v GABRIEL VALENZUELA 9st 12lbs 8oz
(Liverpool, England)                          (Guadalajara, Mexico)
followed by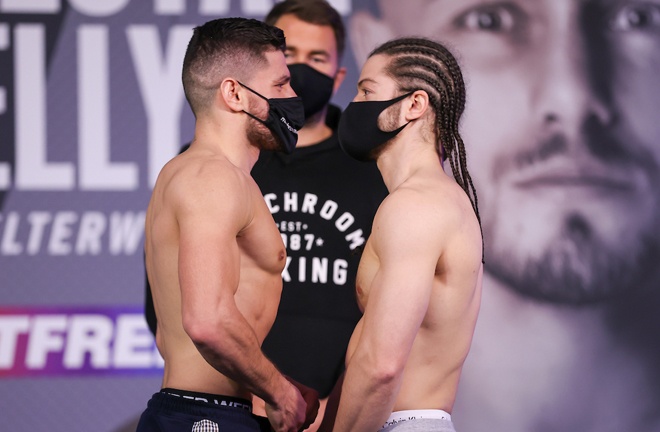 10 x 3 mins International Welterweight contest
FLORIAN MARKU 10st 6lbs 8oz v RYLAN  CHARLTON 10st 4lbs 6oz
(Lushnje, Albania)                             (Norwich, England)
followed by
12 x 3 mins European Welterweight Title
DAVID AVANESYAN 10st 6lbs 6oz v JOSH KELLY 10st 6lbs                  
(Tabynskoe, Russia)                         (Sunderland, England)