Analyzing Andre Berto's Comeback & His Chances of Getting Back to the Top:
Andre Berto is now on his second comeback in five years, and hasn't looked good along the way. As that second comeback will soon see its second fight, against Josesito Lopez in Ontario, California on March 13, it is fair to wonder just how much the 31 year old has left in the tank. Will Berto prove to be one of those fighters whose careers fade and fizzle early, or does he have the right stuff to make another run at a welterweight title?
Long Time On The Comeback Trail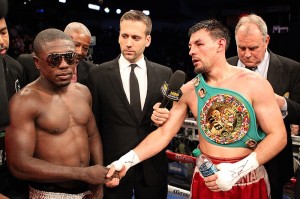 Berto was a welterweight titlist for three years, a serious reign that saw him beat some serious fighters. Yet he had never fought anyone who could be described as part of the top half of the Top 10 in that time, and although one might wonder who would think of Victor Ortiz as such a boxer, he certainly was on that night. Ortiz gave a career best performance, one that led to a real barn burner of a clash with Berto and one that Berto lost.
Following this respectable defeat, the Haitian-American took on a solid contender in the form of Jan Zaveck and beat him convincingly. Berto was supposed to meet Ortiz in a rematch, but that was scuppered when he tested positive for a performance enhancing substance. Instead, he ran into Roberto Guerrero in his next fight and got beat in a fight that was much closer than the scorecards suggest.
Thus Berto found he had to start his first real comeback, which went nowhere. He lost a slug fest to Jesus Soto Karass, a guy few consider to be better than a fringe contender. Losing to a fringe contender explains why Berto's second comeback start, his bout six months ago with Steve Chambers, was with a journeyman.
Yet like the Guerrero fight, there is more to the Soto Karass loss than most think. It would do well to keep in mind that Berto was returning from a lay-off of several months, and he gave Soto Karass a tough, see-saw bout that played against Berto's strengths, one that was probably going to a Draw at the time of the TKO. He also was dealing with an injury which clearly limited what he was able to do, and allowed Soto Karass to press forward with less incoming fire.
Dance Date In Ontario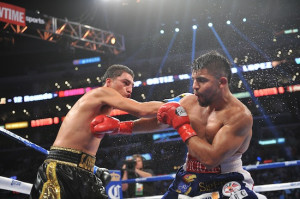 Josesito "The Riverside Rocky" Lopez is, like Chambers, meant as a stepping stone for Berto. At 33-6, he's better than his record suggests, and has been matched exceedingly tough. Yet, Lopez has beaten a "name" opponent only once in his career, that being none other than Victor Ortiz. Unlike Berto though, Lopez did not see Ortiz give a career best performance. Quite the contrary, for Lopez was the very next opponent after Ortiz's Floyd Mayweather meltdown.
Even that exception is not so exceptional. Ortiz was winning the fight when Lopez landed a pair of uppercuts that cracked Ortiz's jaw. In all likelihood, Ortiz vs. Lopez on that night is a fight that ends with an Ortiz points win nine times out of ten.
Yet even so, there is more to Lopez than a first glance would reveal. He moved up from 140 to 147 to fight Ortiz and managed to prevail. In his loss to Saul Alvarez he had been required to move up another division, and was thus severely out-sized. Lopez is more fringe contender than journeyman, and the last time Berto fought a fringe contender he lost.
What Waits For Berto?
On top of having a severely compromised record lately, Andre Berto is damaged goods. His past has seen torn tendons and biceps, and he shows a pronounced tendency to swell up around the eyes these days. Although Berto is ostensibly the world class fighter (albeit one that has slipped) and Josesito Lopez is the fringe contender, I don't give Berto better than 50-50 odds in this fight.
If Berto can win and win convincingly, it certifies that his comeback and its chances are for real. Yet even with the win, it is hard to see Berto gaining any real traction at 147 lbs. A quick look at the bottom half of the Top 10 — Keith Thurman, Shawn Porter, Marcos Maidana, Roberto Guerrero, Devon Alexander — shows four out of five fighters that I would pick as firm favorites to beat Berto.
So if Berto gets past Lopez, most of the welterweight contenders would defeat him, and some would rout or crush him. It's not much a comeback that plateaus as the weak #10 in a red hot division, but that is the best outcome I see for Berto.
Comments
comments