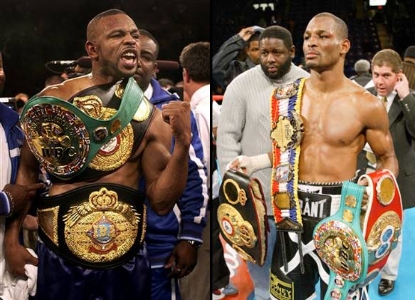 Saturday, May 21, 2011 was a night of criss-crossing boxing history which illustrated how much of a difference the final act in one's career can make on his standing in the sport's annals. On the same night that Bernard Hopkins became the oldest boxer ever to win a major championship as he recaptured the Light Heavyweight title, Roy Jones Jr. got viciously knocked out… again.
Fighting in Moscow, far removed from the American sporting public, Jones continued his recent dismal history in the ring, left to crumple to the canvas in an unconscious heap, victim of a 10th round KO at the hands of Russian cruiserweight Denis Lebedev.
Fighting in Montreal, headlining an HBO card that captivated boxing fans and drew in the general sporting public as he attempted to make history, Hopkins defeated Jean Pascal, scoring another triumphant victory against a younger champion who was supposed to be too much for him to handle.
The Downward Spiral of Roy Jones Jr.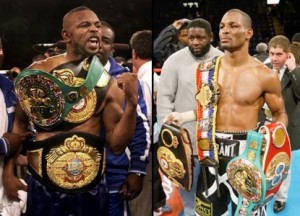 For Jones, his loss against Lebedev was his third straight, two of which have come by knockout. Sandwiched in between was a loss at the hands of Hopkins via Unanimous Decision in a decade-too-late rematch of their first encounter from 1993. Their original meeting gave the dynamic Jones his first championship belt and sparked his meteoric rise to the top of the sport.
Jones's remarkable 10-year run culminated in March 2003 when he won the WBA Heavyweight title from John Ruiz. In November of the same year, Jones returned to Light Heavyweight and escaped with a Majority Decision win over Antonio Tarver, and that would have been a perfect time to hang up the gloves.
Even in victory, Jones looked sluggish, perhaps from the drain of losing nearly 20 pounds of muscle that he had gained for the Ruiz fight. Still, with the win Jones could have gone out as the reigning pound for pound king.
His contemporary Lennox Lewis made a similar exit from the sport the same year. Lewis had finally conquered the myth that Mike Tyson would be too much for him to handle, and he had scored a dominant 8th round KO in their June 2002 bout. In June 2003, Lewis faced late sub Vitali Klitschko, and was losing on the scorecards when a gory gash on Klitschko's face forced a stoppage. Instead of offering a rematch against an opponent he had already defeated, he retired as champion and became a rare sparkling symbol of a fighter who stepped away at the top and never was lured back.
Of course, that's not the path that Jones would walk. Instead, Tarver got his rematch in May 2004 and infamously asked "Any excuses tonight, Roy?" before knocking him out in the second round, and rewriting the legend's career. Including that loss, Jones has gone just 5-7 in his last 12 fights, and has been knocked out four times.
Had he retired in March 2003, fresh off his heavyweight title winning effort, or in October 2003, after escaping with his win over Tarver, Roy Jones would have had a career that many would feel belonged amongst the 10 finest in the history of the game.
In his prime, Roy Jones Jr. was a spectacular fighting machine, one of the finest versions of any fighters to ever step through the ropes. Save for a disqualification loss against Montell Griffin, as he looked for a stoppage win in another dominant performance, Jones was undefeated in his first 50 fights. Not only was he winning, he hardly lost rounds through the bulk of a career that saw him torment the younger Hopkins, a prime and pound-for-pound-worthy James Toney, Virgil Hill, Griffin, and a string of others.
Jones once played in a semi-professional basketball game the afternoon of a fight just because he could. Jones would hold his hands down and sway side to side in imitation of a rooster before leveling a knockout punch… just because he could. But once those physical assets began to disappear, the gaping flaws in his game were exposed.
The problem with Jones's reign atop the sport was that he was so dominant based on his raw athleticism, reflexes and speed that he never needed to bother with strong fundamentals, sound technical skills and strict defense. As a result, when he continued to fight past his physical peak he was left increasingly exposed in the ring.
When Jones released his infamous rap song in 2001, "Ya'll Must've Forgot", harpooning critics of his lack of recent competition, he could not have imagined that in 2011, everyone, apparently including Jones himself, would have  forgotten what a spectacular fighter he was. A prime Jones would have scoffed at the notion of continuing his career in such horrendous fashion. Yet, today he signs up for one fight after another like an addict getting high; just one more time.
The Glorious Golden Years of Bernard Hopkins
After toiling away in comparative anonymity, Hopkins finally reached the sport's grandest stages and the big paydays he yearned for when he stopped the undefeated Felix Trinidad in September 2001, and then knocked out Oscar De La Hoya three years later in September 2004.
Hopkins used to say he wouldn't fight past the age of 40 to keep a promise he made to his late mother. He could have retired after defeating Howard Eastman in February 2005 with 20 straight middleweight title defenses, all four major straps around his waist, hardly a month past 40. It would have been a perfect ending.
Even if his career was overshadowed by some of boxing's more exciting stars, including his conqueror and "Huckleberry", Jones Jr., he still was one of his generation's finest, and was on the short list of the best Middleweight champions of all-time.
Instead, Hopkins extended his self-imposed deadline, first by a year to fight Jermain Taylor, narrowly and disputably losing in two separate contests. It appeared quite clear then that it was time for the Middleweight kingpin of a decade, hardly able to muster throwing a few dozen punches per round, to hang up the gloves.
But Hopkins doggedly kept on fighting, not only against his opponents, but also against time and his naysayers. Hopkins has since gone 6-1-1, losing only to the undefeated Joe Calzaghe, while defeating Light Heavyweight champions Tarver and Pascal, as well as Kelly Pavlik, Winky Wright and yes, the faded Jones.
Unlike Jones, Hopkins was never the fastest or most physically gifted fighter. Instead, he's a throwback, not just a fighter in the ring, but a man who lived the lifestyle of a boxer at all times. Hopkins is always in the gym, always working on honing his craft, always in shape and ready to go.
He has all of the tools and knows all of the slight counter-moves and adjustments that can win him a fight or give him an edge. He fights rough and thrives by proving the critics wrong, and he always pushes or punches back harder, whether he receives a physical blow or what he considers to be a verbal slight. This versatile skill-set, one track mind and deep bag of tricks has allowed him to flourish well beyond what should have been his prime, while never absorbing punishment along the way.
Whereas the last chapter of Jones's career has been tragic, and forever tarnished his place in boxing's history, the last chapter of Hopkins's career has been a revelation, and raised his status to such a point that it could be easily argued that he's one of the 10 best fighters to ever step into the ring. It's a position, even with 20 Middleweight title defenses, that he couldn't have sniffed before twice capturing the Light Heavyweight crown and defeating his younger, highly touted opponents.
How Things Have Changed for RJJ & B-Hop
There is no question that Roy Jones Jr. in his prime was a superior fighter than Bernard Hopkins. His talent was off the charts, his dominance was unparalleled, and he had the heads-up victory as proof.
Even in the early stages of Jones's decline and Hopkins's revival, it could still be argued that Jones had the better career, but that belief has long since been erased. Hopkins has eclipsed Jones, once and for all, and has done so in such stark contrast to Jones's fall from grace that it is hard for fight fans to watch, wary of what staying in the ring too long can do to a fighter, wary of watching another hero morph into a victim.
The old rivals will always be defined by one another, and to this day Hopkins counts Jones as the only man he feels ever actually defeated him; Taylor and Calzaghe, along with his very first opponent, Clinton Mitchell, would disagree.
His career has been spent trying to one-up Roy, dominating Tarver after Tarver had knocked Jones out, longing for a rematch with Jones that wouldn't happen until Jones was so diminished that it didn't matter to anybody except himself. For Jones, Hopkins remains as one of his finest conquests, a hallmark moment in a career that had many.
So here we are. Jones is stringing it out for modest paydays, as fans watch just to see the formerly invincible fighter landing face first on the canvas. He still stubbornly suggests that he may fight yet again.
Meanwhile, Hopkins is rewriting the record books and plans to fight until he's 50, a full decade past when he first said he would put an end to his pugilistic adventures.
Yes, Hopkins has finally surpassed Jones, his old rival. But it's easy to imagine that, of all people, Hopkins must surely feel the saddest of any about Jones's brutal fall from the top. He would say it's no way for a legend to go out, that it's no way for Roy Jones Jr., the only fighter good enough to beat me, to be remembered.
As Hopkins was celebrating another history-making performance in Montreal, Jones was likely watching from a Moscow hospital or hotel room, a world apart in every way.