Miguel Cotto Biography, Career Record & Fighter Profile
Miguel Cotto is one of the biggest superstars in boxing. Though he is coming off a unanimous decision loss to pound for pound king Floyd Mayweather, his performance in that bout showed he is still one of the sport's elite fighters.
Cotto can box or slug but most often he is a stalking presence that patiently breaks down opponents with savage body attacks. This set of skills has helped Miguel Cotto become a dominant force in boxing. Who is next for Cotto? There are many potential super fights in the mix, but let's look more closely on Miguel Cotto's career.
Profile updated & amended by Matt Andrzejewski November 2012
Miguel Cotto
37 (30) – 3
Height: 5'7″ Reach: 67″
Best Wins: UD Shane Mosley, TKO 11 Zab Judah, SD Joshua Clottey, TKO 5 Carlos Quintana, UD Paul Malignaggi, TKO10 Antonio Margarito, TKO9 Yuri Foreman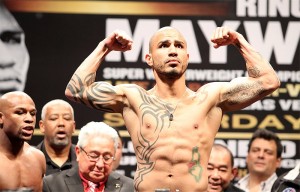 Miguel Cotto had an excellent amateur career where he represented Puerto Rico in the 2000 Olympics. Even more impressively Cotto won the Puerto Rican National Amateur championships four years in a row. Miguel is experienced against very good opposition. In September of 2004 Cotto faced Kelson Pinto for the vacant WBO Junior Welterweight title. After knocking down Pinto three times, Cotto went on to capture his first world title by knockout in the sixth round. His tight defense and excellent counterpunching led him to defeat former or future world champions: DeMarcus Corley, Randall Bailey, Carlos Maussa, and Cesar Bazan.
Cotto relinquished his title in late 2006 and announced he was ready to advance to the welterweight division to challenge fellow Puerto Rican Carlos Quintana. Miguel Cotto defeated Quintana by a technical knockout in the fifth round and obtained the vacant WBA Welterweight title.
Miguel Cotto's welterweight reign began in March 2007, when he retained his title with a technical knockout over Oktay Urkal. Urkals corner threw in the towel after two head butts had them believing the referee was unfair. Miguel then defended his crown against Zab Zudah in June of 2007. Performing in front of a sellout crown, Cotto defeated Judah using his aggression and relentless power. Cotton won by a technical knockout in the eleventh round when the referee stopped the bout.
Cotto vs Mosley
Miguel Cotto and "Sugar" Shane Mosley fought in November of 2007. During the fight both fighters exchanged several combinations and Cotto went on to win by unanimous decision. Some of the observers felt however that the fight could have been a draw or gone in Mosley's favor, as he was the busier, more aggressive fighter down the stretch.
Cotto vs Margarito
On July 26, 2008 Miguel Cotto suffered his first, and to this point only professional loss against Antonio Margarito. Cotto took the early initiative, frequently landing a series of punches on Margarito during the early rounds. However, Margarito eventually began to wear down Cotto's resistance by trapping him against the ropes.
Cotto was hurt in the seventh round after a pair of Margarito uppercuts caused his nose to bleed. Margarito then threw a series of brutal punches at the start of the 11th round, while Cotto was against the ropes; bleeding profusely. A hard combination from Margartio finally forced Cotto to take a knee. He got up, but Margarito continued landing stunning combinations. Evangelista Cotto threw in the towel after the second knockdown. Controversy shrouds this victory however, as Margarito was then later found to have used plaster in his hand wraps before the Mosley fight.
Miguel Cotto returned to the ring in February of 2009 battling for the vacant WBO Welterweight title against Michael Jennings. Both fighters studied each other during the first round, but it was Cotto who landed first. Cotto dropped Jennings twice in the third round which eventually led to a fifth round stoppage. Cotto was awarded with a technical knockout, and the WBO Welterweight title.
Cotto vs Clottey
In the first round both fighters exchanged jabs, with Clottey landing the more accurate punches. Within 10 seconds left of the first round a stiff jab sent Clottey to the canvas catching him off guard. In the third round an accidental head butt opened a cut above Cotto's left eye. The injury bled profusely during the fourth round, with Cotto trying to regain control. During the seventh and eighth rounds Clottey controlled the offensive side, noticing that Cotto could not see his right hand punches. Cotto bounced back and worked from the outside in the late rounds scoring a very close split decision over Clottey and retaining his WBO Welterweight title.
Pacquiao vs Cotto
After beating Clottey, Miguel Cotto's next opponent was unknown and he had many options on his table. He could have potentially faced the winner of the Floyd Mayweather vs. Juan Manuel Marquez fight, or squared off in a rematch against Shane Mosley.
Instead he secured the right to face pound for pound champion Manny Pacquiao in a super fight on November 14, 2009 in Las Vegas. They would fight at a catchweight of 145 pounds for Cotto's WBO Welterweight title.
Cotto got off to a good start in the first round and appeared that he might be able to give Pacquiao problems.  However, Pacquiao seemed to seize control starting in the 2nd and put Cotto down with a right hook in the 3rd.  Cotto also tasted the canvas in the 4th with a left uppercut.
Cotto lost most of the middle rounds while absorbing more and more punishment from Pacquiao.  Cotto showed tremendous heart as the fight progressed into the late rounds fighting not to survive but to win.  But in the end Pacquaio would end up stopping Cotto in the 12th round and capture Cotto's Welterweight Championship.
Rebound From Pacquiao Fight
Cotto would take some time off before returning to the ring on June 5th, 2010 to face WBA Junior Middleweight Champion Yuri Foreman at the new Yankee Stadium.  He would have few issues with Foreman and end up stopping him in the 9th to regain a Junior Middleweight Title Belt.
His next fight would take place on March 12th, 2011 against former World Champion Ricardo Mayorga.  Though Mayorga was able to make a better fight than most experts predicted, Cotto was still in control for most of the fight.  In the 12th, he would put Mayorga down with a vicious left hook.  Mayorga did not want to continue following the knockdown giving Cotto a TKO victory.
Following the Mayorga fight, Cotto set his sights on avenging his loss to Antonio Margarito in 2008.  Many in the sport now questioned Margarito's performance that night.  Prior to the start of his next fight against Shane Mosley, Margarito's gloves would be found to contain a plaster like substance inside of them.  So Cotto and fight fans everywhere wondered if a similar substance were in Margarito's gloves the night of their first encounter.
The 2nd fight between Cotto and Margarito would take place on December 3rd, 2011.  Cotto was in complete control from the outset, finding it easy to land his shots and avoid Margarito's.  With Cotto well ahead on the scorecards, the fight would be stopped at the end of the 9th round due to the damage Margarito had sustained on his right eye.
Floyd Mayweather Bout
Cotto's three fight win streak helped land him a bout with reigning pound for pound king Floyd Mayweather.  The bout would take place on May 5th, 2012 in Las Vegas.
In the early going, Mayweather seemed to control the pace with his fast punches and tight defense.  Cotto though would be able to get some work done in the middle rounds by continuing to press Mayweather and land his own hard combinations.
The fight seemed to be within reach for Cotto as it entered the late stages. But Mayweather seemed to control the later rounds by keeping the fight at more of a distance and landing his fast combinations from the outside.  The bout would go the distance and Mayweather would be awarded with a unanimous decision that most experts thought was closer than what the scorecards ultimately read.
What's Next for Miguel Cotto?

Miguel Cotto has signed to fight Junior Middleweight Titlist Austin Trout on December 1st, 2012 at Madison Square Garden in New York.  Trout is a slick southpaw with fast hands and certainly not an easy fight on paper for Cotto.
With a win against Trout, Cotto would set himself up for big fights in 2013.  Possibilities will exist for a mega fight with Saul "Canelo" Alvarez or rematches against Manny Pacquiao or Floyd Mayweather.
Miguel Cotto has had a storied career and one day he will find himself enshrined in the Boxing Hall of Fame in Canastota.  But as he showed in the Floyd Mayweather bout, he still has a lot left in the tank and fight fans can expect to see a lot more big fights involving Miguel Cotto in the future.