Manny Pacquiao is regarded as one of the sports top pound for pound fighters in the world today. A winner of world titles in weight classes ranging from Flyweight to Junior Middleweight, Pacquiao is widely considered the sport's most popular fighter and biggest draw.
Manny "Pacman" Pacquiao
54 (38) -4 -2
Height: 5'6″ Reach: 57″
Best Wins: KO2 Ricky Hatton, TKO8 Oscar De La Hoya, SD Juan Manuel Marquez, TKO 10 and KO 3 Erik Morales, TKO11 Marco Antonio Barrera, TKO12 Miguel Cotto, UD12 Shane Mosley
Profile updated & amended by Matt Andrzejewski in August 2012

Recent Manny Pacquiao News: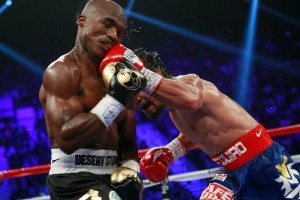 Pacquiao first came into the American boxing scene a decade ago, but he found a permanent home in the hearts and minds of fans everywhere at the end of 2003. In November of that year we saw Manny Pacquiao destroy Mexican legend Marco Antonio Barrera. His explosive style, powerful punching and lightning quick hands were a combination that Barrera couldn't cope with, and that fans couldn't get enough of. The fight would launch Pacquiao on a collision course with the world's best featherweights, who were by and large, other Mexican greats.
Next on the list was Juan Manuel Marquez, the most undervalued of his contemporaries. Pacquiao blitzed him in the first round, sending him to the canvas three times. It looked like it would be another short and dominating night. However, Marquez found a way to recover his senses and used his crisp counter punching to turn the tide of the fight. After the final bell rang, the fight was declared a draw, and many people felt that Marquez had actually pulled off the come from behind win.
Another great Mexican warrior was in line next, the hard fighting Erik Morales, who was coming straight off of his third fight with rival Barrera. Morales, to the surprise of many, deployed solid boxing skills to keep Pacquiao at bay for the majority of the fight. Only with the fight almost over, and his machismo unable to be restrained any further, did Morales succumb to his brawling instincts. The fight was another classic and Morales walked away with a win.
Despite his exciting style, Pacquiao was now 1-1-1 in his biggest fights, not the record of a great champion. Morales reminded all of us what Marquez had shown previously, that Pacquiao despite his power and speed, was a somewhat limited fighter. He relied entirely on his straight left hand for his offense and his defense was just to charge in even harder.
Improving his Style
Going back to work with trainer Freddie Roach, Pacquiao began to develop a more complete offensive arsenal. He also worked to continually deploy head movement and angles, to keep his opponent guessing and to keep Pacquiao at the correct spot to unleash his weapons and then escape unscathed. Adding these techniques to his game would turn Pacquiao from offensive dynamo and fan favorite to one of the best fighters on the planet.
Now Pacquiao would get another shot at the three men he went a collective 1-1-1 against. First up was Morales, who in a shootout would be stopped in the 10th round. A rubber match with Morales followed, this time seeing the proud warrior counting himself out in just the third round. Sandwiched between the second and third Morales fights was a victory of another Mexican champion, Oscar Larios.
Pacquiao then rematched Barrera, this time besting him with a unanimous decision. And finally it was time for the rematch that fans had been craving, a second fight with Juan Manuel Marquez. In another back and forth encounter, Pacquiao escaped with a decision thanks in large part to a knockdown he scored.
However, many felt that Marquez deserved the victory. Marquez's unique set of skills, including his pinpoint counter punching and his surprisingly jolting power are the perfect foil for Pacquiao's come forward and punch aggression.
Nevertheless, Pacquiao went 4-0 against three future Hall of Fame boxers. It was time for bigger challenges, and for Pacquiao the phrase would be quite literal. As a teenager, Pacquiao started his career fighting under 110 pounds. Now he would move up to 135 pounds to attempt to capture a lightweight championship. Pacquiao picked apart the game but overmatched David Diaz.
So why not keep shooting for even bigger challenges? Next up was Oscar De La Hoya, a fight to be held at the welterweight limit of 147 pounds. Whether or not De La Hoya came into the fight weight drained, he was a large favorite to beat Pacquiao. He finally moved up too far most thought. Pacquiao would prove his doubters wrong once again, controlling the fight from its onset until De La Hoya quit in his corner.
Then in another highly anticipated contest, Pacquiao was lined up to face of against the once defeated Ricky Hatton, who was looking to restore luster to his name following his knockout loss to Floyd Mayweather. Pacquiao absolutely devastated Hatton, knocking him out in two phenomenal rounds.
Manny Pacquiao has aspirations for his life outside of boxing. He has plans to run again for a position in his Filipino government (he ran once already and lost the election, only because his legion of fans wanted him to keep on boxing) and he already donates much of his time and money to his native country.
Pacquiao vs. Cotto
Pacquiao's next big fight would come against legendary Puerto Rican star Miguel Cotto.  Early in the fight, Cotto enjoyed some success and it appeared that he may give Pacquiao a challenge.  However in the 3rd round, Pacquiao dropped Cotto with a right hand and took control of the fight from there.  Cotto was down again in the 4th with a big left hand from Pacquaio.  The middle rounds were all Pacquaio and finally in the 12th round, after suffering a savage beating, the referee stopped the fight giving Pacquaio a TKO victory.
Winning Streak Continues
In 2010, Pacquaio continued his win streak with two easy 12 round decision victories over Joshua Clottey and Antonio Margarito.  In his first fight in 2011, Pacquaio took on future Hall of Famer "Sugar" Shane Mosely. Once again Pacquaio was dominant and won a clear cut unanimous decision victory.
In November 2011, Pacquaio would take on Juan Manual Marquez for the third time.  Once again the counter punching style of Marquez caused Pacquiao issues throughout the bout.  The bout was a much more tactical fight than the first two and almost every round seemed close.  In the end, Pacquaio was awarded with a close majority decision victory, improving his record over his rival to 2-0-1, despite the fact that some feel that Marquez deserved to win one or two of those fights.
Timothy Bradley Controversy
Pacquaio's next fight was set for June 9th, 2012 against the undefeated Timothy Bradley.  Pacquaio seemed to be in control from the start and throughout the bout was landing the cleaner more effective punches.  Though Bradley out-threw Pacquaio, the CompuBox Punchstats showed Pacquaio out landing Bradley by 94 punches including 82 more power punches.  However, when the scorecards were read, Bradley was pronounced the winner by split decision.  The decision is considered to be among the most controversial scoring decisions rendered in recent history.
Future for Manny Pacquiao
Manny Pacquaio remains as one of the sports pound for pound elites and biggest attractions despite the loss to Timothy Bradley.  The fight the sports public in general wants to see is against Floyd Mayweather.  However, for a variety of reasons this fight probably will not take place anytime soon.
So in all likelihood Pacquaio will concentrate on fighting rematches over the next year.  The names of Juan Manuel Marquez, Miguel Cotto and Timothy Bradley all come up when Pacquiao's future is mentioned.  Since Marquez and Cotto are big names that draw well on pay-per-view it would not be surprising to see Pacquaio fight both in the not so distant future.  Another name to keep an eye out for is Andre Berto if he can rebuild his career following the positive test for performance enhancing drugs.
Manny Pacquiao, no matter who he fights, will likely continue to be a major force on the pay-per-view scene for years to come.  And maybe someday down the line fight fans will finally get to see that dream matchup with Floyd Mayweather that has been years in the making. However, with one foot out the door already on his way to a career in politics, one wonders how many more times we'll get to see Pacquiao step into that squared circle after a legendary career.