Wladimir Klitschko Bio & Fighter Profile
Wladimir "Dr. Steel Hammer" Klitschko currently is the long-reigning IBF, WBO, IBO and Ring Magazine Heavyweight champion of the world. His immense size and punching power have helped him to the top of the division, along with an ever improving complete game, and a package of well-honed skills. Of course, his brother Vitali Klitschko is currently the WBC world Heavyweight champion, and the two have achieved their life long goals of carrying all of the belts at the same time.
Profile updated & amended by Matt Andrzejewski October 2012
The Beginning for Klitschko: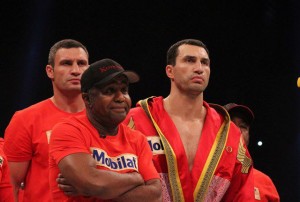 Wladimir Klitschko started his amateur career in 1993, with a second place win at the Junior World Championships in Istanbul Turkey. In 1995 he was able to nab the gold medal defeating Luan Krasniqi at the Military Championships. Known as "Dr. Steel Hammer," Klitschko first received worldwide attention in the 1996 Summer Olympics. Klitschko was able to defeat Paea Wolfgramm to win the Super-Heavyweight gold medal. Wladimir Klitschko decided to turn pro under the tutelage of Fritz Sdunek.
Professional Career:
"Dr. Steel Hammer," upped his status to a professional boxer in November of 1996. From the span of 1996 to November of 1998, Wladimir Klitschko won a total of 25 fights with 22 knockouts. It wasn't until early December when he faced Journeyman Ross Purrity, and suffered his first professional loss. During the fight, Klitschko was off to a superb start, landing effective clean punches. However in round ten, Klitschko apparently ran out of gas. Klitschko was rocked by a hard right that sent him to the canvas in round ten. In round 11, Purrity kept pounding Klitschko, which caused his trainer Fritz Sdunek to stop the bout.
Hard Earned Title Shot:
After suffering the first loss of his career, "Dr. Steel Hammer" jumped back into his game, and pummeled his way to a title shot. Along the way he defeated contenders such as Axel Schulz, Paea Wolfgramm, David Bostice and Monte Barret. Klitschko fought a total of 10 fights winning all of them by way of knockout. His chance came in October 14, 2000, when he was in line to face Chris Byrd for the WBC Heavyweight title (previously, Byrd defeated Vitali Klitschko for the title).
On the night of October 14, Klitschko started off strong along next to his new trainer Emmanuel Steward. "Dr. Steel Hammer"'s new found jab worked rigourously against Chris Byrd; knocking his head back. In the ninth round, a Klitschko quick right sent Byrd to the canvas. However, Chris Byrd beat the count, but suffered another knock down in the eleventh round. Wladimir Klitschko earned the lopsided unanimous decision, and the WBO Heavyweight title.
A Title lost…and regained:
Wladimir Klitschko suffered a second round technical knockout loss to South African Corrie Sanders on March 8, 2003, in Hanover Germany. While being knocked down four times in the first round and twice in round two, it appeared Klitschko was never in the fight. Wladimir Klitschko headed back to the gym with trainer Emmanuel Steward, and figured out a game plan for his career.
After winning two minor bouts in Germany, Klitschko, once again, found himself fighting for the vacated WBO title on April 10, 2004. His opponent was hard hitting Lamon Brewster. The fight started slow, both fighters patiently pursing each other. However, it was Klitschko who struck first, sending Brewster to the canvas in the fourth round; things began turning around, when Brewster landed several punches. Near the end of the round, Klitschko was floored by a right hand, dropping to the canvas. Barely, beating the count, Klitschko fell to the canvas appearing exhausted. The fight was stopped in round five, after Klitschko was in no shape to continue.
In 2005, "Dr. Steel Hammer" earned a spot in an elimination match for the IBF and IBO Heavyweight titles (one of which was now held by former foe Chris Byrd). Wladimir was able to earn a unanimous decision against Samuel Peter, and earned a shot to face Chris Byrd. Klitschko earned a seventh round technical victory after flooring Byrd. Byrd beat the count, but his face was battered and bloody; he was in no shape to continue. Klitschko earned the Victory and the IBF and vacant IBO Heavyweight titles.
Dropping All Competition:
Starting in March of 2007, Klitschko faced numerous top contenders in boxing. In his first defense, he defeated Calvin "The Boxing Banker" Brock via a seventh round technical knockout. Next, he faced unheralded – and unworthy – Ray Austin. The significance of this fight is that; Klitschko never used his right hand once. Relying on his jab, and left hook, Waldimir was able to put away Austin with a second round TKO.
"Dr. Steel Hammer" then avenged one of his losses against Lamon Brewster on July 7, 2007. Brewster's corner asked the referee to stop the fight at the end of the sixth round. It was later revealed that Klitschko fought the majority of the fight with a broken middle finger.
Unification Bout with Sultan Ibragimov:
On the night of February 23, 2008, Wladimir Klitschko defied the recent history in the boxing world and unified the Heavyweight division. He defeated WBO Heavyweight champ Sultan Ibragimov via a lopsided 12 round decision. This marks the first unification bout since Evander Holyfield fought Lennox Lewis in 1999.
As an upcoming top contender, Tony "The Tiger" Thompson was slated to face Wladimir Klitschko for the Heavyweight titles in Hamburg Germany. During the fight, Klitschko was cut by a punch and Thompson by an accidental head butt in round two. Klitschko controlled the fight with his jab and his right hand; Thompson had his moments, but was awkward and out skilled for the majority of the fight. It would be Klitschko who prevailed, with a right hand that sent Thompson to the canvas in the eleventh round, and earned him a technical knockout.
Klitschko vs. Chagaev

"Dr. Steel Hammer was slated to face Alexander Povetkin later in 2008. However, Povetkin withdrew from the fight due to an ankle injury. Instead, Klitschko faced former Heavyweight champ Hasim Rahman on December 13, 2008. As usual, Klitschko controlled the fight with his jab, dominating every round. The referee stopped the fight in round seven after Rahman failed to respond to a series of good power punches.
On June 20, 2009, Wladimir Klitschko retained the IBF, WBO and IBO world Heavyweight titles, and also won the vacant Ring Magazine Heavyweight title by defeating Ruslan Chagaev. Ruslan Chagaev, stepping in on late notice after David Haye pulled out had a hard time adjusting to Klitschko's style. Chagaev, unable to makeup any ground, threw in the towel in the ninth round.
Klitschko would fight two times in 2010.  First, in March, he dominated Eddie Chambers for 11 rounds before knocking him out in the 12th.  Next, he fought a rematch with a faded Samuel Peter and put on another dominant display before stopping Peter in the 10th.
David Haye Bout
After prior postponements and lengthy negotiations, Klitschko was finally able to get David Haye into the ring on July 2nd, 2011.  Haye was a popular former Cruiserweight from England who had moved up to heavyweight and captured the WBA Heavyweight Championship.  Many boxing observers thought the brash Haye represented the toughest test for Kitschko in years.
The fight however turned out to be very disappointing.  Haye put up a non-effort and spent the majority of the fight either running from or holding onto Klitschko. In the end, Klitschko would be awarded a unanimous decision victory but Haye's non-effort turned out to be more a storyline than the fight itself.
Championship Reign Continues
In his next bout, Klitschko faced another former Cruiserweight champion in Jean Marc Mormeck.  Klitschko absolutely dominated the affair, putting Mormeck, 40 and well past prime, down in the 2nd and finishing him off in the 4th.
Following the Mormeck bout, Klitschko had to make a mandatory defense against an opponent he defeated four years earlier, Tony Thompson.  This time around Klitschko had a much easier time with Thompson.  After controlling the first four rounds, Klitschko put Thompson down with a hard right hand in the 5th.  Thompson struggled to make it through the remainder of the round and Klitschko was able to finish matters in the 6th.
Future for Wladimir Klitschko
Wladimir Klitschko has signed to fight undefeated Polish Heavyweight Mariusz Wach on November 10th, 2012 in Germany.  Though Wach has a glossy record he has fought nobody of note and very few in boxing consider him a threat to derail Klitschko.
Wladimir and his brother Vitali Klitschko have essentially cleaned out the Heavyweight division two times over.  One opponent who keeps getting mentioned for the Klitshcko brothers is Alexander Povetkin.  Povetkin is an undefeated belt holder and former Olympic gold medalist.  However, at this point in time in his career he has shown a reluctance to face either Klitschko.
One other potential opponent for Wladimir is Chris Arreola, whom Vitali handled in 2009.  Arreola is a name and has worked his way back into contention over the past couple years.  If a fight against Povetkin cannot be made Arreola would probably represent the next biggest name available.
The top prospects in the division may get a shot at either Klitschko sooner rather than later due to a lack of quality veteran heavyweight opponents. David Price, Robert Helenius, Tyson Fury, Seth Mitchell, Bryant Jennings and Deontay Wilder represent the best of the group of young heavyweights currently available.  It would certainly not be surprising to see one or two names from this list face Wladimir in the coming years.
Wladimir Klitschko has enjoyed a very dominant reign as the Heavyweight Champion of the World.  The lack of quality opponents suggest his reign is likely to continue for some time.  But as we have seen before in boxing, and especially in the Heavyweight division, one punch can at anytime alter the course of history.