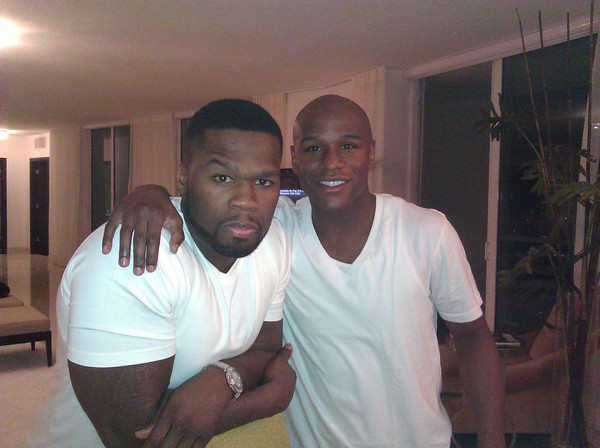 What can I say? Here at ProBoxing-Fans.com, we try and we try to avoid the out of the ring BS and celebrity gossip absurdity which has come to account for much of the "sports news" world these days. I mean really, we try very hard to avoid this trash. Yet, the people want what they want, sometimes… and sometimes it's worth chiming in.
Here, we're finally delving into the Floyd Mayweather vs. 50 Cent feud, or at least its latest iteration.
With the momentum of the ALS Ice Bucket Challenge apparently indefatigable, 50 Cent issued his Ice Bucket Challenge to former brother in arms, Floyd Mayweather, with a few added twists:
"Floyd will you except [sic — and funny considering the circumstances here] my ALS/ESL CHALLENGE: I will donate $750k to a charity of your choice, If you can read a full page of a Harry Potter book out loud without starting and stopping or fucking up. lmao"
It was the latest in a string of 50 Cent jabs at Mayweather essentially accusing him of being dumb and unable to read. It's a far cry from when I interviewed 50 Cent in 2012, and he had nothing to say besides that Mayweather would always be his brother despite the falling out. Well, alright.
All was quiet on the Mayweather front, until he finally chimed in with a since deleted post, saying:
"i see your $750k & raise you a mill if you can post a vid of ur son saying he love you"
Boom goes the dynamite, as they say. The series of Tweets and social posts quickly made the rounds from one outlet to the next, and even very non-sporting online communities, such as Imgur.com.
What happened guys? You used to be The Money Team. You guys walked out to the ring together, rode around on Segways inside of mansions, you blew tons of money and hung out all the time. What happened to that Floyd and Fifty? Whether it's money owed or debts unpaid or anything else, maybe we'll never really know.
In the meantime, Mayweather vs. 50 Cent is generating about 100x more interest than Mayweather's September rematch against Marcos Maidana. Maybe that says something too.